Sports
Cougars have happy housewarming with close win over EWU
Sun., Sept. 9, 2012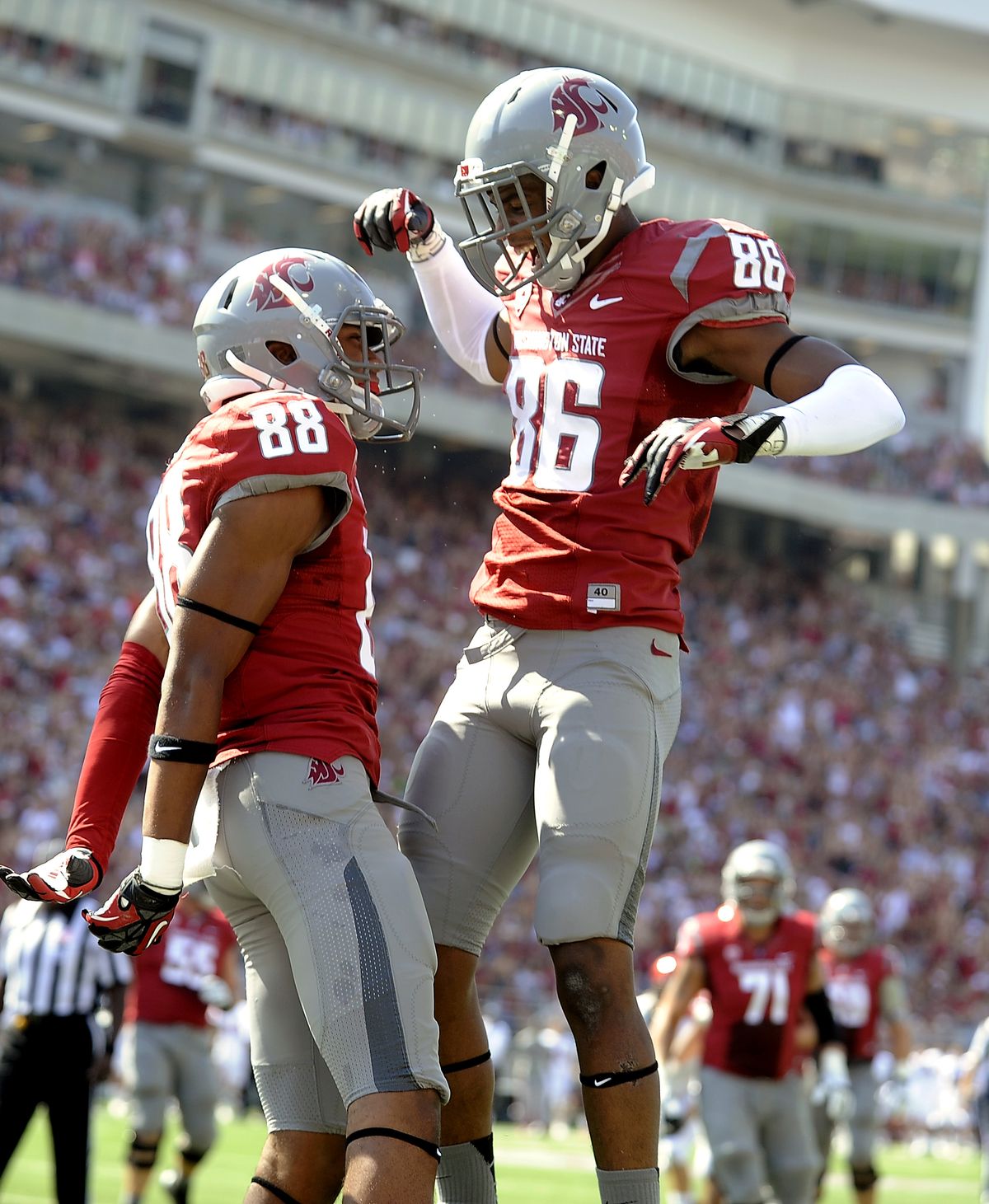 Washington State University's Isiah Myers (88) celebrates with teammate Marquess Wilson (86) after he scored the Cougars first touchdown in the first quarter during their football game in Martin Stadium Saturday, September 8, 2012, in Pullman Wash. (Colin Mulvany / The Spokesman-Review)
PULLMAN – There were differing opinions about whose hands rescued Washington State from agony.
Deone Bucannon, who was part of the scrum in WSU's end zone on the final play of its 24-20 win over Eastern Washington on Saturday, swears the final pass was batted away by Marquess Wilson, the standout receiver who was on the field as part of the Cougars' prevent defense.
WSU linebacker Cyrus Coen also thought it was Wilson. Others figured maybe it was Damante Horton or Taylor Taliulu. They were both back there to help defend the high-arcing ball thrown to receiver Nicholas Edwards, who appeared to get his hands on it, too.
"At the end of the day," Bucannon said, perspective dripping from his words, "it was incomplete."
Yes, after a frustrating game that saw starting quarterback Jeff Tuel leave early in the fourth quarter with an apparent right leg injury, the Hail Mary pass thrown by EWU quarterback Kyle Padron from WSU's 32-yard line was, indeed, incomplete. And so was the Cougars' performance before an announced sellout crowd of 33,598 at Martin Stadium, as WSU led by 10 points for much of the second half while squandering multiple opportunities to quash the Eagles' hopes and put the thing away.
"Both offensively and defensively, we let them off the hook at times," coach Mike Leach said. "Had them and just let them off the hook."
The Eagles (1-1) were who the Cougars thought they were – a talented, confident FCS team that eventually took advantage of the opportunities handed to them by WSU.
EWU totaled 469 yards of total offense, though 93 of those came on an early touchdown pass from Padron to Brandon Kaufman, and WSU recorded four sacks and bothered Padron all day.
"Defensively, through the whole game, I thought we played pretty good," Coen said. "You've got to give a lot of credit to Eastern Washington. They played a hell of a game."
And while Cougars players seemed relatively pleased about simply coming away with a win, there is still uncertainty over the status of Tuel's health.
Leach is famously tight-lipped about injury news, so his only comment on the matter was to say that Tuel is 100 percent healthy and can probably run the 40-yard dash faster than before.
The video suggests otherwise. Just after he threw a pass to Brett Bartolone for a 10-yard gain, Tuel was hit low by EWU defensive lineman Jerry Ceja. Trainers examined Tuel for a minute or so before he walked off the field under his own power, underwent further examination on the sidelines and had an ice bag wrapped around the inside of his right knee.
"He took me out because I was just actually feeling too good," Tuel joked, and that's all the insight you're going to get about how WSU's starting quarterback is feeling.
He completed 20 of 26 passes for 171 yards and two touchdowns, both to Isiah Myers. Eastern answered each of the Cougars' first two scores, but WSU scored the next 10 points thanks to a 60-yard field goal by Andrew Furney as the first half expired, the second-longest kick in school history.
After redshirt sophomore Connor Halliday took over at quarterback in the fourth quarter, the Cougars came close to sealing it. They led 24-14 with the ball on EWU's 2-yard line. Running back Teondray Caldwell surged toward the goal line on first-and-goal, carrying with him a chance to put WSU ahead by three scores with 5:42 left in the game.
But he fumbled, Eastern recovered, and Padron found Kaufman for a 17-yard touchdown after 12 plays to cap a 99-yard scoring drive.
The point-after was blocked and EWU's onside kick failed. All hope appeared lost for EWU when WSU running back Leon Brooks took off for a 41-yard touchdown run, but it wasn't, because a holding penalty brought the play back.
Again, on third-and-5 from EWU's 42-yard line, the Cougars appeared to put the clamps down when Halliday completed a 42-yard touchdown strike to Wilson. But that play was also called back for holding.
So the Cougars punted with 1:29 to play, the Eagles converted a pair of fourth downs to get themselves within heaving distance, and a failed attempt at a miracle was the final dose of relief for a WSU team that didn't play to its coach's standards.
"Right now, we're a really up-and-down team," Leach said. "Our spatters of positive plays are real positive. Our inconsistency on all sides of the ball is the negative part."
This week, at least, it could have been worse – replays seem to show that the only players to actually touch the final pass were Edwards and Kaufman.
"There's still things we've got to clean up," Tuel said. "Like Coach Leach said, we've got to take the positives from it. It's a win, but we've got to improve and do things better."
Local journalism is essential.
Give directly to The Spokesman-Review's Northwest Passages community forums series -- which helps to offset the costs of several reporter and editor positions at the newspaper -- by using the easy options below. Gifts processed in this system are not tax deductible, but are predominately used to help meet the local financial requirements needed to receive national matching-grant funds.
Subscribe to the sports newsletter
Get the day's top sports headlines and breaking news delivered to your inbox by subscribing here.
---