Sports
Another upset as No. 5 seed Louisville stuns No. 2 seed Cal
Mon., April 8, 2013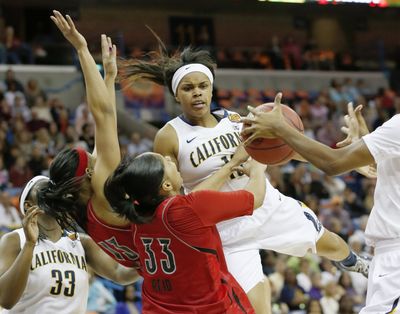 NEW ORLEANS – Make that three straight upsets for Louisville, whose latest thriller landed the Cardinals back in the women's national championship game for the first time since 2009.
Antonita Slaughter scored 18 points on six 3-pointers and Louisville clawed back from a 10-point halftime deficit to defeat California 64-57 in the national semifinals Sunday night. Bria Smith scored 17 on 6-of-7 shooting for the Cardinals (29-8), who were a No. 5 seed and became the first team seeded worse than fourth to win a Final Four game.
"I can't even put into words how proud I am," Louisville coach Jeff Walz said. "I told the kids they're stuck with me in practice for one more day."
The result ensures an all-Big East Conference final in the league's last season in its current form, with Louisville meeting Connecticut, which beat Notre Dame for the first time 83-65 in four tries in the other semifinal, on Tuesday night – one night after the Louisville men's team plays Michigan for the championship.
"Right now anything can happen," Walz said. "Why not us?"
Layshia Clarendon scored 17 for Cal (32-4), which had won the Spokane Region as a second seed. Gennifer Brandon scored 12 for the Golden Bears and Brittany Boyd added 10 points.
"Credit Louisville, which obviously has been really hot," Cal coach Lindsay Gottlieb said. "They outfought us in the second half."
Louisville had to beat defending national champion Baylor and Southeastern Conference power Tennessee just to get to New Orleans, and will need to summon one more upset to win it all. Not that they're worried about it.
"No one expects us to be here," Slaughter said. "No one expects us to be in the championship game. Just come together as a team and win as a team."
Shoni Schimmel, who had been one of the stars of the tournament, struggled early for Louisville, but finished with 10 points, including a clutch transition pull-up that gave Louisville a 57-54 lead with 2:06 left.
Clarendon responded with a left wing 3 of her own to tie it, but Sara Hammond, playing with four fouls for the last 7:20, gave the Cardinals the lead for good with a strong move inside as she was fouled. Suddenly, Cal was forcing desperate 3s and not hitting them.
"In the first half we got out a lot on the run. We didn't get a chance to run at all (in the second half) because we weren't getting stops," Clarendon said. "We made a lot of mistakes. It's not like we played somebody who was too good and just flat out beat us."
On Saturday night, the Louisville's men's team had to erase a 12-point second-half deficit against Wichita State, so the women didn't need much inspiration when they went into halftime trailing 37-27. They came out and quickly narrowed their deficit with a 7-0 run that began with Schimmel's 3. Smith added a mid-range jumper and Hammond scored inside to make it 37-34.
Cal was back up 47-39 when Clarendon spun into the lane for a pull-up jumper, but the Cardinals then scored the next seven points, starting with Slaughter's deep 3 and ending with Jude Schimmel's free throws that made it as close as 47-46.
The Cardinals finally pulled back into the lead when Hammond's free throws made it 53-52 with 3:40 left.
"We come out, we executed perfectly to start the second half," Walz said. "Once we took the lead, I could see it in our kids' eyes, the excitement, 'Hey, we can do this, we're going to do this.' "
Before the tip-off, Walz had the relaxed look of a coach who had been there before, which of course he had, when Louisville fell to the Connecticut Huskies in the 2009 national title game. He walked over to the Cal bench for a friendly chat with Gottlieb, giving her a hug before he walked back toward his bench.
Now the Cardinals have another shot at the Huskies.
Local journalism is essential.
Give directly to The Spokesman-Review's Northwest Passages community forums series -- which helps to offset the costs of several reporter and editor positions at the newspaper -- by using the easy options below. Gifts processed in this system are not tax deductible, but are predominately used to help meet the local financial requirements needed to receive national matching-grant funds.
Subscribe to the sports newsletter
Get the day's top sports headlines and breaking news delivered to your inbox by subscribing here.
---
Subscribe and log in to the Spokesman-Review to read and comment on this story