Sports
WSU football position review: Quarterbacks
Wed., Aug. 14, 2013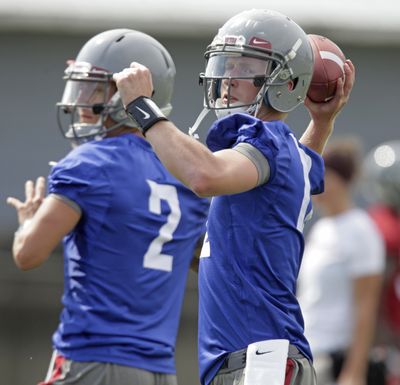 PULLMAN – Connor Halliday isn't shy about speaking his mind, so it's noteworthy that the junior quarterback is mostly saying all of the things Washington State fans want to hear.
That he, along with the rest of WSU's offense, is much more comfortable running the Air Raid now than in 2012. That he's getting better at taking what defenses are giving him. That he's taken control of a unit starved for leadership.
If all of that is true, coach Mike Leach may not have to deal with the back-and-forth seen last season at that position. Or he might give the Cougars' other starting candidate, Austin Apodaca, a chance to prove he's ready to play in the Pac-12.
Presumed starter
Even as a redshirt freshman during the 2011 season, Halliday said he approached each day of practice as if he were going to start that week's game. So nothing has changed from that perspective, other than the fact that he's going to play a heck of a lot more this season.
"At some points in your career, it isn't totally realistic," Halliday said. "I've always tried to approach the way I handle things as I'm the starter, so if something were to happen, like my redshirt freshman year, I was ready to go. I just try to do that all the time."
Coach Mike Leach hasn't totally committed to Halliday as his opening-day starter, though he said again Tuesday that Halliday would be the guy "if we were to play today." That's close enough to a full-fledged endorsement that it's probably safe to expect Halliday under center when WSU travels to Auburn on Aug. 31.
The redshirt junior has starting experience, and he appeared in nine games as a sophomore last season. Halliday and Jeff Tuel took turns trying to win the starting job, though neither player proved efficient or consistent enough to take control. Halliday completed only 52 percent of his passes for 1,874 yards, 15 touchdowns and 13 interceptions, too often forcing passes to receivers who were covered.
Halliday admits that his ability to hit big plays is sometimes countered by the difficulty he has hitting check-down receivers in Leach's Air Raid offense, though he has said more than once this camp that he's improving in that area.
Leach lauds the development of Halliday's leadership abilities, as well as his fast-paced personality that helps set the proper tempo for WSU's offense. The Cougars' offense under Halliday looks much different than it did last season, when spring and fall camp were spent simply trying to figure out where players were supposed to line up.
"Our (first) spring ball with coach Leach, to put it honestly, was terrible," Halliday said. "People didn't know what they were doing. People didn't know the reads. We didn't know what coach Leach expected."
In the mix
Austin Apodaca tries not to worry about what he can't control, and for that reason, the redshirt freshman doesn't seem particularly bothered by the fact that Halliday appears to have taken control of the Cougars' quarterback job.
But Apodaca has come a long way, too, drawing praise from Leach during the spring for the poise he showed in taking the first real practice repetitions of his career after running the scout-team offense last season. And that growth appears to have carried over into camp.
"Knowing my reads and getting through my progressions has shot up since spring," Apodaca said, "because sometimes in the spring, I was guessing on where things were going to be, guessing on my reads, and now I'm way more confident in the offense and I know my progressions."
If Halliday does indeed wind up WSU's full-time starter, Apodaca will most certainly back him up. And if last season's quarterback shuffle is any indication, it's entirely possible Apodaca won't have to wait all that long to see his first collegiate action.
If he does, Leach said, his confidence won't waver.
"We wouldn't adjust anything," Leach said. "We'd just do all our stuff."
Keep an eye on
Tyler Bruggman, WSU's highly-touted freshman, seems to be the team's No. 3 option if something happens to either Halliday or Apodaca. Indications from Leach suggest Bruggman won't play if he doesn't have to.
Walk-on freshman Luke Falk will likely begin the season as the fourth-stringer.
Reason for optimism
Halliday's 494-yard, 4-touchdown performance against Arizona State as a freshman provided fans a look at who they hoped would be the Cougars' quarterback of the future. And his ability to hit explosive plays, coupled with an unapologetic confidence, make him a threat to put up gaudy numbers every time he steps on the field.
If he's truly learned to hit check-down receivers when necessary Halliday could be far more consistent than in 2012.
Cause for Concern
WSU's offense was so spotty last season that it's still reasonable to think there could be more growing pains this year.
And Halliday, who has battled injury in each of his first two seasons, is the only quarterback on the Cougars' roster who has taken a collegiate snap.
Local journalism is essential.
Give directly to The Spokesman-Review's Northwest Passages community forums series -- which helps to offset the costs of several reporter and editor positions at the newspaper -- by using the easy options below. Gifts processed in this system are not tax deductible, but are predominately used to help meet the local financial requirements needed to receive national matching-grant funds.
Subscribe to the sports newsletter
Get the day's top sports headlines and breaking news delivered to your inbox by subscribing here.
---