News > Idaho
Killer Joseph Duncan gets new hearing
Tue., Jan. 8, 2013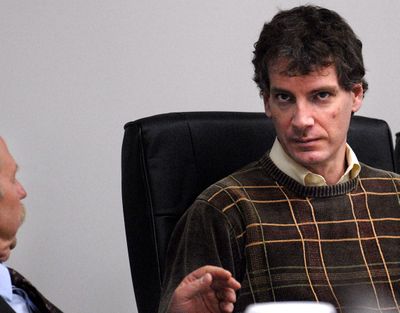 BOISE – Joseph Duncan was sentenced to death three times over for crimes against a 9-year-old North Idaho boy he killed in 2005, and he initially and repeatedly said he had no interest in appealing his death sentence.
But Duncan is still alive, and he'll be back in an Idaho courtroom today. The reason: His court-appointed lawyers filed an appeal for him, arguing that the multiple murderer and child molester wasn't mentally competent to waive his death-penalty appeals.
In addition to the three death sentences for the kidnapping, torture and murder of 9-year-old Dylan Groene, Duncan received nine life sentences for his 2005 attack on Dylan's family at their Wolf Lodge Bay home. Duncan killed Dylan's mother, older brother and mother's fiancé before kidnapping the family's two youngest children. Only Dylan's then-8-year-old sister, Shasta, survived the ordeal.
The issue of the killer's mental competency already had been addressed in Idaho's federal court, where U.S. District Judge Edward Lodge ruled him competent after two extensive psychological evaluations. The evaluations were ordered after Duncan decided to part ways with his public defenders and act as his own attorney.
However, the judge never held a hearing on the competency question in open court, allowing each side to cross-examine the other's witnesses; all the experts' reports remained sealed. The 9th Circuit U.S. Court of Appeals ruled that such a hearing was required, and it'll start today in Boise. Its focus: Duncan's mental competency in November 2008, not today.
In December 2010, Duncan changed his mind, sending a two-page, handwritten letter to the court saying he wanted to appeal after all. But that's not at issue – just his mental competency when he made the November 2008 decision against an appeal. He took that position in repeated court statements, under questioning from the judge, and in letters to the court.
Federal prosecutors say the legal question isn't whether Duncan has a mental illness; it's whether his mental condition "substantially affected his capacity to make a rational choice" not to appeal his death sentence.
"At the retrospective competency hearing, the United States will introduce evidence showing the defendant's consistent capacity to appreciate his position in legal proceedings over a long period of time," federal prosecutors wrote in documents filed with the court.
They noted Duncan's long and detailed planning for his crime spree, in which he went on a multistate hunt for children to attack. They noted that since the Idaho sentencing trial was concluded, Duncan faced trial for another child murder in Riverside County, Calif., and that there, an extensive mental competency hearing was held in open court and Duncan was ruled competent. He pleaded guilty and received a life sentence.
And they pointed out how, while acting as his own attorney in his sentencing trial in Idaho, Duncan filed objections, cross-examined witnesses, made opening and closing statements and otherwise participated in the court process. Among those: He objected to the showing in court of a graphic video he had made of himself hanging and sexually abusing Dylan at a remote cabin in Montana.
Duncan told the court then, "I would just like to state for the record, before the jury comes in so that it won't be prejudicial, that I strongly object. And I feel like basically this video will be turning the jurors into my victims so that I will be tried not by a jury of peers, but a jury of victims."
Court documents also show that after his sentencing and before and after he waived his appeals, Duncan consented to extensive, recorded jailhouse interviews with two FBI agents, in which he declined to have an attorney present and discussed, among other things, his reasons for waiving his right to appeal. The recordings stretch for 24 hours, and are among the items that could be considered as evidence in the competency hearing.
If the new hearing finds Duncan was competent when he waived his appeals, he'll go back to federal death row in Terre Haute, Ind., to await execution. If he's not found competent, that would raise questions about his competency to represent himself in the 2008 sentencing trial as well, potentially forcing a replay of that weekslong case.
Local journalism is essential.
Give directly to The Spokesman-Review's Northwest Passages community forums series -- which helps to offset the costs of several reporter and editor positions at the newspaper -- by using the easy options below. Gifts processed in this system are not tax deductible, but are predominately used to help meet the local financial requirements needed to receive national matching-grant funds.
Subscribe to the Coronavirus newsletter
Get the day's latest Coronavirus news delivered to your inbox by subscribing to our newsletter.
---