News > Idaho
Idaho lawmaker equates abortion rights to prostitution
Thu., Jan. 17, 2013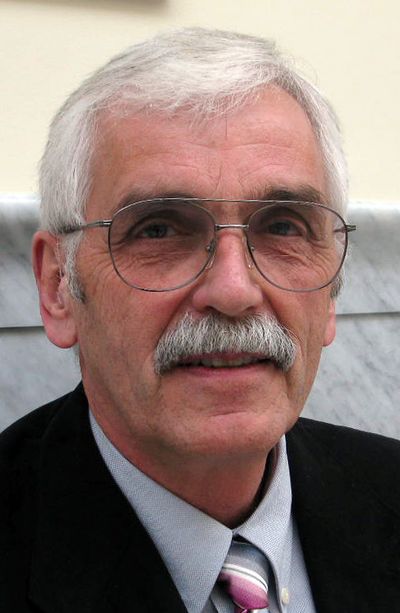 BOISE – A lawmaker from North Idaho drew audible gasps Wednesday morning when he asked representatives from the American Civil Liberties Union of Idaho if their pro-abortion-rights stance also means they support prostitution.
Rep. Ron Mendive, R-Coeur d'Alene, made the comparison during a legislative breakfast presentation held by the ACLU.
Since the organization supports a woman's right to choose abortion, Mendive asked ACLU-Idaho Executive Director Monica Hopkins, shouldn't it also support prostitution? Prostitution is "a woman's choice," Mendive said.
Hopkins responded that a woman's right to access reproductive health care is constitutionally mandated, while prostitution is illegal. She also told Mendive that prostitution is not always a "choice," noting that a bill targeting human trafficking could be presented to lawmakers during the legislative session.
Mendive, a freshman lawmaker, defended his question in an interview with The Spokesman-Review.
"I am anti-abortion, so that's why I brought up that question," he said.
Mendive said, "Actually I grew up in Kellogg, and the reality is there used to be brothels in Wallace. That was a career choice – no one forced them into that."
He said he didn't mean that he thinks prostitution should be legal. "I think that there's kind of a double standard," he said. "With abortion there are two beating hearts, and prostitution, there's just one. If a woman were going to make a choice to be a prostitute, that's her decision as to what to do with her body."
He said in his view, it's comparable to someone deciding to use illegal drugs. "I don't support that either," he said. "Those were just examples."
Mendive said he didn't feel like his question was answered.
Hopkins said after the event, "He was correlating a criminal action with something that is constitutionally protected. Those are two completely separate issues."
A woman may choose prostitution just as she may choose to rob a bank, but "that would be criminal activity that is not constitutionally protected," she said.
House Majority Caucus Chairman John Vander Woude, R-Meridian, said Mendive's "example, in my opinion, was a very poor choice." Vander Woude said, "Rarely when a woman becomes a prostitute, is it because of a choice."
This incident marks the second time in a year in which an Idaho lawmaker has gained national attention from comments he's made about abortion. Sen. Chuck Winder, of Boise, the Senate assistant majority leader, made comments during the 2012 session in debate over a bill to require a woman to get an ultrasound before an abortion.
"I would hope that when a woman goes into a physician with a rape issue, that that physician will indeed ask her about perhaps her marriage, was this pregnancy caused by normal relations in a marriage, or was it truly caused by a rape," Winder told the Senate last March.
Winder later said he was misunderstood and never meant to cast doubt on the truthfulness of a woman's claim of rape.
Mendive was outspoken about his anti-abortion stance as part of his "Life, Liberty and Property" platform when he ran for the Legislature last year, narrowly winning the GOP primary by nine votes.
He took more than two-thirds of the vote in the November general election in North Idaho's heavily GOP District 3.
Staff writer Betsy Z. Russell contributed to this report.
Local journalism is essential.
Give directly to The Spokesman-Review's Northwest Passages community forums series -- which helps to offset the costs of several reporter and editor positions at the newspaper -- by using the easy options below. Gifts processed in this system are not tax deductible, but are predominately used to help meet the local financial requirements needed to receive national matching-grant funds.
Subscribe now to get breaking news alerts in your email inbox
Get breaking news delivered to your inbox as it happens.
---