Sports
Bouchee dies at 79
Former LC, WSU star played 670 MLB games
Fri., Jan. 25, 2013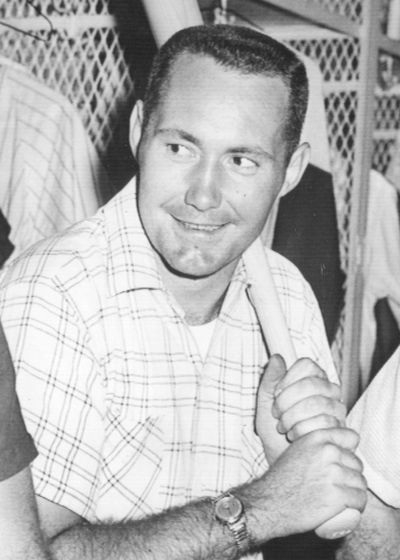 From big man on campus at Lewis and Clark High School to big-league first baseman, Ed Bouchee built an oversized reputation as one of the area's all-time finest athletes.
Bouchee, who lived in retirement in Gilbert, Ariz., died Wednesday afternoon in Phoenix. He was 79. He had outlived a brush with infamy to play seven seasons of major league baseball, enjoy a long industrial career and reap the rewards of enduring friendship.
Suffering from the effects of diabetes, Bouchee had been hospitalized for several weeks, according to former pitcher Jack Spring, his longtime friend and former teammate.
Born March 7, 1933, four days before Spring, in Livingston, Mont., Bouchee was the son of a railroad boilermaker who moved his wife and three children to Spokane during World War II. At LC, Bouchee, Spring and Bill Farr, the baseball team's catcher, began a friendship that has lasted more than 65 years.
Spring said Bouchee won all-state and all-city honors in football, basketball and baseball.
"To my mind," Spring said, "he's in a category with Bud Roffler, Ryne Sandberg and Mark Rypien among Spokane's greatest all-around athletes."
Spokane Public Schools lists him as a Distinguished Lewis and Clark High School Alumni.
Bouchee and Spring graduated in 1951. That summer, they led a Troy, Mont., semipro team into the American Baseball Congress championship series. And, in the fall, they enrolled at Washington State, where Bouchee played freshman football and both played freshman basketball and varsity baseball.
Soon after school let out, Spokane Indians manager Don Osborn signed the 19-year-olds to professional contracts that soon put them in the Philadelphia Phillies organization.
Bouchee had three hits in his debut and batted .319 in 98 games. After spending the next two years in the Army and two seasons in the minors, he finished 1956 with the Phillies.
In 1957, Bouchee became Philadelphia's regular first baseman. He batted .293 and hit 17 home runs. Although the official vote favored his teammate, pitcher Jack Sanford, The Sporting News named Bouchee its N.L. Rookie of the Year.
Acclaim abruptly gave way to disgrace.
On Jan. 17, 1958, Spokane police arrested Bouchee after he was accused of exposing himself to schoolgirls. He pled guilty to two counts of indecent exposure involving children and underwent psychiatric treatment. By July he rejoined the Phillies for the rest of the season.
Philadelphia traded him to the Chicago Cubs during the 1960 season. And, after playing for the Cubs in 1961, he went to the New York Mets in the expansion draft. He spent most of 1962 and all of 1963 in the International League and retired from baseball at age 30.
Bouchee played in 670 major league games, batting .265 with a solid .368 on-base percentage.
After his playing days, he settled in Chicago, where he became a warehouse supervisor for auto parts supplier ACDelco.
He is survived by his wife, the former Joanne Brand, whom he married in Spokane 60 years ago last May. They had three sons and one daughter. One son, Chris, played two seasons in the Phillies organization. Bouchee also is survived by a sister, Beverly Naccarato, of Spokane.
Local journalism is essential.
Give directly to The Spokesman-Review's Northwest Passages community forums series -- which helps to offset the costs of several reporter and editor positions at the newspaper -- by using the easy options below. Gifts processed in this system are not tax deductible, but are predominately used to help meet the local financial requirements needed to receive national matching-grant funds.
Subscribe to the sports newsletter
Get the day's top sports headlines and breaking news delivered to your inbox by subscribing here.
---