News > Idaho
In debate over protecting wolves, public opinion runs deep
Sun., July 14, 2013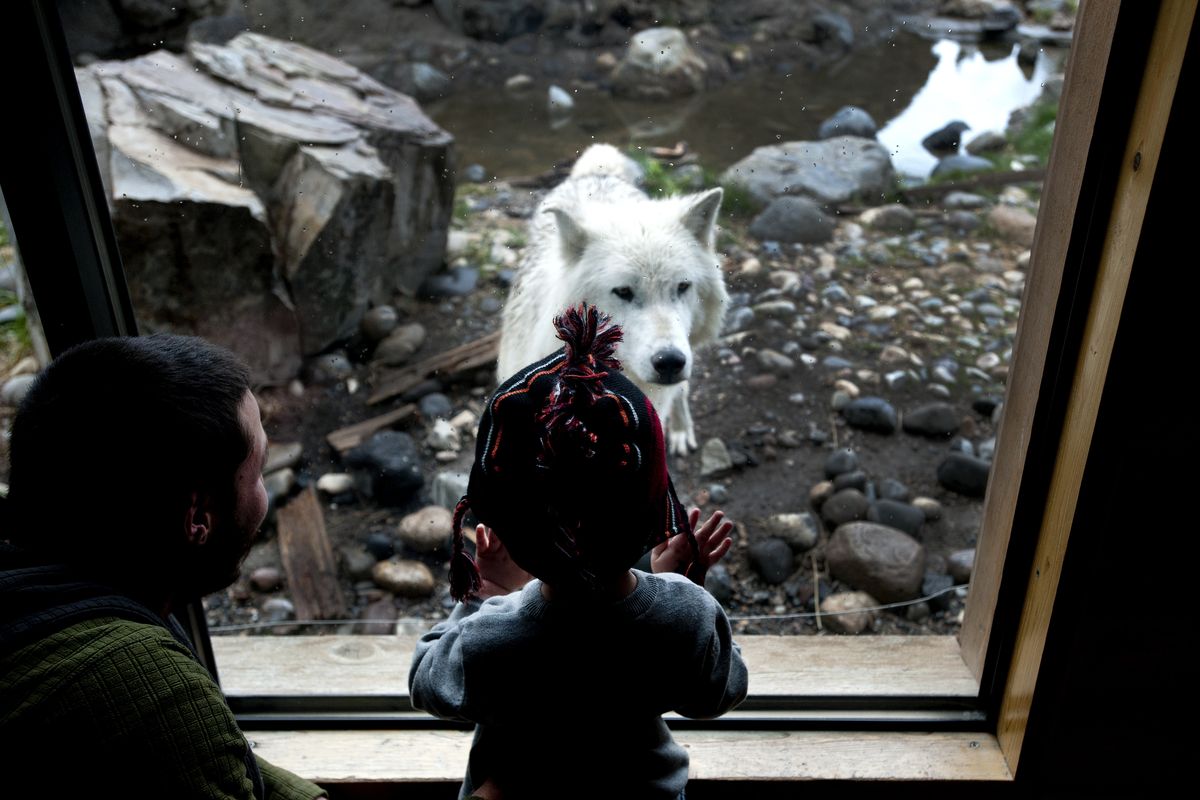 Braxton Wheeler, 4, of Island Park, Idaho, locks eyes with a wolf at the West Yellowstone Grizzly & Wolf Discovery Center near Yellowstone National Park on May 18. The center offers opportunities to observe some of the West's most controversial predators.
LAMAR VALLEY, Wyo. – Seeing wolves for the first time left Jimmy Jones awestruck.
Wolves were mythic, larger-than-life creatures to the 59-year-old Los Angeles resident. Yet there they were, two of them, chasing bison at Yellowstone National Park in 2005.
Watching wolves run through a meadow is a sight to behold, agrees Karla Gitlitz, a 35-year-old rancher from Meeteetse, Wyo. Beyond that, she has no kind words for wolves, which she considers ruthless killers.
Wolves have spent the night howling within 200 feet of the house she shares with her husband and 15-year-old son. She's watched them hamstring cows, and she was heartbroken and furious the day she saw two wolves tugging on a yearling's intestines.
Two Westerners who cherish the outdoors. Two starkly different views of wolves.
For Jones, who lives in a metro area of 18 million, wolves are a symbol of the nation's remaining wild lands. "Just the mention of wolves can send a shiver up people's spines," says the auto shop foreman, who returns to Yellowstone twice a year to photograph the packs.
For Gitlitz, who lives in one of America's least populated states, wolves represent an urban agenda thrust upon ranchers and a threat to rural livelihoods.
Nearly 20 years after gray wolves were reintroduced to Yellowstone and central Idaho, deep fault lines remain in public opinion on wolves' presence and the appropriate limits of their range. The divide often separates the horse-trailer crowd from Subaru-driving suburbanites. It was spotlighted last month when the U.S. Fish and Wildlife Service announced it was ready to get out of the wolf business.
Agency officials have proposed ending federal protections for the 6,100 wolves in the Lower 48 states by the end of the year, with the exception of the Southwest's Mexican gray wolves. Management would be turned over to the states, which would have more leeway to kill wolves through public hunts, trapping and other actions.
Wolves are already off the endangered species list in Idaho, Montana and Wyoming, parts of Eastern Washington and Oregon, and the Upper Midwest. Some environmental groups want federal protections to remain until wolves recolonize other areas, including the Pacific Northwest, Utah and Colorado.
Ultimately, however, "the future is really about state management," says Martin Nie, a professor of natural resource policy at the University of Montana. "There's always going to be some conflict over wolves, but I think we can deal with the conflicts in a much smarter way than we have in the past."
Doing that will require more attention to values, Nie says.
Wolves symbolize "this greater, ongoing struggle in the American West over how resources will be used, how lives will be lived and who gets to decide," says Susan G. Clark, a Yale University professor of wildlife ecology and policy, in her 2005 book, "Co-existing with Large Carnivores."
She anticipates more conflicts in rural communities as wolf populations expand. Dispersing wolves will venture into more developed areas where they'll encounter more cattle, more sheep and more people whose narrative is "My grandparents killed the wolves off … and we don't want them back," she says.
There are lessons here for Washington state, where dispersing wolves from Idaho and Canada are re-establishing packs in parts of Eastern Washington and the Cascades.
As wolves become more numerous, public support for them typically wanes, according to a study published in Wildlife Society Bulletin.
The study analyzed three decades of U.S. and European public opinion polls. It found that people with the most positive attitudes toward wolves had the least direct experience with them. People living near wolves had the most negative views.
"Wolves are going to live in the same landscape as local people," Clark says.
If stakeholders don't feel like their voices are heard and their concerns acknowledged, it will be difficult to manage wolves in a way that supports the national interest, she says.
Ranchers pitted against tourists in Wyoming
Wyoming epitomizes the clash of values over wolves.
Since their reintroduction to Yellowstone in the mid-1990s, wolves have developed celebrity status in America's oldest national park. Tourists get up before dawn to set up spotting scopes in the Lamar Valley at the park's northeastern edge, where a broad floodplain makes it easy to watch wolves, bison and elk.
Most park visitors support the wolves' return. After grizzly bears, wolves are the wildlife species that park visitors most want to see, according to a 2006 University of Montana study.
But those views aren't shared by most Wyoming residents. In a 2012 poll, more than half of those surveyed thought wolf reintroduction has been mostly negative for the Cowboy State.
Wyoming is the most rural of the Lower 48 states, with fewer than 600,000 residents scattered across nearly 100,000 square miles. Cattle outnumber people about 2 to 1. Elk, a favorite food for wolves in the Northern Rockies, are also abundant. The state's 112,000 elk make Wyoming a destination for hunters, who support a $90 million outfitting-and-guide industry.
Gov. Matt Mead brokered the plan that allowed Wyoming wolves to come off the endangered species list last October.
A fourth-generation rancher, Mead's conference room is dominated by a painting of cows that once hung in the former Cheyenne Club, a watering hole for cattle barons during Wyoming's territorial days. The painting is a tribute to the industry's long legacy and deep influence in Wyoming.
"I think if you looked outside the state in urban areas, most people would say there's never a justification for hunting or killing wolves," says Mead, 51.
But that doesn't jibe with the views of the state's 11,000 ranchers or its outfitting industry. Mead says Wyoming's plan was crafted with knowledge that not every place wolves roam will be suitable habitat.
Under Wyoming's management, wolves are classified as predators in most of the state, which means they can be shot on sight. In the state's northwest corner, which has the best wolf habitat, wolves can be hunted outside of Yellowstone and other protected areas, but those hunts are subject to seasons and quotas.
The state has committed to maintaining at least 100 wolves in areas outside of Yellowstone National Park and the Wind River Indian Reservation, including 10 breeding pairs.
Wyoming's wolf plan is currently the subject of federal litigation from environmental groups, who say it's not protective enough – particularly when the federal government has pumped more than $100 million nationally into wolf restoration.
December estimates put Wyoming's wolf population at a minimum of 277, including those inside Yellowstone.
Urban dwellers sometimes have romanticized expectations of the rural West, Mead says. They don't understand that the people who live there have to earn a living.
Take ranching: "People love the open space, the clean water, the beautiful meadows that are provided by ranching; they just don't want any cows," he says.
Mead also says most Wyoming residents think wolves should be under state control.
Dave Vaughan, a 74-year-old rancher from Lander, Wyo., is one of them. "You can't have people in Washington, D.C., managing wolves in Wyoming," he says.
Vaughan says he got out of the cattle business several years ago, when four wolves appeared on the 5,000-acre ranch he manages. That year, he said an unusually high number of cows aborted their fetuses. And six calves turned out to pasture vanished. While he can't tie either event directly to wolves, Vaughan said he lost 20 percent of his calves and most of the year's profits.
He's been working to raise $5,000 for the Wyoming Wolf Coalition, a group of outfitters, counties and agricultural interests that supports keeping Wyoming wolves under state management. The coalition is an intervener in the lawsuits challenging the plan.
"Back 100 years ago, we have room for wolves. They had a place," Vaughan says. When 30 million bison migrated across the Great Plains, wolves played an important role as scavengers, he says. That was probably true even during the big cattle drives, when a certain percentage of animals were routinely lost to old age, injuries or disease, he says.
But the Wyoming of today is not the Wyoming of 1880, when the state had 21,000 people, Vaughan says.
"These are things that we need to get across to people who live outside the state," he says.
Advocate: Politics trumps science
Duane Short is a wolf advocate in an anti-predator state. It's sometimes a lonely job, says Short, 58, who works for the Biodiversity Conservation Alliance in Laramie, Wyo.
The organization is one of the environmental groups that filed a lawsuit challenging Wyoming's management plan for wolves. At this point, however, the alliance has petitioned to withdraw the suit in favor of another, similar lawsuit that's moving through the courts.
"We know that wolf numbers are far, far below historic numbers," Short says. "Their range has been diminished to a few isolated areas in a few isolated states."
Wolves play invaluable roles in ecosystems, Short says. They keep deer and elk numbers in check and improve the herds' gene pool by culling diseased animals. Wolves kill coyotes, which benefits ranchers. And their presence also improves fish habitat by keeping deer and elk on the move, preventing them from overgrazing streamside willows and aspens.
In Yellowstone, healthier willow and aspen stands have led to increases in songbird and beaver populations.
That's all well-documented through scientific research, Short says. As a biologist, "it's very difficult for me to see the benefits of upsetting a balance that nature pretty well manages on its own."
Short says politics has trumped science in setting wolf policy. He blames ranchers, a small but powerful lobby in the West. Short says he's been at public meetings where livestock producers make it sound like wolf attacks result in regular bloodbaths in their herds. "It becomes almost an end-of-the-industry rhetoric, when it's really a small percentage of losses," he says.
Confirmed wolf kills represent less than 2 percent of all cattle losses and less than 1 percent of all sheep losses, according to Wyoming agricultural statistics. The big killers are harsh weather, illness and birthing complications.
"There's maybe a total of 300 wolves in the state," Short says. "This is tongue-in-cheek, but you have to wonder: If every one of those wolves had a beef steak a day, or a lamb chop, how big of a true economic impact could that possibly be?"
Wolf-kill numbers don't tell whole story
Smudges under Karla Gitlitz's eyes in early May indicate that it's the end of calving season. For 72 straight days, she's worked the night shift in the calving barn, acting as a midwife to pregnant cows. She's babied, coaxed and lectured peaky newborn calves until they stand up and nurse.
Though ranchers raise cattle for beef, they forge bonds with their animals that outsiders don't always appreciate, she says.
Dismissive stereotypes of ranchers irk Gitlitz, who graduated from the University of Wyoming at age 20 with a triple major in accounting, agribusiness and pre-veterinary science. Most of her colleagues also have college degrees, but "people think we're a bunch of dumb ranchers," she says.
At the century-old ranch where Gitlitz works, lights are set up at night to deter predators. Ranch hands ride daily to check on the herd's welfare. Dead animals are buried promptly to discourage scavengers.
She still gets second-guessed. When Gitlitz applied for compensation for a confirmed wolf kill from a Defenders of Wildlife program, she says she got a letter back questioning whether the ranch was "purposefully enticing the wolves."
While environmental groups cite low numbers of documented wolf kills, ranchers say those statistics don't tell the whole story.
Gene Jordan, of Riverton, Wyo., started noticing wolves on his ranch about seven years ago. He typically lost a handful of calves every year to pneumonia or black bears. Now, he usually loses about 25 calves. He doesn't find all the carcasses in the sagebrush and timbered draws. And when he does find them, they're sometimes too badly decayed to determine the cause of death.
Each calf is worth about $800. If wolves take 20, "that's $16,000," he says.
Animals lost to predators also represent reductions in future earnings, Gitlitz says.
Several years ago, she and her husband and dad were moving pregnant cows when they saw a wolf attacking. The cow was so badly mauled that Gitlitz could stick her hand into a cavity in its hindquarters. She nursed the cow back to health, and it had twins she named "Wolf" and "Bite." But that was the last pregnancy for the cow, which was sold that fall.
Under normal conditions, the cow would have stayed in the herd for 10 years, producing a calf each year. "That's a decade worth of profits," she says.
Gitlitz's dad fired at the wolf but missed it. Government trappers couldn't catch it, either.
Despite Wyoming's shoot-on-sight policy, wolves are hard to kill, Gitlitz says.
Elk numbers down sharply
Tim Hockhalter, 58, runs an outfitter service on the northwest edge of Yellowstone National Park. He says he's lost most of his income since the wolves returned.
He and his wife, Geri, once grossed about $150,000 a year taking out-of-state clients on eight-day elk hunting trips.
But over the last two decades, the North Yellowstone elk herd has plunged from about 19,000 animals to 4,000, and the Hockhalters' company, Timber Creek Outfitters, now brings in about $40,000 annually. Biologists say multiple factors besides wolves are at work, including harsh winters and predation from other carnivores. They also say the smaller elk herds are more consistent with historic populations.
The end result for Hockhalter and other outfitters, however, is fewer elk tags for out-of-state hunters. The loss of each of those tags represents an $8,000 to $10,000 hit to the local economy, he says.
He's miffed that people who want wolves back on the Western landscape don't pay more. In Wyoming, wildlife management is financed primarily through sales of hunting and fishing licenses, though state appropriations pay for wolf management.
"These environmental groups are using their money to drag us back to court," Hockhalter says. "They don't put their money where their mouth is."
'Social shifts take time'
Environmentalists should put money into wolf recovery, says Barbara Cozzens, a director for the Greater Yellowstone Coalition, a nonprofit conservation group in Cody, Wyo. It would give them "skin in the game," she says.
Cozzens, 43, moved to Cody two years ago. She's an avid horsewoman and works a second job as a bartender, both of which help her credibility in this town of 10,000 located about an hour's drive from Yellowstone's east entrance. Cozzens says people are more likely to listen to a bartender than her alter ego – a former Ph.D. candidate who has spent 22 years in conservation work, mostly in Washington, D.C.
During her time in Cody, Cozzens has worked to find common ground with local politicians, ranchers and other residents. She learned the importance of rural communities' buy-in when she worked for an arm of the World Bank, monitoring the social and environmental impacts of overseas development projects.
Without rural residents' support, wolves won't thrive in the long run, she says.
"For a long time, scientists didn't really understand that," Cozzens says. And based on the disparaging remarks in their email alerts, some national environmental groups still don't, she says.
"I get really offended by the big organizations painting Wyoming as a redneck, bloodthirsty state," Cozzens says.
Joe Tilden, a local county commissioner, praises Cozzens' willingness to listen. Their views on wolves couldn't be more different, but they've developed a mutual respect, Tilden says.
The Greater Yellowstone Coalition still has a number of problems with Wyoming's wolf management plan, says Chris Colligan, the coalition's wildlife program manager.
Still, the coalition opted not to become part of litigation. "We're trying to change Wyoming's plan from the inside out," Colligan says.
It's a long-term view, he acknowledges. But he says the kind of comments he hears from ranchers, outfitters and rural residents is gradually changing.
"They say, 'Wolves are here to stay. We just need to learn how to manage them,' " Colligan says. Their version of management includes killing more wolves than his does, Colligan says, but it's still a shift from all-out opposition to having wolves back on the landscape.
Could environmentalists, ranchers and outfitters ever find common ground on wolves?
"I hope so," he says. "Wolves have been back for less than one (human) generation. These kinds of social shifts take time and they are hard to measure."
This story was changed from the print version to correct a description of Barbara Cozzens education.
Local journalism is essential.
Give directly to The Spokesman-Review's Northwest Passages community forums series -- which helps to offset the costs of several reporter and editor positions at the newspaper -- by using the easy options below. Gifts processed in this system are not tax deductible, but are predominately used to help meet the local financial requirements needed to receive national matching-grant funds.
Subscribe now to get breaking news alerts in your email inbox
Get breaking news delivered to your inbox as it happens.
---