Sports
GSL Preview Baseball
Thu., April 3, 2014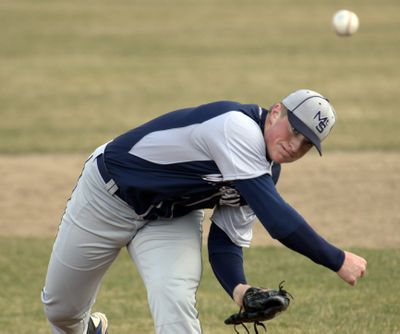 Gonzaga Prep (6-1 overall, 5-0 in GSL): The Bullpups have six starters and nine lettermen returning from a lineup that went 22 deep last year and won the league with a 21-3 overall record and a blistering 17-1 mark in the GSL. Gonzaga Prep lost in the first round of the state playoffs to eventual state champ Skyview.
For the second-straight year, G-Prep has 13 seniors returning, including two-time all-league third baseman Anthony Gosline and league MVP Justin Blatner, who pitches and plays the outfield. Blatner has committed to do the same for Gonzaga University.
"Our offense and defensive play should be very solid," coach Brian Munhall said, "but we will have to have some guys emerge on the mound this season."
Jordan Rathbone will mask up and take over at catcher, replacing Zach Bonneau and Kane Ulrich. The roster goes 19 deep and Munhall expects that 13 of those players will get most of the playing time.
Mt. Spokane (5-2, 4-1): The Wildcats finished second in the league last year and went 14-7 overall and 14-4 in the league. Mt. Spokane has five starters and seven lettermen returning, including star pitcher Drew Rasmussen, who has agreed to take his talents to Oregon State.
The Wildcats last made state in 2012. Alex Schuerman, who has been at the helm for a decade, said he believes his team has the depth, speed and arms at the front end of the rotation to challenge for a league championship.
More than half his returning 15 players are seniors and Schuerman expects big things from junior infielders Tyler Bailey and Cooper Smith, who also pitches.
"I feel like we have the depth and the talent to compete," Schuerman said. "If everyone stays healthy and focused we have a chance to win our first state playoff game."
Ferris (6-1, 5-0): The Saxons finished third in the Greater Spokane League last year but they return two-thirds of their starters to the team that went 13-9 overall and 12-6 in league.
The heavily senior-laden squad returns four-year starter Tim Yoshihara, top returning pitcher Griffin Davis and catcher Alex Jondal, who has committed to play for the University of Hawaii.
"Jondal is one of the top catching prospects in the state," coach Jim Sharkey said.
Behind Davis, Sharkey said his pitching roster is somewhat "thin." But he likes his team's overall depth.
"If pitching comes through, we should be in the hunt," Sharkey said. "Davis and Tanner Parker will be keys on the mound."
Shadle Park (6-1, 4-1): The Highlanders had a losing overall record at 10-11 and went 9-9 in league play, but the team has lost only once in the new season. Coach Ron Brooks lost five starters and seven lettermen to graduation, but he has a lot of talent returning, including catcher Brett Rypien; Jonny Krupla, who pitches and plays the infield; and shortstop Evan Douglas, who many coaches consider the best hitter in the league.
Douglas "has dominated this league offensively for years and I expect a monster senior year for him," Gonzaga Prep coach Brian Munhall said.
Brooks likes the look of his Highlanders roster. We have "a lot of football kids that bring with them a winning and work attitude," Brooks said. They are "a very energetic group."
Mead (1-4, 1-5): The Panthers finished fourth in the league last year with a 15-9 overall mark and 10-8 league record but made it to the state playoffs, where they failed to advance out of a sub-regional game. They return only two starters and have five returning lettermen from a team that lost a total of 13 letterwinners to graduation.
Coach Jason Reich said that lack of experience could be this team's stumbling block, which its opening record appears to indicate. The roster includes only five seniors, six juniors and two sophomores.
"It will take some time to get the rookies' feet wet," Reich said. "We will need to compete and fight for wins early on. We should get better as the season progresses in all facets of the game."
Lewis and Clark (3-4, 2-3): The Tigers lost only two starters and four letterwinners from the team that went 9-12 overall and 7-11 in league play. And that experience appears to have LC on track to better last year's record. Coach Steve Bennett returns eight starters and 12 returning lettermen to a team he believes will be strong in pitching, defense and experience.
The Tigers return third baseman Pat Smith, pitcher Karver Pate – who already threw a no-hitter, against Mead on March 21 – and pitcher/first baseman Ethan LaValley. Bennett also said he expects big things out of catcher Tyler Hojnacki.
"I am optimistic that we will be improved as a baseball team," Bennett said. But he noted that the Tigers lack pitching depth and have "unproven offensive production."
University (1-4, 1-4): The Titans eeked out a winning record to finish fifth in the league with a 10-9 overall record and they earned a 10-8 league mark last season. However, the Titans got their first victory just this week.
Coach Tom Hoiland returns seven starters and 10 letterwinners on the 12-player roster. He cites that experience as a strength but noted that his team lacks depth. Infielder Garrett Schmerer and outfielder Austin Stannard are playing their third year on the varsity squad.
"Because of the number of returning players and experience, we should be able to compete with just about anyone," Hoiland said.
Central Valley (1-4, 1-4): The Bears return 13 seniors but lost six starters from a team that went 6-12 both overall and in league play. And the Bears have already stumbled out of the gate. Coach Barry Poffenroth has plenty of experience on the 18-player roster, which includes only four juniors and one sophomore. Poffenroth lists pitching as a strength, but the major weakness is "lack of experience."
Rogers (3-4, 2-3): The Pirates return a whopping nine starters and 10 lettermen from last year's squad that went 3-16 overall and 3-15 in the league. Coach James Wasem has a nice mix of experience, with seven seniors and eight juniors returning on a 17-player roster.
Wasem lists defense as a strength but he laments the lack of arms.
"We have some young starters that will gain experience with every game," Wasem said. "We hope to improve and come on strong at the end of the season."
North Central (1-6, 0-5): The Indians struggled last year, going 2-16 overall and in league play. The team has already won half as many games as it did last year in the new season. Coach Barry Matthews lost six starters to graduation but returns five lettermen and starters Luc Bartholomew and Kyle Miller to a team that has six seniors. However, the team is also young, with one junior, four sophomores and two freshmen listed among the 13 varsity players.
Matthews said his team's biggest strength is depth in pitching but youth and inexperience will be the biggest hurdle for the Indians to overcome. He expects good things from infielders Trainor Warren, Riley Smith and Alex Jacob, outfielders Cody Rupert and Mason Doidge and utility player Nate Romaneschi.
| | | |
| --- | --- | --- |
| Predicted finish | | 7. University |
| 1. Gonzaga Prep | 4. Shadle Park | 8. Central Valley |
| 2. Mt. Spokane | 5. Mead | 9. Rogers |
| 3. Ferris | 6. Lewis and Clark | 10. North Central |
Local journalism is essential.
Give directly to The Spokesman-Review's Northwest Passages community forums series -- which helps to offset the costs of several reporter and editor positions at the newspaper -- by using the easy options below. Gifts processed in this system are not tax deductible, but are predominately used to help meet the local financial requirements needed to receive national matching-grant funds.
Subscribe to the sports newsletter
Get the day's top sports headlines and breaking news delivered to your inbox by subscribing here.
---