Sports
Eastern football position review: Offensive line
Tue., April 15, 2014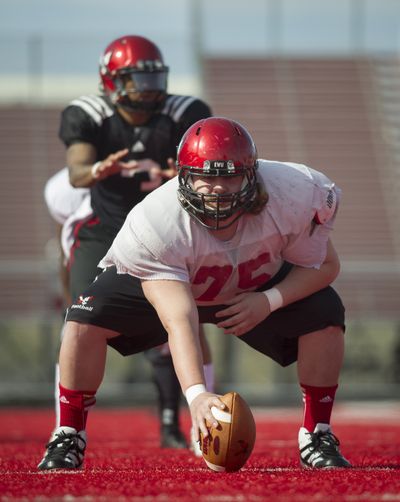 This is the fourth of an eight-part series on spring football at Eastern Washington. Today: the offensive line
The Eastern Washington offensive line is more than the sum of its parts, mostly because those parts are almost interchangeable.
The parts are talented too, which will come in handy as the Eagles must replace three starters in the interior line, including an All-American center in Ashton Miller.
"Last year, we had 10 guys who could be starters in some other years," coach Beau Baldwin said of a group that helped the Eagles set numerous school records.
Or as offensive line coach Aaron Best calls them, "1 1/2s" – not quite starters, but much more than backups.
"A lot of them could have started on other teams," said Best, now in his 14th year at Eastern.
A case in point: center Jase Butorac, an understudy for four years behind All-Americans Miller and Chris Powers. "It was hard at times, but now it's time to show what I've learned," said Butorac, a senior-to-be from Sammamish, Wash.
At this point, Butorac is the front-runner at center, while two-year starter Clay DeBord is a fixture at left tackle. Otherwise, the Eagles are still arranging those parts for the best possible fit:
Center
"All he's done is win," Best said of Butorac, who won three State 4A titles at Skyline High and a trio of Big Sky Conference titles with the Eagles. More than that, the 6-foot-3, 285-pounder gained valuable game experience as the Eagles rotated freely on the line.
"It's been a long time coming," Butorac said of his chance to start.
Best hopes that Butorac will do more than "drive with both hands on the steering wheel" now that he has the ball in his hands to start every play.
"I want him to go over the limit," said Best, who will count on Aaron Neary, Jay Deines, Thomas Gomez and left-hander Jerrod Jones as potential backups at center.
Guard
Neary, a 6-4, 285-pound junior from Richland, impressed the coaches last year – enough to be penciled in as one of the starters at guard. A fullback two years ago, Neary has shown the ability to move and pass-protect, Best said. But more than that, "of all the guys I've coached, he's in the top five of transforming himself as a player and a person," Best said.
Former Shadle Park star and Washington State transfer Jake Rodgers looks to be the favorite to start at the other guard position. The ultimate interchangeable part – he played all five O-line positions at WSU in 2012 – the 6-6, 320-pound senior will be a presence no matter where he plays.
"Ultimately, he's going to find himself somewhere," Best said.
Gomez, a 6-3, 295-pound junior from Graham, Wash., looks to be one of the top backups at either guard spot.
Tackle
Rodgers may move to guard partly because of an embarrassment of riches at tackle.
Clay DeBord, a 6-6, 290-pounder from Asotin, Wash., is in his third year in the program and has anchored the left tackle position for two years. Showing quickness for a big man, DeBord has been the blind-side protector of quarterback Vernon Adams.
Classmate Cassidy Curtis, a 6-7, 290-pounder from Denver, should start at right tackle, while T.J Boatright (6-5, 285), a junior from Vancouver, looks to be a top backup. In fact, Boatright started last year against Idaho State when DeBord was injured.
Coming Thursday: part five, the defensive line
Local journalism is essential.
Give directly to The Spokesman-Review's Northwest Passages community forums series -- which helps to offset the costs of several reporter and editor positions at the newspaper -- by using the easy options below. Gifts processed in this system are not tax deductible, but are predominately used to help meet the local financial requirements needed to receive national matching-grant funds.
Subscribe to the sports newsletter
Get the day's top sports headlines and breaking news delivered to your inbox by subscribing here.
---
Subscribe and log in to the Spokesman-Review to read and comment on this story