News > Idaho
Former Spokane Police Chief Terry Mangan dies
First chief to serve Spokane from an outside department
Tue., Dec. 23, 2014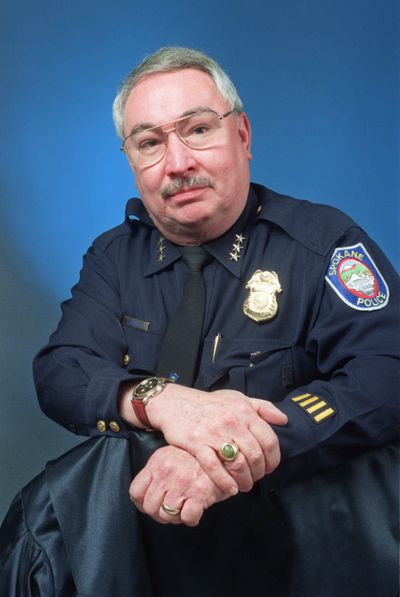 Former Spokane Police Chief Terry Mangan died on Monday at a hospital outside of Washington, D.C., following a long illness. Mangan, 76, served from 1987 until 1998 and was the first person selected to Spokane's top cop job from outside the department. Former City Manager Terry Novak had recruited him from the Bellingham Police Department after Novak wasn't satisfied with applications to replace former Chief Bob Panther, a career Spokane officer. Mangan was known for his introduction of community-oriented policing to Spokane, and the creation of neighborhood COPS offices. He sought to put Spokane at the forefront of advances in law enforcement, including improved technology and crime analysis. Shortly after arriving in Spokane, he sought funding to bring in a group of minority and women recruits. In Bellingham, he was credited with linking Los Angeles Hillside Strangler Kenneth Bianchi to the deaths of two Western Washington University students, both women, which led to solving the LA case. Bianchi pleaded guilty in 1979 to the WWU murders. Mangan left Spokane for a job as an instructor and consultant based at the FBI Academy in Quantico, Va. His death came at a Virginia hospital outside of Washington. In 1964, Mangan joined the Oratorian Fathers order of priests but left in 1967 to become a Seaside, Calif., patrol officer, according to news files. He participated in Civil Rights marches at the time. He was named one of the Outstanding Young Men in America in 1971. The Washington Association of Sheriff's and Police Chiefs said in a notice to members that law enforcement in Washington state and around the country "lost a deeply good man, a dear friend, a tremendous leader, a champion." His biography includes a long list of community involvements, awards and professional accomplishments. Mangan had a literary side. According to the National Institute Executives Associates, Mangan wrote and produced mystery dinner plays for various charities and wrote and produced a classic Greek play as a fund raiser for the Cheney-Cowles Museum and Eastern Washington Historical Society in 1996. The NIEA gave him its 2005 Penrith Award for his work in police sciences. Services are expected in Virginia, but have not been scheduled, according to Monique Cotton, spokeswoman for the Spokane police.
Local journalism is essential.
Give directly to The Spokesman-Review's Northwest Passages community forums series -- which helps to offset the costs of several reporter and editor positions at the newspaper -- by using the easy options below. Gifts processed in this system are not tax deductible, but are predominately used to help meet the local financial requirements needed to receive national matching-grant funds.
Subscribe to the Coronavirus newsletter
Get the day's latest Coronavirus news delivered to your inbox by subscribing to our newsletter.
---