News > Features
Turning 50: Keith Erickson hits birthday in stride
Mon., Feb. 10, 2014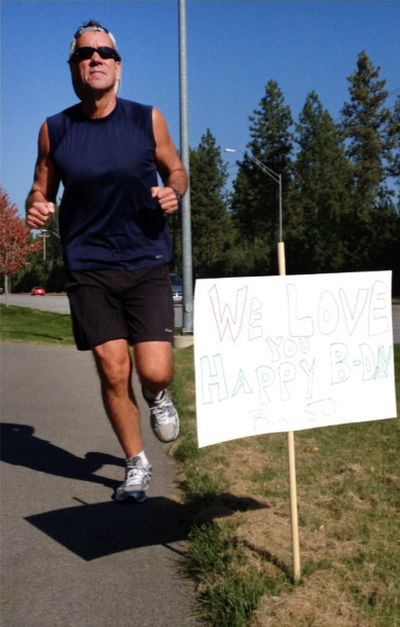 When the AARP membership application appeared in Keith Erickson's Coeur d'Alene mailbox, he threw it in the trash.
Another application arrived the next week, then another in the days before his 50th birthday.
"I was blindsided and then insulted," said Erickson, an avid runner who clocks 50 miles a week. "I still consider myself as relatively young. It had to be a mistake."
He didn't think AARP tracked you down for its $16 annual membership that allows for senior discounts on everything from dinner out to travel and the movies until at least age 55.
"It's like taking a step into oblivion," he said. "Once you take that step, there you are. You are always a senior citizen."
That's a realization that the youngest baby boomers are having this year as they turn 50. Baby boomers are the demographic born after World War II between 1946 and 1964. An American turns 50 every seven seconds, which is more than 12,500 people every day, according to the U.S. Census Bureau. In total, there were about 76 million Americans born in that 19-year span.
In the months since Erickson's October birthday he has come to grips with his age. The former newspaper reporter who is now the spokesman for the city of Coeur d'Alene has his very own AARP card arriving in the mail any day.
After seeing first lady Michelle Obama proudly holding her AARP card with a big smile when she turned 50 on Jan. 17, Erickson applied.
"I relented," he said. "It honestly was just something I didn't want to do. But I've earned it. I've lived a half century."
Obama told Parade magazine when asked about her birthday, "I have never felt more confident in myself, more clear on who I am as a woman."
Perhaps more confusing for Erickson than turning 50, is learning he qualifies as a baby boomer. Many of the youngest boomers are disconnected from the hyped flower-child generation known for its anti-establishment plight, privilege and sheer numbers. The Vietnam War, the Beatles, Woodstock and civil rights are usually associated with the group.
Erickson relates more to being an '80s head-banger who was a "humongous Styx fan" and spent hours listening to Foreigner and Queensryche records in his Hauser Lake home with friends. He didn't own a Beatles record. He didn't pay attention to politics except he remembers President Reagan getting shot. He was born about a month before JFK was assassinated.
Besides Obama, other famous boomers born in 1964 include Sandra Bullock, Brad Pitt, Rob Lowe and Courtney Cox.
That's in contrast to those who were born at the beginning of the boom in 1946, most of whom are now retired as they reach age 68. That list includes Presidents Bill Clinton and George W. Bush, Donald Trump, Cher, Susan Sarandon and Steven Spielberg.
Graduating from Lakeland High School in 1982, Erickson remembers watching "The Brady Bunch" on Friday nights before he was old enough to cruise in his 1969 blue Dodge truck. He was appalled when gas prices climbed to $1 a gallon thanks to the oil embargo.
Just because Erickson is embracing 50 doesn't mean he plans on being old. He thinks the AARP is sending a congratulatory fanny-pack with his membership card. He knows better than to wear it, especially in front of his daughters.
Local journalism is essential.
Give directly to The Spokesman-Review's Northwest Passages community forums series -- which helps to offset the costs of several reporter and editor positions at the newspaper -- by using the easy options below. Gifts processed in this system are not tax deductible, but are predominately used to help meet the local financial requirements needed to receive national matching-grant funds.
Subscribe to the Coronavirus newsletter
Get the day's latest Coronavirus news delivered to your inbox by subscribing to our newsletter.
---