A&E > Food
'Kitchen Masterpieces' author Steve Geving accomplishes his mission
Wed., Jan. 8, 2014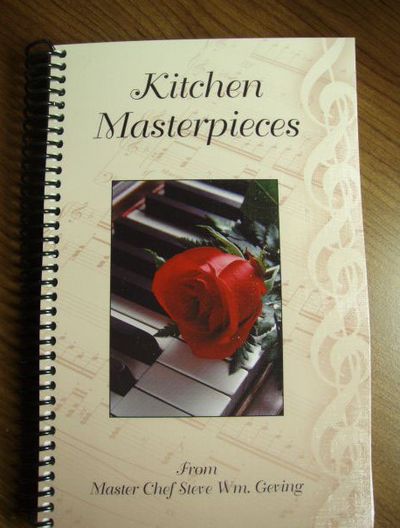 Quick look: There's a little bit of a lot of worldly things in this spiral-bound cookbook, a collection of recipes from local Master Chef Steve Geving and a fundraiser for Mammas on a Mission. Formed in 2009, the small group raises money for organizations and projects that benefit children in the Blanchard community, particularly students at Idaho Hill Elementary School.
What's inside: Some of the recipes sound fancy: chicken liver pâté, catfish with almond and pecan dust and spicy rémoulade, or escargot with pepper bacon, wild mushrooms and glace de viande. But Geving writes in the introduction that he aims to provide user-friendly recipes that make it easy to switch out meats or herbs as desired. There are appetizers, sides, mains, desserts and a "This & That" chapter featuring three items: stuffed French toast with maple bourbon peach syrup, Peking scallion pancakes with soy sauce and pickled jalapeño, and "Redneck Eggs" on biscuits with bacon and sausage gravy.
Geving, who retired 11 years ago at age 50, teaches monthly Selectable Delectables cooking classes at the Blanchard Community Center. (See today's Fresh Sheet for the 2014 schedule.) He also gives cooking classes at Gourmet Way in Hayden. But before moving to Idaho, he worked in Cabo San Lucas and Los Angeles, where he cooked for "many, many famous people," including actors, athletes and rock stars. He's also visited more than 60 countries, and the recipes in this cookbook reflect his travels.
Some recipes – New England seafood chowder with rosemary cream, California sunburst cake with pistachio cream, Lone Star State chicken-fried steak, Cajun alligator tail, New York-New Joisy cheesecake – highlight regional American cuisine. Many are European-inspired entrées and desserts: Bucharest blood sausage with garlic flan, Irish lamb casserole, Sicilian meatballs, Spanish paella Valencia with saffron rice, French pastry cream profiteroles with bittersweet ganache, Swedish herring, Finnish summer vegetable soup with shrimp, Norwegian lefse, and rhubarb compote. There are Asian, South American, South Pacific and Caribbean recipes as well: Aruba cold spicy shrimp with coconut frost soup, Kahlua pua roast pork, Colombian pork roast, Bangkok street cusine pad Thai and Hanoi beef pho, for example.
Each chapter comes with a "Helpful Hints" section. Some also include a blank page for jotting down recipe notes. There are two pages of tips at the beginning of the book as well as Geving's take on the healing properties of certain ingredients, like fennel, kale, saffron and sage.
What's not: While there are photographs on the title page of each chapter, there are no pictures to accompany recipes.
New York-New Joisy: The Legendary Cheesecake
The note with this simple and rich recipe reminds readers the title – or claim – of best cheesecake goes back and forth between New York and New Jersey.
It comes from "Kitchen Masterpieces," a new cookbook by Blanchard master chef Steve Geving and friends.
Proceeds go to the Mammas on a Mission, who will use the monies for projects like filling backpacks with school supplies for Idaho Hill Elementary School students and buying toys for children at the Blanchard Community Center's Christmas party.
To order a copy, contact Mary Bradford at <a href="mailto:puttin4fun@gmail.com.</p>puttin4fun@gmail.com.
1/4 cup melted butter
1 cup graham cracker crumbs
6 eggs
1 1/2 pounds cream cheese
1 cup sugar
1 teaspoon good quality vanilla
Blend melted butter with graham cracker crumbs. Press into a 9- or 10-inch springform pan. Bring eggs and cream cheese to room temperature. Beat cream cheese until soft; add eggs one at a time, alternating with the sugar. Beat for 1 to 2 minutes after each addition. Beat in vanilla. Pour into prepared pan. Bake at 350 degrees for 1 hour. Turn off oven and let cool. Cake will shrink and crack as it cools. Optional: Top cake with vanilla-flavored sour cream or desired fruit topping.
Yield: 6 servings
Local journalism is essential.
Give directly to The Spokesman-Review's Northwest Passages community forums series -- which helps to offset the costs of several reporter and editor positions at the newspaper -- by using the easy options below. Gifts processed in this system are not tax deductible, but are predominately used to help meet the local financial requirements needed to receive national matching-grant funds.
Subscribe to the Spokane7 email newsletter
Get the day's top entertainment headlines delivered to your inbox every morning.
---
Subscribe and log in to the Spokesman-Review to read and comment on this story