News > Spokane
Up to 100 homes lost in Washington wildfire
UPDATED: Fri., July 18, 2014
Friday evening update:
A massive wildfire that destroyed about 100 homes is forcing the residents of a second north-central Washington town to leave their homes, and a partial evacuation of a third community in the scenic Methow Valley is also underway. Okanogan County Sheriff Frank Rogers said Friday evening that "basically … the whole town" of Malott is being evacuated, and those living in outlying areas of Brewster are being told they should leave as well. Malott is home to about 500 people, while the population of Brewster is about 2,400. Rogers says no injuries have been reported.
Original story A large, wind-whipped wildfire in rural north-central Washington destroyed an estimated 100 homes, forced the evacuation of a small town and cut power to most of the scenic Methow Valley. A spokesman for the Carlton Complex Fire, Jacob McCann, said Friday that the fire "ran quite a bit" on Thursday and officials were also able to get a better handle on its size. It blackened 260 square miles by Friday morning, up dramatically from the last estimate of 28 square miles. "This is a very dynamic situation," said another fire spokesman, Dan Omdal. "Fire activity is really high. Things are changing very quickly." Officials say no injuries have been reported. Authorities say the wildfire has already burned about 100 homes and prompted the evacuation of the small town of Pateros, home to about 650 people in Okanogan County. A hospital in nearby Brewster was also evacuated as a precaution. "There's nobody in Pateros" except a few "stragglers" who stayed, Okanogan County Sheriff Frank Rogers said, adding the fire was burning in the town, although the small business district was believed intact. Rogers said Friday morning that his team counted 30 homes and trailers destroyed in Pateros, another 40 in a community just outside the town at Alta Lake and about 25 homes destroyed elsewhere in the county of about 40,000 people. "Two of my people lost their homes," Rogers said.
"It's amazing what fire does, isn't it?" said David Brownlee, a Pateros homeowner who lost everything. (SR Photo: Daniel Moore)
Rogers said the fire had jumped U.S. Highway 97 between Brewster and Pateros and was burning along the Columbia. Sections of several highways were closed in the county.
Destruction from the Carlton Complex fire in Pateros. (SR Photo: Tyler Tjomsland)
Early Friday, the Okanogan County Sheriff's dispatch office said the roughly 300 residents of the Chiliwist Valley, about 15 miles north of Pateros, evacuated late Thursday night. Two major power lines, one feeding Pateros and one feeding Winthrop and Twisp, have burned, causing a widespread power outage in the county, said Scott Miller, the county's emergency manager. Most of the Methow Valley from Carlton to Mazama was without power after utility poles burned. The Methow Valley, about 180 miles east of Seattle, is a popular area for hiking and fishing.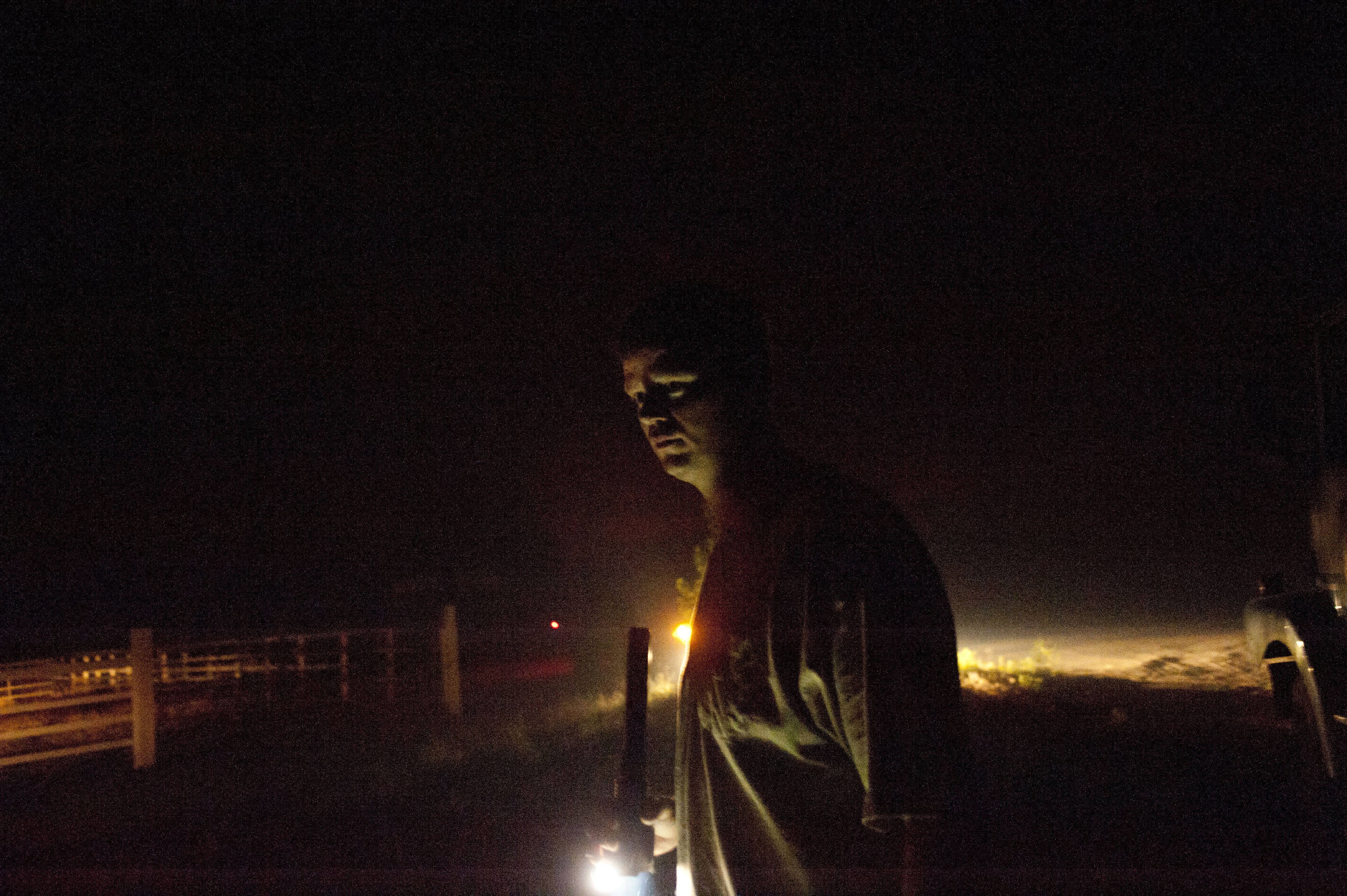 Dan Shiflett holds a flashlight as Tyler Freeman loads cabinets onto a flatbed trailer during an evacuation early Friday morning near Monse, Wash. (SR Photo: Tyler Tjomsland)
Dan Shiflett, of Okanogan, had driven down to help his friends move away large cabinets in a trailer. Shiflett said he owned several houses along U.S. Highway 97 but, miraculously, the fire had simply burned around them. "Someone was watching out for me," he said, pointing to the sky. But he added it's no wonder the crews are overwhelmed. "Problem is: There's fires there, fires there, fires there," he said, debating with his friends which road would be best way out.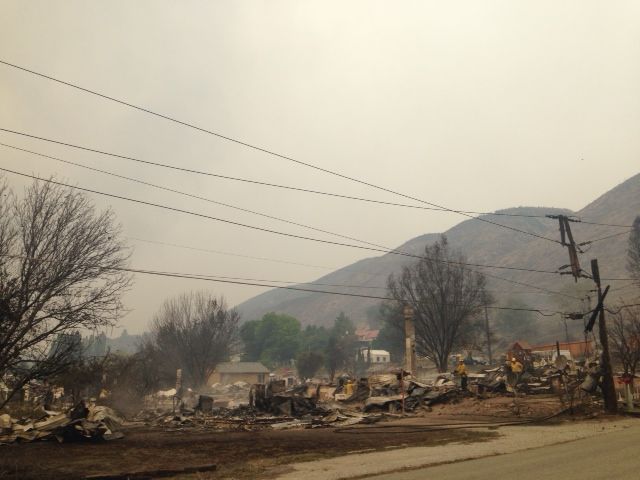 Destruction from the Carlton Complex fire in Pateros. (SR Photo: Tyler Tjomsland)
About 100 miles to the south, the Chiwaukum Creek Fire chased people from nearly 900 homes as it burned near the Bavarian-themed village of Leavenworth. That fire sent a light dusting of ash over Leavenworth, and the fire's smoke plume rose 25,000 feet into the air. The blaze closed 15 miles of U.S. Highway 2. Residents of 860 homes have been told they should leave immediately, fire officials said. Another 800 homes were less seriously threatened.
Authorities said Thursday that the Chiwaukum Creek Fire has grown to more than 10 square miles. It was first detected Tuesday. "The weather and winds are not in our favor," said fire spokeswoman Mary Bean. Temperatures have been in the triple digits with winds gusting as high as 30 mph. She said the cause of the fire is under investigation. Worsening wildfire activity has prompted the governor's offices in both Washington and Oregon to declare states of emergency, a move that allows state officials to call up the National Guard. Elsewhere across the West: — OREGON: Two different lightning-sparked wildfires grew quickly in hot and dry conditions in central Oregon on Thursday, prompting evacuation alerts. Authorities said the Bridge 99 Fire in the Cascade Range 20 miles north of Sisters tripled in size and threatened rural homes along the Metolius River. An evacuation advisory urged residents to leave their homes immediately. In the Ochoco Mountains about 20 miles east of Prineville, the Bailey Butte Fire grew after getting into heavy timber in a wilderness area, prompting the Crook County Sheriff's office to advise residents of 27 homes to leave. They were among 13 large fires burning across Oregon. — UTAH: A wildfire encroaching on homes in the Tooele County town of Stockton had burned about 200 acres. Utah Division of Forestry, Fire and State Lands spokesman Jason Curry said the fire burned part of a water tower but it's believed no homes have been destroyed. A 27-year-old Tooele man has been arrested on charges that he ignited the fire with matches. Police said the suspect, Timothy West, was a volunteer firefighter for the town several years ago, Curry told The Salt Lake Tribune. — IDAHO: In central Idaho, the lightning-caused Preacher Fire has scorched more than 50 square miles, burning quickly through grass and brush. Elsewhere, hundreds of crews were called in to battle a wildfire inside the Boise National Forest that is steadily spreading. The lightning-caused Whiskey Complex Fire consumed 7 square miles of forest land as of Thursday.
Local journalism is essential.
Give directly to The Spokesman-Review's Northwest Passages community forums series -- which helps to offset the costs of several reporter and editor positions at the newspaper -- by using the easy options below. Gifts processed in this system are not tax deductible, but are predominately used to help meet the local financial requirements needed to receive national matching-grant funds.
Subscribe to the Coronavirus newsletter
Get the day's latest Coronavirus news delivered to your inbox by subscribing to our newsletter.
---