Sports > Spokane Indians
Oldest-living former Spokane Indian part of baseball's integration
Sun., June 8, 2014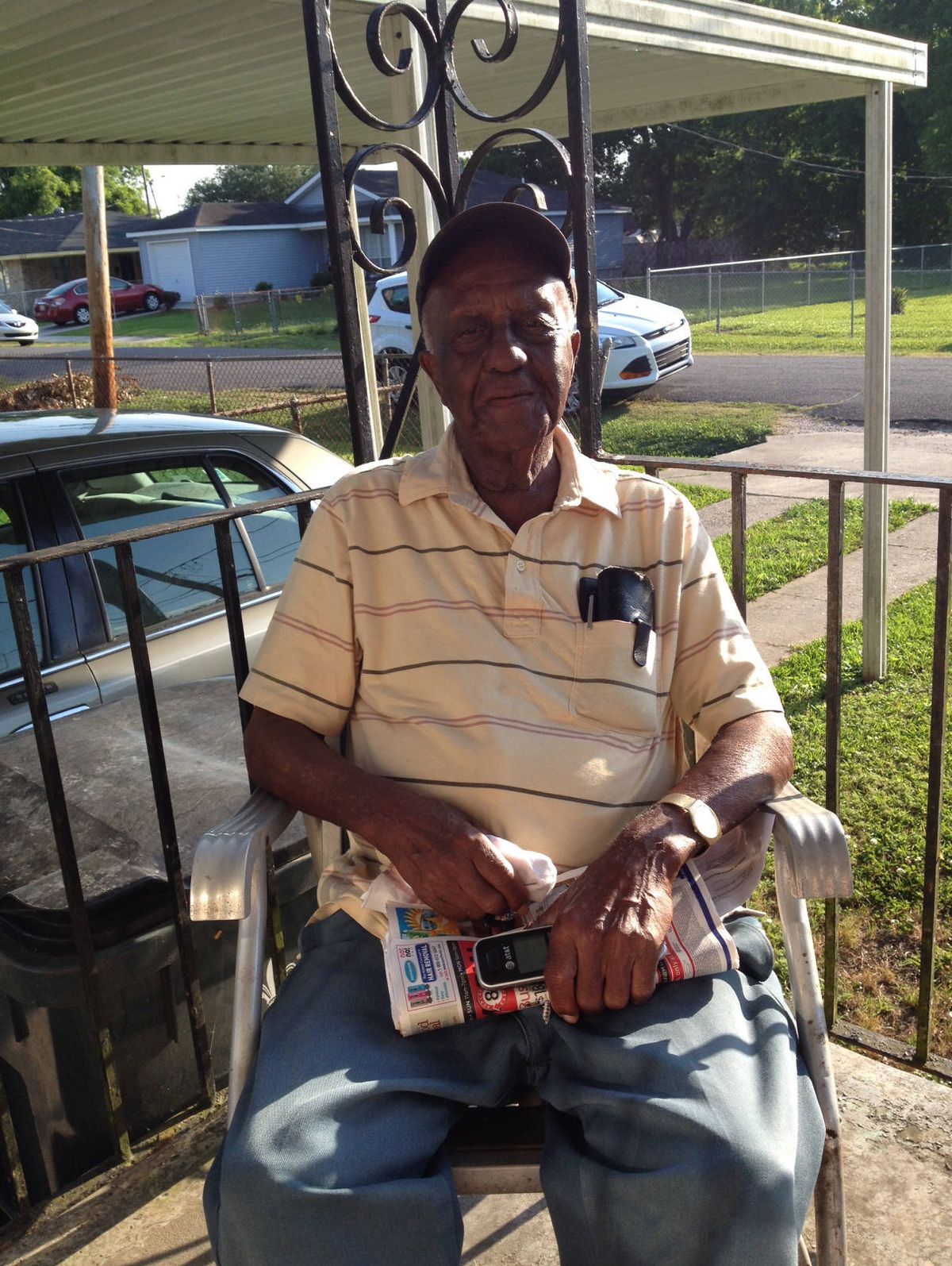 Herb Simpson, oldest-living former Spokane Indians ballplayer, at his home in New Orleans.
NEW ORLEANS – Spokane and New Orleans are separated by nearly 2,500 miles and two vastly different lifestyles and cultures.
But in lifelong New Orleans resident Herb Simpson, the two cities are bonded by the trailblazing integration of organized baseball.
Earlier this year, Simpson became the first Negro Leagues figure to earn induction into the New Orleans Professional Baseball Hall of Fame, an organization sponsored by the Zephyrs, the city's Triple-A Miami Marlins farm team. After nearly a decade of existence, the Hall, despite the region's rich heritage of African-American baseball, still hadn't enshrined a largely pre-integration local figure.
Simpson also helped break new ground in Eastern Washington, where in 1952, the Spokane Indians, then a Single-A Western International League franchise, signed Simpson as one of five African-American players on the spring-training roster. Born in Hahnville, about 25 miles northwest of New Orleans, Simpson, now 93, is the oldest living former Indians player.
He began the 1952 season as Spokane's regular first baseman.
Simpson was not Spokane's first African-American player. That distinction belongs to Bobby Reynolds, an 18-year-old junior college player from Sacramento, California, who opened the 1951 season as Spokane's starting shortstop. However, Reynolds was released after making 11 errors in 13 games. Simpson was the first African-American player to log significant time in an Indians uniform.
What Simpson, a first baseman, remembers most about his arrival in the Lilac City was that, prior to the 1952 opener, temperatures dipped way below the norms he was used to in his hometown.
"When I played in Spokane, it was cold," Simpson said with a chuckle while lounging recently on the sun-drenched porch of his modest brick home in the Algiers neighborhood of New Orleans. "There was another guy with me, he said, 'It's too cold. I'm going to Albuquerque, it's much warmer there.' "
The April 22 opener was cold even by Spokane standards, though 1,243 fans braved the weather. The next night drew just 500, but the Indians didn't seem to mind the weather and opened with five straight wins.
Simpson ended up in Albuquerque of the Class C West Texas-New Mexico League when the Indians sold his contract to the Dukes before midseason. He was unable to keep his starting spot with the Indians after Ed Bouchee, a sure-fire Lewis and Clark High School product, signed following his freshman season at Washington State. Bouchee validated manager Don Osborn's faith in him, making it to the majors with Philadelphia in 1957, when the big first baseman was chosen by the Sporting News as National League Rookie of the Year.
Simpson, who had picked up the nickname "Briefcase" as a smaller version of big-leaguer Harry "Suitcase" Simpson, had already played in Washington. In 1946, he had been a member of the Seattle Steelheads, a team in the short-lived West Coast Negro Baseball League. After that league folded, the Steelheads morphed into the traveling baseball Harlem Globetrotters, whose owner, Abe Saperstein, already had established the famous basketball version.
Simpson is the last survivor of the Steelheads, a designation that earned him a return trip to Seattle last year to be honored by the Mariners on their African-American Heritage Day. As of now, Simpson plans to repeat the trip this summer, although he adds that, thanks to his advancing age, this jaunt will be his last to the Pacific Northwest.
In 1952, Simpson arrived in Spokane with a respectable Negro Leagues pedigree, including stints with the famous Homestead Grays – who lost his services when he went to war in 1943 – and the Chicago American Giants.
Simpson's presence and that of the four other black players in the Indians' spring camp generated a mixture of curiosity (from the white press) and pride (from black newspapers). The African-American Philadelphia Tribune dubbed Herb "a promising rookie," while the Trib's peer paper, the Cleveland Post & Call, asserted that "Herb Simpson of New Orleans looks good at first base."
The mainstream Associated Press, in a dispatch from Spokane, was more muted, stating that "…There will be a lot of new faces in the (Indians) lineup come April 22," when the team was slated to launch its defense of the WIL crown. The AP called the green Spokane crew "a gang of newcomers" that would provide the city with "one of the finest hustling and youngest clubs in years."
Notably, the wire report didn't pull any punches when evaluating the black groundbreakers, including in its description of Simpson, whom the service called "a lanky Negro who hits well but doesn't connect for the long blows (manager Don) Osborn wants in a first sacker."
Simpson was a gap hitter who batted .282 in 51 games with Spokane. He had only three doubles, two triples and no home runs.
As the 1952 regular season commenced, Simpson helped the Indians take an early lead in the WIL race. But by late May, the squad had released or dealt away the other four African-American signees, leaving Simpson as the lone black player on the team. Simpson soon followed when Bouchee, headed for the majors, gradually eased Simpson out of the lineup.
That development couldn't be blamed on Simpson, said Jim Price, a former Spokesman-Review sports writer and copy editor, who has been writing a book about Spokane baseball history. Price said Simpson's performance for the Indians was steady but simply not up to par with Bouchee.
"Bouchee essentially took Simpson's job, and he was released," Price said. "He didn't do anything (wrong) in particular; he played decently."
Simpson, whose memory of his Spokane days from over six decades ago is a bit fuzzy, said he never encountered any overt racism in the city.
Simpson enjoyed several fine seasons with Albuquerque. He hit .344 in 75 games in 1952 for the Dukes before he was beaned late in the season. In 1953, he was hitting .372 with many extra-base hits when he suffered a broken ankle. In 1954, he hit .296.
Obviously comfortable in the New Mexico ballpark, Simpson even got married at home plate.
Give that type of pageantry, Simpson might have felt a touch of deja vu this past April 26, when he was honored on the grounds of Zephyr Field with induction into the New Orleans Hall of Fame. But even though his election was a landmark, the majority of the local media coverage of the annual induction ceremony focused on other members of the Class of 2014.
Still, he said, in his typical understated nature, he enjoyed the recognition.
"It was real nice," he said with the drooping eyelids and weathered face of a nonagenarian who had taken the field thousands of times to play America's pastime.
After baseball, Simpson became head custodian for the New Orleans Parish School Board.
Simpson, a widower, has lived alone in Algiers for a half-dozen years, but continues to forge ahead in an already rich, full life.
"My wife passed, we had no children, so I've been right here by myself," he said with a mixture of pride and wistfulness.
But again, being a lone, solitary figure is nothing new to Herb Simpson, who blazed trails in the baseball world, often by himself, for two decades, including a few months in Spokane.
Local journalism is essential.
Give directly to The Spokesman-Review's Northwest Passages community forums series -- which helps to offset the costs of several reporter and editor positions at the newspaper -- by using the easy options below. Gifts processed in this system are not tax deductible, but are predominately used to help meet the local financial requirements needed to receive national matching-grant funds.
Subscribe to the sports newsletter
Get the day's top sports headlines and breaking news delivered to your inbox by subscribing here.
---