Sports > Outdoors
Record 20.32-pound walleye caught by Pasco man on Columbia River
Wed., March 5, 2014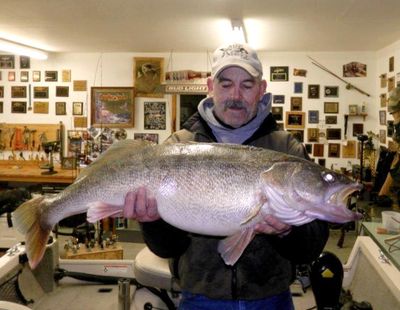 UPDATE March 5, 2014, 3:15 p.m.: It's official! The Washington Department of Fish and Wildlife has confirmed Grubenhoff's walleye as a state record.
A walleye weighing 20.32 pounds caught in the Columbia River on Friday is a pending Washington record.
John Grubenhoff, 57, of Pasco was fishing in the McNary Pool near the Tri Cities when he caught the egg-heavy female measuring 351/2 inches long and 223/4 inches in girth.
A state biologist witnessed the weighing on a certified scale on Friday. State biologist Paul Hoffarth measured the fish on Saturday and said he doesn't foresee any issues that would prevent the record from being confirmed.
Grubenhoff's walleye would top the current record of 19.3 pounds caught by Tri-Cities angler Mike Hepper in February 2007.
Oregon's record, also from the Columbia, is 19 pounds, 15 ounces, caught in 1990.
The world record listed by the International Game Fish Association is 25 pounds caught in Old Hickory Lake, Tenn., in 1960.
Grubenhoff, who's pursued walleyes for 29 years, said he rushed home from his job at Sandvik Special Metals on Friday afternoon to get in some fishing before dark. Winter is prime time for catching trophy walleyes while the hens are still full of eggs.
"A cold front was forecast to come in that evening so I figured that fishing would be good," he said, noting the water temperature was 37.2 degrees. "Boy was it. My first fish came within about 10 minutes, a nice hen around 14 pounds. I released her as usual and went back at it."
Within 10 minutes, he caught and released a 6-pound male. He said he hooked the record fish about a half hour later "fishing a current break adjacent to a windswept, rocky shoreline in about 22 feet of water."
He was trolling upstream at about 0.8 mph with a Rapala J-13 – a 6-inch-long minnow lure in silver and black – about 6 feet behind a 2-ounce bottom walker.
"The largest walleye I've caught up until now was around 18 pounds," he said. "She was released after a few photos."
But he said he knew Friday's fish was a possible record and took it almost immediately to be weighed on a certified scale. "I fished a little bit longer, but couldn't concentrate," he said.
"I have been tournament fishing for about 25 years, mostly with my son, Jacob, who is my best buddy," he said. "We've won nine tournaments and placed in the money dozens of times."
Ranch & Home, a Tri-Cities sporting goods store, has offered to pay for the taxidermist and a reproduction to display in the store, he said.
Local journalism is essential.
Give directly to The Spokesman-Review's Northwest Passages community forums series -- which helps to offset the costs of several reporter and editor positions at the newspaper -- by using the easy options below. Gifts processed in this system are not tax deductible, but are predominately used to help meet the local financial requirements needed to receive national matching-grant funds.
Subscribe to the sports newsletter
Get the day's top sports headlines and breaking news delivered to your inbox by subscribing here.
---