Sports
An upset special
Cougs rough up Bruins in Pac-12 finale
Sun., March 9, 2014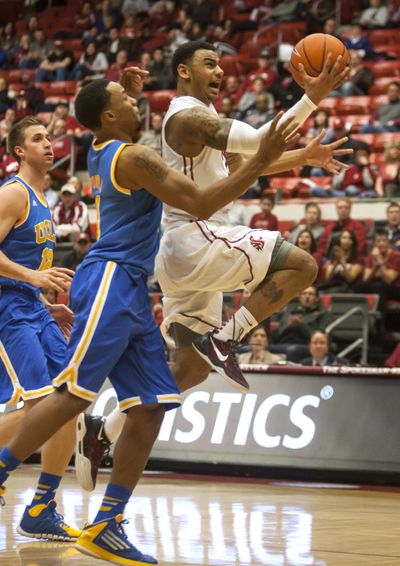 PULLMAN – It was a pair of freshmen that sent Washington State's seniors off in style Saturday night. In the final game of the regular season the Cougars upended the conference's second-best team, playing their best game of the season and beating UCLA 73-55.
Not even a halftime dunk contest by members of the WSU football team could pull focus from the struggling basketball team on Saturday night, which gave D.J. Shelton and Will DiIorio a Senior Night to remember in their final game at Beasley Coliseum.
WSU looked overmatched at first. UCLA built a 15-5 lead early on and it appeared that the Cougars' losing streak would extend to nine games.
"We just talked about let's calm down," coach Ken Bone said. "It's a 40-minute game, we've had a bad first few minutes, but let's just calm down and we'll be fine and fortunately it worked."
Their serenity put the crowd of 3,142 in a frenzy when Dexter Kernich-Drew hit a 3-pointer with about five minutes left in the half to cut the deficit to 24-23. UCLA's Tony Parker quickly turned the ball over on a travel. Back-to-back 3-pointers by Iroegbu and Johnson gave WSU the lead.
The first-year players paced the Cougars with 14 points each.
UCLA's renowned freshman, Bothell native Zach Lavine, was held scoreless. LaVine, a projected first-round pick in the upcoming NBA draft, missed all eight of his shots, including a 3-point attempt that sailed backwards over the freshman's head and out of bounds.
WSU's defense also held starting twins Travis and David Wear to just six points combined, while starting guards Jordan Adams and Normal Powell teamed up for just 14 points.
"I think some of those kids just did not play up to par, really," Bone admitted. "Our guys knew the scout but whether it's the Wear twins, or Zach LaVine, or Powell or Adams, they are loaded."
The win keeps WSU out of last-place in the conference. As an 11-seed, WSU will face sixth-seeded Stanford on Wednesday in the Pac-12 Tournament's opening round. WSU beat the Bruins in similar fashion when they hosted them last year in the regular season's final week.
The Bruins didn't score over the final three minutes and trailed 34-26 at halftime.
Perhaps most impressive about WSU's win was that they did it without a heroic performance from leading scorer DaVonte Lacy. Time and again this season Lacy has been the lone spark on offense for the Cougars and when Lacy missed eight games with a rib injury the offense looked hapless.
But Lacy had just nine points and went 1 of 10 from the field.
Local journalism is essential.
Give directly to The Spokesman-Review's Northwest Passages community forums series -- which helps to offset the costs of several reporter and editor positions at the newspaper -- by using the easy options below. Gifts processed in this system are not tax deductible, but are predominately used to help meet the local financial requirements needed to receive national matching-grant funds.
Subscribe to the sports newsletter
Get the day's top sports headlines and breaking news delivered to your inbox by subscribing here.
---