Sports
NCAA notes: 'Coach, you'll want to take this call'
Wed., March 19, 2014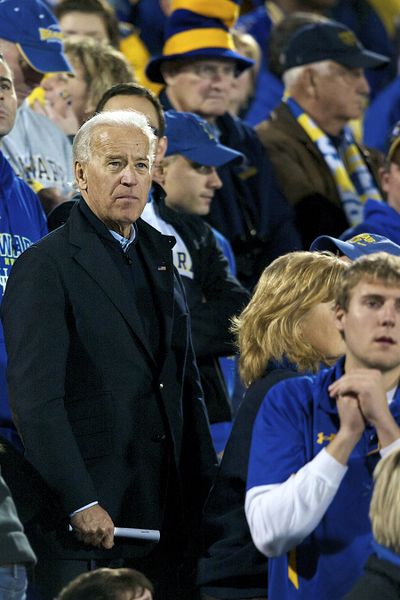 The phone call came without warning. Vice President Joe Biden was on the line Saturday as Delaware coach Monté Ross and the Blue Hens prepared for the Colonial Athletic Association championship game against William & Mary. "I never answer my phone on game day," Ross said. "I looked down and it was a 202 number, so I just pressed ignore." Ross did take the time to listen to the jaw-dropping voice mail. "Bad move to ignore the vice president," Ross said while shaking his head during Wednesday's NCAA press conference. Biden, a Delaware alumnus and big Blue Hen supporter, didn't go away mutely. Even during a trip to Chile for the inauguration of that country's new president, Biden called back immediately with a few words of enouragement. "We talked for 5 or 10 minutes," said Ross, who describes Biden as "Delaware through and through … and it's great to have somebody like that to support you and to be out in the forefront and tweeting about you and the whole 9 yards." While still in Chile, Biden called Ross on Sunday with his congratulations on the Blue Hens' 75-74 win in the CAA title game. "When I was in my office the next day I saw that same 202 number and you can guess I picked it up right away."
New threads
Cincinnati is sporting new uniforms for the tournament, courtesy of Adidas. The uniforms "provide the Bearcats with Adidas' most advanced uniform system and basketball apparel technology so they can take on the challenges and intense play of March." Maybe they should have gotten them for the American Athletic Conference tournament last week, when the regular-season co-champions lost to Connecticut in the semifinals.
Top 40
The key statistic for Cincinnati is deflections and the key number is 40. "If we reached 40 in the last two years we're undefeated," Bearcats coach Mick Cronin said. "We hope it leads to turnovers but the end game is at least it disrupts the opponent's offense." Harvard coach Tommy Amaker said, "Can we limit silly turnovers, as we refer to them? We're going to turn it over, we play a style that you're going to have some turnovers. But can we take care of it enough? … It gives us a better chance of having an offensive possession that we can get a shot."
No distraction
Harvard was traveling on Tuesday when Boston College fired coach Steve Donahue and Amacker was mentioned as a potential replacement. "To be honest, I didn't really hear anything about that," Harvard guard Siyani Chambers said. "And in that situation, we're just trying to focus on this game." Amaker said, "I can certainly appreciate the question, being from the Boston area, but our focus certainly is on our team. That's only fair for our kids and our program and our school. I don't ever comment on other jobs or positions." Apparently the Crimson players are ignoring social media. Harvard, the 12th-seed in the East Regional, is a trendy pick over fifth-seeded Cincinnati for the almost-annual 12-5 upset. "I actually wasn't really aware of that," guard Laurent Rivard said. "But I know every year there's always at least one 12-5 upset. I'm kind of happy they're picking us, that means they have confidence in us."
Overheard
P.J. Carlesimo, a head coach at five stops in the NBA, is in Spokane to do radio broadcasts at the NCAA tournament. As he watched Oklahoma practice, a fan on the front row behind the media section asked if he'd be interested in coaching at Washington State. Carlesimo smiled and then laughed. "They're looking for a good coach, not me," Carlesimo said. Carlesimo served as interim head coach for the Brooklyn Nets last year when Avery Johnson was fired. He got his start as a head coach with the Portland Trail Blazers, and had stints with Golden State, Seattle and Oklahoma City followed.
Bracketolgist in Chief
President Barack Obama's bracket was the talk throughout the news conferences. Especially regarding the 5-12 matchups between Oklahoma and North Dakota State and Cincinnati and Harvard. The president picks upsets in both. "It changed our entire practice this morning," quipped Oklahoma coach Lon Kruger when he learned of the president's pick. Kruger was asked about the matchup again moments later. "North Dakota State's going to come out and play well and we hope to come out and play well," Kruger said. "It makes for great conversation but the players kind of get a feel for what's going on early in the ballgame and probably if they're better than us they will probably win and if we're better than them then we'll probably win." The president also picked Harvard, his alma mater, to pull off the 12-5 upset. "Really? He picked us," Amaker responded. "Good."
Not going to their heads
When the Barack-etologist speaks, everybody listens. And try as they might, the Michigan State players and coaches couldn't ignore the news when the president picked the Spartans to win the entire tournament. Expectations are always high for Michigan State basketball, but they reached new levels this week; only a fourth seed in the East Region, the Spartans are the darling of every bracket from the Oval Office to the office cubicle. Said MSU guard Branden Dawson, "I'm always watching basketball, so when I saw that, it was just bizarre that Barack Obama picked us … I think it was great." Great, to a point. The Spartans have endured a whipsaw of changing expectations, from a top-five preseason ranking to an injury-plagued stretch where "We lost some confidence," coach Tom Izzo said. Suddenly the enemy is overconfidence. "We're going to embrace it and just see if we can do our job without getting too full of ourselves, because we are a four-seed," Izzo said. "We have been down in the bottom before and we have been on top before."
A possible rematch
If Oklahoma and San Diego State both win today, it sets up a matchup of a second-round game from a year ago. A game that San Diego State won easily 70-55. The Sooners say they're not looking ahead. "We're not just here to make the tournament, we're trying to win this game," the Sooners' leading scorer, Cameron Clark, said. "We're just focused on the first game. They're (SDSU) a great team but we're really not worried about them right now."
Tournament tidbits
Cincinnati has held opponents below their season scoring average in 29 of 33 games this season, including 12 of 13 against teams in the NCAA tournament. … The only time the Harvard and Cincinnati have met was Dec. 13, 1974, when Harvard pulled out a 77-76 victory at the Volunteer Classic in Knoxville, Tenn. … Harvard is making its third straight appearance and fourth overall. There was a 64-year drought after the first appearance in 1946. … Cincinnati is making its fourth straight appearance, 28th overall. … Harvard is on a nine-game winning streak. … Harvard's upset over New Mexico in the tournament last year was the school's only win over a top-10 team. The Lobos were ranked No. 10. It was also the Crimson's first-ever postseason win.

Local journalism is essential.

Give directly to The Spokesman-Review's Northwest Passages community forums series -- which helps to offset the costs of several reporter and editor positions at the newspaper -- by using the easy options below. Gifts processed in this system are not tax deductible, but are predominately used to help meet the local financial requirements needed to receive national matching-grant funds.
Subscribe to the sports newsletter
Get the day's top sports headlines and breaking news delivered to your inbox by subscribing here.
---