News > Features
Madeleine's move means shift for cafe
Fri., May 2, 2014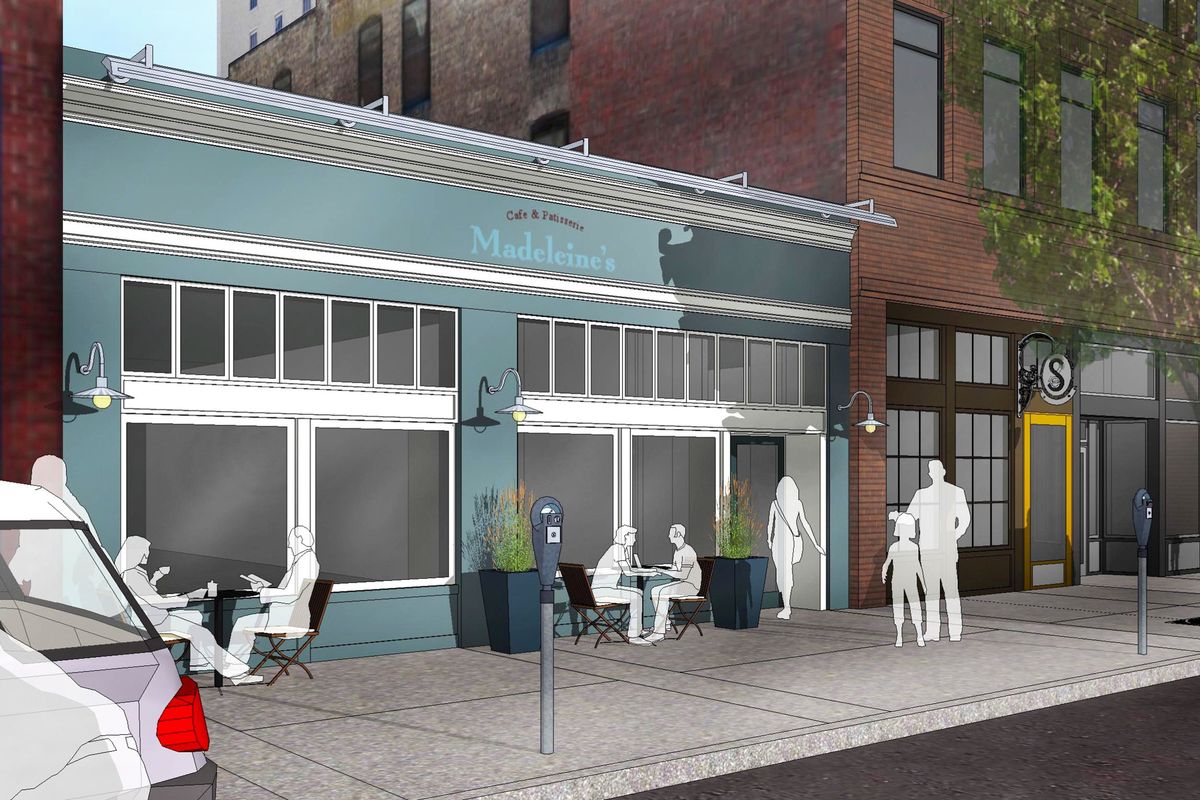 Madeleine's plans to reopen at its new location by Oct. 1.
Madeleine's Café & Patisserie, which has anchored the corner of Main Avenue and Wall Street in downtown Spokane for nearly seven years, plans to relocate.
The café opened in June 2007 at 707 W. Main Ave. The plan is to move into its new space at 415 W. Main Ave. by Oct. 1.
"Everything (customers) love about it, they'll still find there, but slightly better," said Deb Green, who owns Madeleine's with her daughter Megan Van Stone. "After seven years, we're really ready for a facelift and a little bit of a concept redesign."
The café is named for Place de la Madeleine in Paris, as well as for the plump shell-shaped teacakes made famous by French writer Marcel Proust.
The new location, across the street from Auntie's Bookstore in the former Dutch's Music storefront, will keep its French-inspired style – and baked treats. However, the look and feel will be a bit more modern, Green said. Plus, rent will be cheaper, and the landlords will be local, she said. Madeleine's will continue to offer al fresco seating, in a private courtyard in the back of the café.
The interior will be about the same size as the current spot, but it will be configured differently – with two points of sale instead of one. Customers who want only coffee and pastries will be able to pay in the front of the house. Those who are staying for meals – the new location will offer breakfast and lunch – will pay at the back of the house.
Having two lines should speed up the cafe's counter-style service, Green said.
The new location will also feature two espresso machines, rather than the one Madeleine's has now. But it will discontinue weekend dinner service.
More menu items will come from the kitchen instead of straight from display cases. Madeleine's also plans to offer an increased selection of pastries and breads.
It will continue to make baked goods and desserts for Casper Fry, the South Perry restaurant Green owns with her daughter and son Ben Poffenroth. It celebrates its second anniversary in June.
Reach Madeleine's at (509) 624-2253. On the Web: http://madeleines-spokane.com. Reach Casper Fry, 928 S. Perry St., at (509) 535-0536. On the Web: www.casperfry.com.
Durkin's Liquor Bar
James "Jimmie" Durkin owned a bar at 415 W. Main Ave. before Washington state banned the manufacture and sale of alcohol in 1916, four years before federal Prohibition.
A new restaurant and bar named for the legendary liquor tycoon is slated to open this summer in the exact spot.
Durkin's Liquor Bar – owned by Green, Van Stone and Poffenroth – will be located in the same building as the new Madeleine's.
"Jimmie Durkin was a real local legend, a real character," said Green, who is collecting memorabilia from the man once known as "Spokane's Main Avenue philosopher."
"He promoted himself like crazy. The stories are so phenomenal," Green said.
Durkin, one of the region's early millionaires, made his fortune by shipping booze by the barrel instead of the jug. During Prohibition, the business at 415 W. Main became a card room and billiard hall. When Prohibition was repealed in 1933, it became the Durkin and Ulrich Saloon.
Durkin died a year later.
The restaurant and bar named in his honor will feature a masculine atmosphere – think men's club – with a dark wood interior and dark leather booths. The long, narrow space will hold a 40-foot custom-built bar that wraps around an open kitchen. It's classic American diner meets old-style saloon.
There'll be handcrafted cocktails, 20 beers on tap, lunch, dinner and small plates. Menu items include an array of sandwiches, salads and house-made sausages, among other entrées. The idea is upscale American eatery without pretension.
"It's kicked-up diner food," Green said. Customers "can expect to find high-end comfort food."
But, she stressed, "I don't mean high-priced comfort food."
Common Crumb
Santé owners Jeremy and Kate Hansen are preparing to open a bakeshop three blocks away from their downtown restaurant.
Common Crumb is slated to open at the end of June at 19 W. Main Ave. It will specialize in classic, artisan, European-style breads and pastries.
Executive chef Jeremy Hansen plans to offer baguettes, whole grain breads, and banneton, pullman and laminated loaves – plus, maybe, bagels. On the sweet side, he plans to make pastries like Danishes, croissants, petits fours, macarons and tarts. Custom cakes will also be available.
Jeremy Hansen is also hoping to do wholesale in addition to retail sales, supplying breads and baked goods to local restaurants and grocery stores.
He'll soon be looking for about 10 employees, including front counter workers, bakers and specialty pastry chefs.
Meantime, he said, "I'm still in the middle of picking out my ovens."
He's also planning to brush up on his baking skills at Spokane Community College as well as complete stâge, or unpaid work experience, at an out-of-state bakery or two before the grand opening.
The bakeshop will offer some gluten-free products as well as chocolates and possibly wines by the bottle.
And it's not the only expansion for Santé, which opened in 2008. The husband-and-wife restaurateurs recently added a cocktail lounge. Butcher Bar opened at the restaurant at 404 W. Main in December.
Common Crumb will supply bread, pastries and desserts for Santé, which has been making its own bread for the past 2  1/2 years. Jeremy Hansen has been considering adding a bakeshop for much of that time.
"It's good bread, but we can only do so much. It's limited. We don't have the space," he said.
Reach the restaurant at (509) 315-4613. On the Web: www.sante spokane.com .
First-rate grilled cheese
Meltz Extreme Grilled Cheese in Coeur d'Alene won two trophies at the recent National Grilled Cheese Invitational in Los Angeles.
The shop's Korean Krazy sandwich – with house-made kimchee relish, bulgogi barbecue beef, provolone and pepper jack cheeses, crushed sesame sticks, hot pepper ketchup and cilantro pesto – won the Kama Sutra Professional Competition category.
The Ultimate Meltz, on the menu since the shop opened in 2012, also won first place. The sandwich topped the Missionary Professional Competition category with its combination of white cheddar, fontina, Monterey Jack, gorgonzola, Gruyere and goat cheeses.
Meltz manager Lori "Lou" Davey traveled to California to compete in the event, held in mid-April.
Meltz, located at 1735 W. Kathleen Ave, Suite 3, in Coeur d'Alene, celebrates its two-year anniversary in June. The shop is open from 11 a.m. to 8 p.m. Monday through Saturday and 10:30 a.m. to 4 p.m. on Sunday.
On the Web : http://meltz extreme.com . Call (208) 664-1717.
Local journalism is essential.
Give directly to The Spokesman-Review's Northwest Passages community forums series -- which helps to offset the costs of several reporter and editor positions at the newspaper -- by using the easy options below. Gifts processed in this system are not tax deductible, but are predominately used to help meet the local financial requirements needed to receive national matching-grant funds.
Subscribe now to get breaking news alerts in your email inbox
Get breaking news delivered to your inbox as it happens.
---