Sports
Hawks enter beast mode
Run game is key to rugged 6-game stretch
Sun., Nov. 16, 2014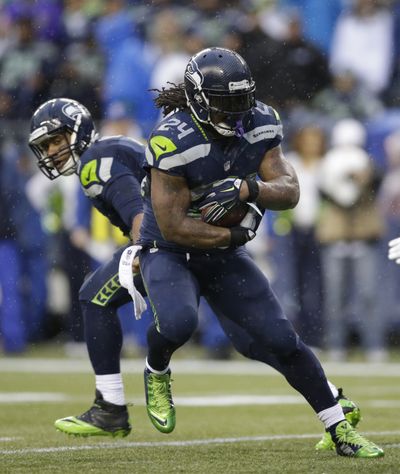 KANSAS CITY, Mo. – You – and they – asked for it. And here it is.
The six-game gauntlet the Seahawks have been eying as the key to the defense of their Super Bowl title since the schedule came out in April begins now.
Sunday's mammoth test versus the rugged Kansas City Chiefs (6-3) at raucous Arrowhead Stadium. Then home-and-away games with first-place Arizona (8-1) and fellow NFC West rival San Francisco (5-4) plus a trip across the country to play Philadelphia (7-2). It's the most difficult remaining stretch in the league.
Seattle (6-3) has won three straight over Carolina, Oakland and the Giants, teams that haven't won a game in the past month. The Seahawks trail Arizona by two games with seven games remaining in the regular season – including the finale against St. Louis, which has already beaten Seattle.
"The fact that we have all the division games coming up in the scheduling is really exciting. It leaves everything out there for you," Pete Carroll said.
Then, in the next breath, the Seahawks' coach added, "Kansas City is attracting our focus right now."
And more than just its team.
The Seahawks are heading into one of the loudest, most college-like venues in the NFL, to play a Chiefs team that has won four consecutive games following a playoff season in 2013. But uncharacteristically, Kansas City is just 8-5 at home the last two seasons. That includes a head-scratching loss to Tennessee to begin this season.
Russell Wilson is used to taking his receivers with him to Hermosa Beach in the offseason to run patterns and catch passes in bare feet in the Southern California sand. He's used to throwing to them on football's biggest stages, including in the biggest game of all, on turf in standard game spikes.
He's not used to throwing and running on ice.
Yes, it's cold here – 18 degrees Saturday night. The Arrowhead Stadium field has been covered all week, but the temperature in Kansas City hasn't been more than one degree above freezing since Tuesday afternoon.
In practices this past week Wilson tried out some flat, non-spiked shoes in case Arrowhead's grass field is indeed frozen.
"We know it's going to be loud, we know their fans are going to be intense. Those are championship moments that you live for," Wilson said. "Those are all the times when you're a little kid you work for. Those are all the times when you're in the weight room during the offseason and throwing with the guys and traveling around and trying to throw with the guys as much as you can in different locations and find a way.
"That's what develops championship teams is finding a way to win … finding a way to continue to believe."
Believe this: Sunday's high temperature here is expected to be 30 degrees. But the truth really is Wilson could wear crampons and still do what the Seahawks' must do against the Chiefs: Hand the ball to Marshawn Lynch to feature the league's top-ranked rushing offense.
Even Justin Houston, the NFL's sack leader with 12 near the pace of Michael Strahan's league record of 22 1/2 sacks from 2001, knows the key for his Chiefs isn't stopping Seattle's struggling passing game.
"Oh, stop No. 24. Easily. He's a monster," Kansas City's outside linebacker supreme said of Lynch, who had 140 of Seattle's team-record 350 yards rushing with a career-high four touchdowns in last week's win over the New York Giants. "If we can stop him and slow down Wilson from running the ball, we'll give our offense a great chance to put some points on the board, and our chances of winning will go up."
Local journalism is essential.
Give directly to The Spokesman-Review's Northwest Passages community forums series -- which helps to offset the costs of several reporter and editor positions at the newspaper -- by using the easy options below. Gifts processed in this system are not tax deductible, but are predominately used to help meet the local financial requirements needed to receive national matching-grant funds.
Subscribe to the sports newsletter
Get the day's top sports headlines and breaking news delivered to your inbox by subscribing here.
---