News > Features
Bakeshop revives storefront
Batch offers baked goods from renovated West Central spot
Fri., Nov. 21, 2014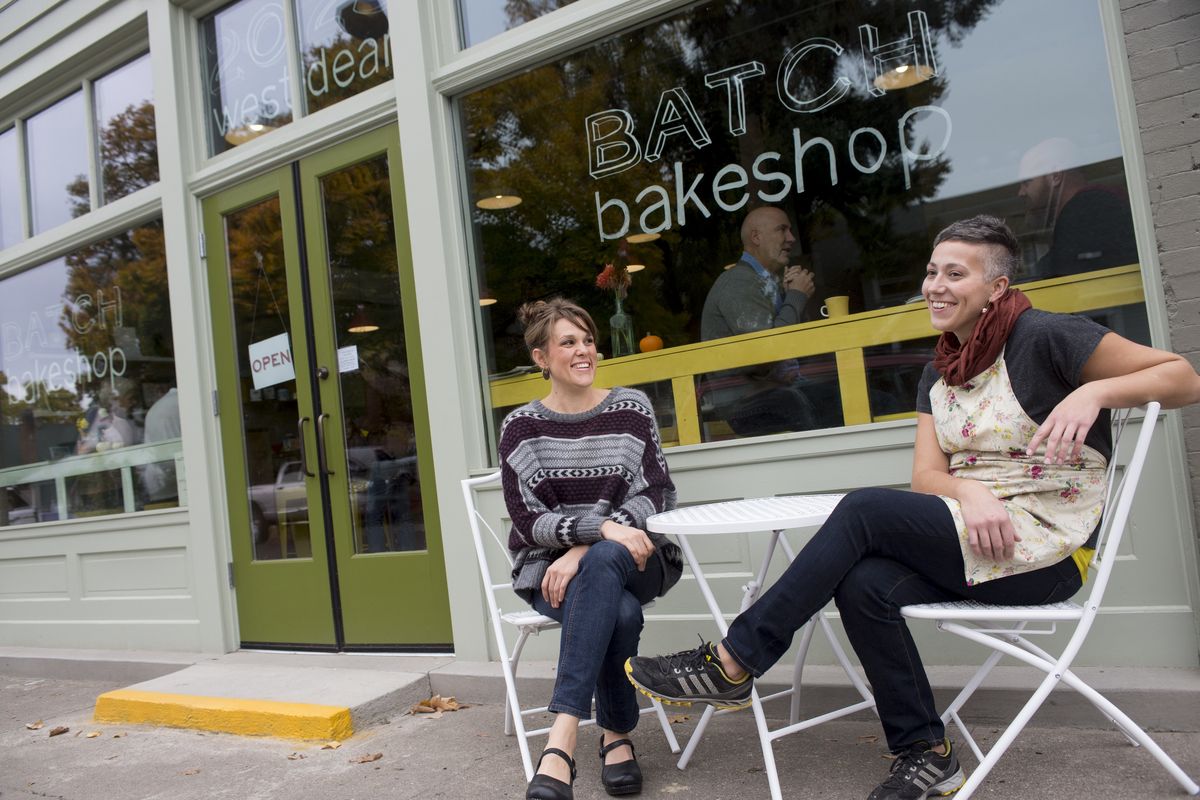 Mika Maloney, right, poses for a photo with Karyna Hamilton, left, at Batch Bakeshop at 2023 W. Dean Ave. in Spokane. (Tyler Tjomsland)
The cozy corner bakery greets guests with its signature salted chocolate chip cookies and vanilla bean scones.
Outlined images of cakes, whisks, spoons, spatulas, mugs and mixing bowls dress up the almond-colored walls. Sunny yellow stools sit inside the front windows.
Batch opened its first storefront in September in Spokane's West Central neighborhood.
"It's exciting," said owner Mika Maloney. "I have people that work for me now."
Maloney started Batch in 2011, borrowing the kitchen at Neato Burrito and Baby Bar from 3 to 9 a.m. But as her business grew and wholesale, wedding and event catering orders picked up, she needed more time and space to keep up.
A successful $15,000 Kickstarter campaign earlier this year helped Maloney move into the newly renovated building. It dates to the early 1900s and once served as a butcher shop, but for about the last 40 years, it had been largely used for storage.
Its brickwork was crumbling, and it required structural repairs as well as new plumbing, electrical work and new windows. The concrete floor needed to be resealed and the brickwork redone.
For décor, "I wanted it to be a balance of warm and fun, but clean and modern still," Maloney said. "I didn't want it to get too salvage-y looking."
The bakery still sports the original floor and exposed wooden ceiling beams. The new countertop is covered with glass-domed pedestal platters filled with seasonal tarts, cakes and muffins – as well as those favorite cookies and scones. The shop doesn't serve espresso but offers pour-over coffee from the nearby Indaba Coffee Bar and Roastery, as well as loose-leaf teas.
In spring, Maloney plans to finish the patio, where she wants to host private parties and events.
Batch Bakeshop is open from 7 a.m. to 4 p.m. Tuesday through Friday at 2023 W. Dean Ave. On the Web: www.batch-bakeshop.com or facebook.com/batchbakeshop. Call (509) 413-3759 or email batchbakeshop@gmail.com.
Flora Yogurt Co.
As a new mom, Karyna Hamilton was part of a milk co-op. But her young family couldn't drink enough to keep up. So she began experimenting, making her own mozzarella and ricotta.
Cheese-making led to yogurt, and now to her new Flora Yogurt Co.
Her specialty yogurt business shares space with the new Batch Bakeshop and embodies her slow-food philosophy while providing flexible hours.
Hamilton has two daughters, 4 and 2, and began making yogurt three years ago.
"It really came from wanting to know – and kind of being a geek about – where food comes from," Hamilton said.
"My dad was way up on the slow-food movement before it was cool," she said. "He was totally this old hippie. We had apple trees, nut trees. No fast food. It was all scratch-made. He made it, and it was thoughtful and it was healthy."
When she began making yogurt for her family and friends, they wanted more and more. Soon, Hamilton was producing some 60 quarts per month. When she divorced, she needed a way to support her girls while still being there for them. But the lack of a commercial kitchen and pasteurizer impeded the transition from making yogurt as a hobby to making yogurt as a small-batch business.
A successful $13,000 Kickstarter campaign helped cover the cost of a custom, 10-gallon pasteurizer.
To start, Hamilton, who also manages Thursday Market in the South Perry District, is offering a thick, rich and mild Bulgarian-style yogurt. She plans to package her yogurt in reusable, quart-size glass containers and eventually expand to crème fraîche and other kinds of yogurt.
Meanwhile, she's experimenting with heirloom styles from Scandinavia and other regions. She's also talking with local restaurants and retailers to see if they might be interested in carrying her artisanal yogurt.
For now, she's sticking to plain – as opposed to flavored – yogurt. "It's more versatile," Hamilton said. "You can use it in place of sour cream."
It can also be used in dips, sauces and baked goods. And it's easy to dress up. "At our home," Hamilton said, "we use honey, jam or granola."
On the Web: www.facebook.com/ floraayogurtcompany.
Durkin's Liquor Bar
Jimmie Durkin would probably be proud.
The new Main Avenue restaurant and bar named in his honor has a refined, old-timey, masculine feel. It's not difficult to picture the liquor tycoon sitting in one of the dark leather upstairs booths or deep red leather couches in the downstairs lounge.
Durkin's Liquor Bar opened for dinner and drinks late last week in the same space where Durkin once owned an establishment. The diner offers craft beer and cocktails along with contemporary takes on traditional diner fare, like burgers, salads and omelets.
This is no greasy spoon. Dishes and condiments – gravies, stocks, mustards – are made from scratch. Even the bologna is made in-house. Small plates – like roasted bone marrow ($16), braised lentils with lardons ($8), poutine ($9), Brussels sprouts with bourbon, brown sugar and Sriracha ($8), or barbecue carrots with walnuts and herbed crème fraîche ($6) – feel particularly fancy.
"All of those smalls are meant to be shared. We want people to come in and try something new," said Deb Green, who owns the family business with her daughter Megan Van Stone and son Ben Poffenroth. The trio also own Casper Fry, which opened in Spokane's South Perry District in 2012.
Born in England to Irish parents, Durkin was one of region's early millionaires. A colorful character known as "Spokane's Main Avenue philosopher," he made his fortune by shipping booze by the barrel instead of the jug.
Today, vintage glass bottles and ceramic jugs that bear his name are collector's items. A couple of them are on display in the new Durkin's, which seats 68 upstairs and 35 in the basement bar.
There are 24 taps – 20 upstairs, four downstairs – highlighting local and regional craft beers. All are rotating.
Cocktails on the upstairs menu run from $8 to $10. Expect classics like the Old Fashioned, Negroni, Corpse Reviver No. 2 and Aviation.
Cocktails on the downstairs menu – sparkling, shaken, stirred – run from $7 (Calvados and tonic) to $11 (Chartreuse Swizzle). Sips – scotch, whiskey and bourbon – run from $6 to $20 per glass. (There's also a 21-year-old Japanese whiskey for $39 per pour. It's not on the menu.)
Durkin's has 20 employees: 11 who work in front of the house and nine in the kitchen.
"We're excited to have this downtown," said Green, who also owns Madeleine's Café & Patisserie with her daughter. "It's going to be nice to have Madeleine's right next door."
The French-inspired coffee and bakeshop is slated to reopen by the end of January. The look will still be French-themed, but Green said, "It will have softer tones, not so much glaring blue and gold" – like the original location.
Durkin's Liquor Bar is open 11 a.m. to 11 p.m. Monday through Wednesday and 11 a.m. through 1 a.m. Thursday through Saturday at 415 W. Main St. On the Web: www.durkinsliquorbar.com.
Local journalism is essential.
Give directly to The Spokesman-Review's Northwest Passages community forums series -- which helps to offset the costs of several reporter and editor positions at the newspaper -- by using the easy options below. Gifts processed in this system are not tax deductible, but are predominately used to help meet the local financial requirements needed to receive national matching-grant funds.
Subscribe now to get breaking news alerts in your email inbox
Get breaking news delivered to your inbox as it happens.
---