A&E > Entertainment
Photo project puts focus on process
Dean Davis' images capture tools of artists' trade
Fri., Nov. 28, 2014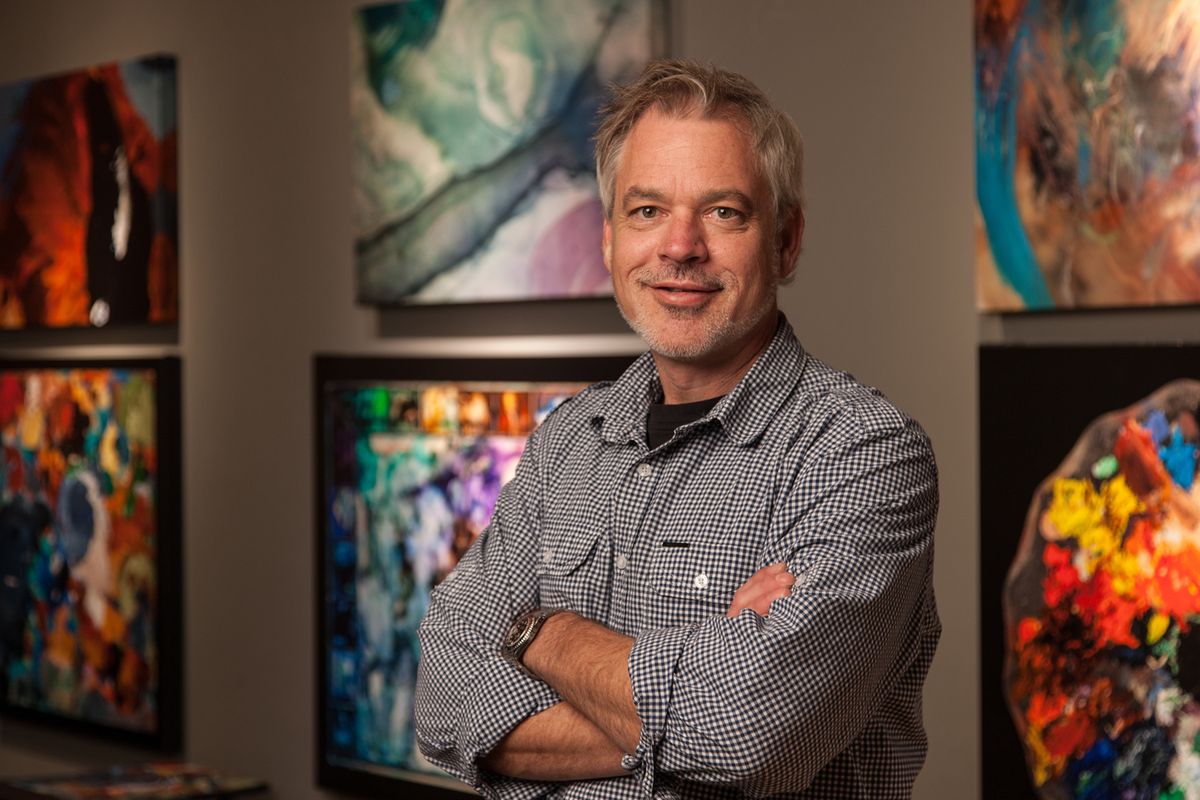 Davis
Jere Smith's palette was a slab of glass, 18 inches by 24, every fraction of every inch covered in paint. To photographer Dean Davis, the Seattle artist's palette looked like a piece of modern art.
Tim Lord gave Davis a mud holder made for drywall installers. Sheila Evans gave him her pastels. Ric Gendron gave him a blue lunchroom tray smeared with neon colors.
In all, Davis – a commercial and fine-art photographer who also makes photo reproductions for artist clients – called on 24 artists working in the region to lend him their palettes to serve as photo subjects.
He'll show the results in "The Artist's Palette," a show starting this week at the Northwest Museum of Arts and Culture that combines Davis' photographs with work by the artists.
The exhibit celebrates the region's artists "with a focus on the tools of the trade," said Forrest Rodgers, the MAC's executive director. "Many people see art and they see the final product. They can't imagine what's going on inside the artist's head or heart. Perhaps the most tangible way of understanding that is to see the palette that they've used."
A palette used by Spokane artist James LaVigne sparked the idea, Davis said.
Visiting LaVigne studio's, Davis spotted an oversize kidney-shaped palette – around a foot tall and 2 feet wide – with a thumbhole and textured with layers of dried paint.
"As soon as he picked it up," Davis said, "he started telling me stories about it: 'I've been using this palette since the '70s. I scrape it every once in a while and sand it.' "
He borrowed the palette to photograph as he would a piece of fine art. When the images he made popped up on his computer screen, "I thought, 'Wow, this is really powerful,' " Davis said.
For more tools-as-subjects, he called other artists he knew and gathered suggestions.
While many who lent their palettes live and work in Spokane and Coeur d'Alene, they also include Bozeman artist John Buck; George Carlson, of Harrison, Idaho; and Patrick Siler, of Pullman.
While he feared he might end up with a bunch of kidney-shaped palettes with thumbholes, the palettes he got varied widely.
Carlson gave him a slab of glass, too, measuring 20 by 30 inches.
Davis traveled to the Colfax studio used by Timothy Ely, who makes "out of this world" books as art objects, to learn about his tools and artistic process.
Davis brought some materials back to Spokane to photograph, including a "golden triangle" and an engineer's square.
While some artists create "organized" palettes, with colors organized from cool to warm, for example, others seemed less organized. Smith's palette "doesn't look like there's any rhyme or reason at all to where the paint is," Davis said.
The exhibit, which opened this week and will remain up through June, also includes a painting by each artist who lent Davis a palette to photograph.
In addition, it includes enlargements of tiny details from 15 of the palettes. Davis used a macro lens to photograph "little compositions" – 1-by-1.5-inch spots on the palettes – he found within them, which he blew up to large canvases, most of them about 2 feet by 3 feet.
The photographs of their tools will hang on opposite walls from the artists' work, leaving it to viewers to make connections between them based on color or brushstroke.
"You can figure out which painting belongs to which palette," Davis said. "It's amazing."
Local journalism is essential.
Give directly to The Spokesman-Review's Northwest Passages community forums series -- which helps to offset the costs of several reporter and editor positions at the newspaper -- by using the easy options below. Gifts processed in this system are not tax deductible, but are predominately used to help meet the local financial requirements needed to receive national matching-grant funds.
Subscribe to the Spokane7 email newsletter
Get the day's top entertainment headlines delivered to your inbox every morning.
---