Sports
Dan Caesar's Week 13 NFL picks
Sun., Nov. 30, 2014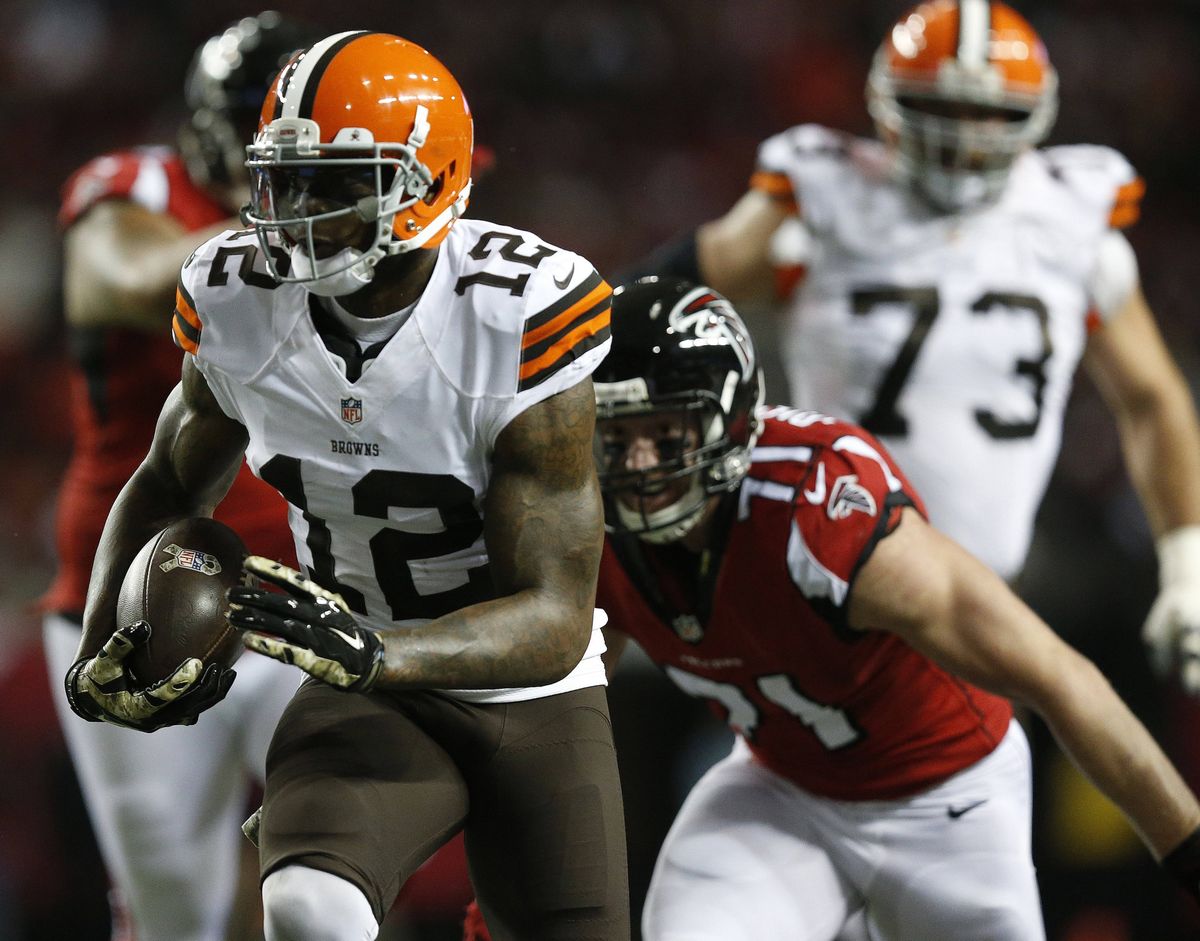 Browns wide receiver Josh Gordon faces Bills in his second game back after serving suspension. (Associated Press)
Redskins at Colts
Kickoff: 10 a.m.
Records: Washington 3-8, 1-5 away. Indianapolis 7-4, 4-2 home.
Line: IND by 9 1/2 O/U: 51
Synopsis: Washington benches QB Robert Griffin III in favor of Colt McCoy, who was effective in relief earlier this year but now operates behind a suspect offensive line. He won't outgun the Colts' Andrew Luck, who operates the NFL's top-rated passing attack. The 'Skins are No. 8 vs. the pass, but have lost three in a row.
Pick: Colts 33-20
Titans at Texans
Kickoff: 10 a.m.
Records: Tennessee 2-9, 1-5 away. Houston 5-6, 2-3 home.
Line: HOU by 7 O/U: 42 1/2
Synopsis: Sub-.500 teams meet and Houston goes back to previously-benched QB Ryan Fitzpatrick because Ryan Mallett suffered a season-ending chest injury last week. However, Fitzpatrick was a winner earlier this season on the road. Titans have lost nine of 10 and are 28th in offense and defense.
Pick: Texans 26-17
Browns at Bills
Kickoff: 10 a.m.
Records: Cleveland 7-4, 3-2 away. Buffalo 6-5, 3-3 home.
Line: BUF by 3 O/U: 41 1/2
Synopsis: Buffalo is back home after its game last week was moved to Detroit because of a snowstorm, and relies on its No. 4 'D.' Cleveland has WR Josh Gordon, the NFL's leading receiver last year, back for his second outing since suspension ended, to face the No. 5 pass 'D.'
Pick: Browns 23-20
Chargers at Ravens
Kickoff: 10 a.m. (CBS)
Records: San Diego 7-4, 2-3 away. Baltimore 7-4, 4-1 home.
Line: BAL by 6 O/U: 45 1/2
Synopsis: San Diego barely eked out wins at home the last two weeks, now goes cross country to Baltimore, where the Ravens have won four in a row and allowed an average of just 7 1/2 points in those games. The Chargers face the NFL's No. 8 offense.
Pick: Ravens 27-16
Giants at Jaguars
Kickoff: 10 a.m.
Records: New York 3-8, 1-4 away. Jacksonville 1-10, 1-4 home.
Line: NY by 3 O/U: 44 1/2
Synopsis: Emerging New York rookie WR Odell Beckham Jr. and the rest of the Giants' aerial attack should feast on the NFL's No. 27 pass 'D.' Then again, so should the ground game vs. the No. 28 run defense. Jacksonville scores just 14.6 points per game, worst in the league.
Pick: Giants 30-20
Raiders at Rams
Kickoff: 10 a.m.
Records: Oakland 1-10, 0-5 away. St. Louis 4-7, 2-3 home.
Line: STL by 6 1/2 O/U: 42 1/2
Synopsis: Oakland got its first win in its last outing and hasn't won two in a row since Oct. 2012. It faces a foe that sputters offensively and blew a chance to upset San Diego last week. Oakland is winless on the road, but only once did it lose by more than seven points.
Pick: Rams 20-17
Bengals at Bucs
Kickoff: 10 a.m.
Records: Cincinnati 7-3-1, 3-2 away. Tampa Bay 2-9, 2-4 home.
Line: CIN by 3 1/2 O/U: 44 1/2
Synopsis: How bad is the NFC South? Tampa Bay is just two games out of first place and entertains Cincinnati, which has won four of five. Tampa's run game ranks 29th, but the Bengals could be looking ahead to key AFC North clash next week with Pittsburgh and have a letdown.
Pick: Buccaneers 24-20
Saints at Steelers
Kickoff: 10 a.m.
Records: New Orleans 4-7, 1-4 away. Pittsburgh 7-4, 4-1 home.
Line: PIT by 4 1/2 O/U: 53 1/2
Synopsis: New Orleans has lost three in a row – all at home – and now goes to Pittsburgh, which comes off a bye and has been inconsistent. This should be an aerial show. The Saints' Drew Brees guides the NFL's No. 3 passing attack, while the Steelers' Ben Roethlisberger runs the No. 5 unit.
Pick: Steelers 30-27
Panthers at Vikings
Kickoff: 10 a.m.
Records: Carolina 3-7-1, 1-3-1 away. Minnesota 4-7, 2-3 home.
Line: MIN by 3 O/U: 42 1/2
Synopsis: Carolina has lost five straight but is only half a game out of the NFC South lead, and gets a break here as the Vikings' offense ranks 30th and rookie QB Teddy Bridgewater is having growing pains. Minnesota's 'D' isn't much better at No. 25.
Pick: Panthers 27-23
Cardinals at Falcons
Kickoff: 1:05 p.m. (Fox 28)
Records: Arizona 9-2, 3-2 away. Atlanta 4-7, 2-3 home.
Line: ARI by 2 O/U: 44 1/2
Synopsis: Arizona comes off a rare loss at Seattle, now goes east and tries to get its 25th-rated offense going. It faces the NFL's worst 'D,' which allows 409.9 yards a game. But key Cardinals WR Larry Fitzgerald, who didn't play last week because of a sprained knee, might be out again. Cards allow just 17.7 points, win with 'D.'
Pick: Cardinals 23-17
Broncos at Chiefs
Kickoff: 5:30 p.m. (NBC)
Records: Denver 8-3, 2-3 away. Kansas City 7-4, 4-1 home.
Line: DEN by 2 O/U: 49 1/2
Synopsis: Denver is 2-2 in its last four and scored just seven points in its last road outing, at St. Louis. Now it goes to KC, which has won its last four at home – including against reigning Super Bowl champ Seattle. TE Julius Thomas (ankle) might not be in Denver's aerial show, and KC is No. 1 vs. the pass – but minus S Eric Berry (illness).
Pick: Chiefs 27-23
Dolphins at Jets
Monday: 5:30 p.m. (ESPN)
Records: Miami 6-5, 3-3 away. New York 2-9, 2-4 home.
Line: MIA by 6 1/2 O/U: 42
Synopsis: Miami has lost two of three and tries to get on track vs. New York, which plays on back-to-back Mondays. That's because its contest last week was moved from Sunday because of the snow in Buffalo and the game was shifted to Detroit and the Jets were pummeled 38-3. New York QB Geno Smith, who was benched earlier, is back.
Pick: Dolphins 21-17
Local journalism is essential.
Give directly to The Spokesman-Review's Northwest Passages community forums series -- which helps to offset the costs of several reporter and editor positions at the newspaper -- by using the easy options below. Gifts processed in this system are not tax deductible, but are predominately used to help meet the local financial requirements needed to receive national matching-grant funds.
Subscribe to the sports newsletter
Get the day's top sports headlines and breaking news delivered to your inbox by subscribing here.
---