Sports
Commentary: End of an era for cycling's most eccentric champion
Sun., April 12, 2015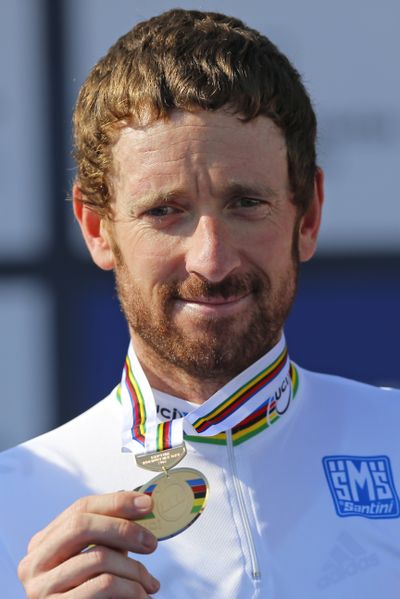 KORTRIJK, Belgium – Dust off the cut-out-and-wear sideburns. Just one last time. In honor of Bradley Wiggins, a Tour de France champion unlike any other who ends his road-racing career this weekend. His sport – all of sport, in fact – will be poorer without this most colorful of characters.
A quick recap: Wiggins was the Tour's first British champion, and for a long while he hated how the fame of that breakthrough 2012 victory changed his life, that he could no longer pop to the shops for bread and milk or take his kid to rugby practice without cameras in tow.
With Britain in the grip of full-on Wiggo-mania, everything he touched seemed to turn to gold. He was honored with a starring role in the opening ceremony at the 2012 London Games, ringing a giant bell to kick off the party. So they could look like him, a British newspaper provided readers with cut-out Wiggins-like sideburns to wear, under the clever headline: "Here Wiggo!" Wiggins returned the love by winning Olympic gold. But later, with brutal honesty, he then told an interviewer that those games weren't as thrilling as the time he got to play guitar with his rock idol, Paul Weller, former frontman for The Jam.
In sum, Wiggins is what journalists call "good copy," fascinatingly complex, mostly charming, sometimes difficult, but generally always with something interesting to say and in language sprinkled with salty curses that requires liberal recourse to the asterisk key on reporters' laptops.
Except this time. Ahead of his final race for Sky, Wiggins wasn't feeling chatty at all. It all suddenly seemed to have become too much for him: the finality of leaving the team that turned him into a Tour champion and the inevitable questions about how he felt. As reporters rolled up from near and far on Friday on a promise that he'd be holding court, Wiggins abruptly announced that he wouldn't be speaking after all. It took multiple phone calls from a Sky handler and cajoling to change his mind.
Fitting his mood, Wiggins wore black. The 'last race, how do you feel?' question got short shrift.
"Trying not to think about that," he said, "because it's becoming quite negative now and I'm not enjoying it."
"It finishes on Sunday, my career, not before," he added. "I need to focus on the race and not keep thinking about the nostalgic-ness of it."
Message loud, clear and understood. For the remaining 12 minutes, the questions switched solely to the task ahead: Paris-Roubaix today. The trek across northern France, over pounding cobblestones that will be treacherously slippery if it rains and throw up clouds of choking dust in the dry, is aptly known as the "Hell of the North."
Wiggins lists it as his favorite race. But he wasn't about to explain why.
"It's not sudden love. Have you not read the newspaper for six months? I have been talking about this," he said. "Just Google it. Google: 'Bradley's love of Paris-Roubaix.' "
To win and stay upright on the cobbles, riders need power. Wiggins has packed on muscle. They also need luck and to keep their wits about them to avoid the many crashes.
"A big game of chess" is how Wiggins' teammate, Geraint Thomas, described the race.
Winning would, of course, be a fairytale ending for Wiggins. If not, if he makes it to the finish, he can console himself by riding last laps of honor around the Roubaix velodrome where the race ends. One of cycling's most iconic venues, the oval track with banked corners will be a fitting place to bid farewell for a champion who has been in love with cycling since he was growing up in London, plastering his walls with riders' photos when other kids preferred footballers.
He fell out of love after the Tour. "There have been periods where I've just hated it, hated the sport, hated racing and riding my bike," he said recently.
But now the affection is back. After Paris-Roubaix, Wiggins plans to switch back to racing on tracks, where he won Olympic gold in 2004 and 2008 but which is lower profile than racing on roads.
So not a total full stop for the 34-year-old. But certainly the closing of his most important chapter.
"It's a shame it's got to come to an end," he said.
Local journalism is essential.
Give directly to The Spokesman-Review's Northwest Passages community forums series -- which helps to offset the costs of several reporter and editor positions at the newspaper -- by using the easy options below. Gifts processed in this system are not tax deductible, but are predominately used to help meet the local financial requirements needed to receive national matching-grant funds.
Subscribe to the sports newsletter
Get the day's top sports headlines and breaking news delivered to your inbox by subscribing here.
---