Sports
Cougars gathering nickelbacks
Part-time position now a full-time job at WSU
Tue., Aug. 11, 2015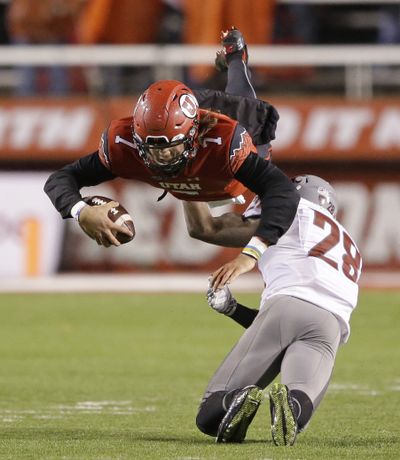 LEWISTON – Parker Henry played football on Monday with the vigor of someone who has spent his entire life performing the wrong role, only to discover the ease and comfort that come with when a person begins to do what is natural.
The ferocity of his tackles drew gasps from his teammates. He ended a passing drill by out jumping star receiver Gabe Marks to snag an interception and caused another during a scrimmage by deflecting a pass into a teammate's hands.
There was a certain rightness to the walk-on's play during WSU's third practice of its preseason camp. A role found that had previously not existed. While Parker, a junior, had previously existed only in the team's background – one of those players whose body type will never allow him to actually contribute against the monsters that comprise Pac-12 starting units – the addition of a nickelback position to WSU's base defense has made the 5-foot-11, 207-pound former linebacker suddenly an archetype.
"I'm not big enough to be a linebacker," Henry said. "And I'm not quite fast enough to be a safety."
But he's big and fast enough to play nickelback, a fifth defensive back in lieu of a linebacker in the defensive scheme employed by new coordinator Alex Grinch. The nickelbacks meet and practice with the outside linebackers, and are expected to defend the run. However, they also frequently match up with the other team's slot receiver, likely the quickest player on offense.
That's the case more often than not during a WSU practice, when the defense is going up against the Air Raid every day.
"You're up there but always going up against our offense it's a lot of pass," said Colton Teglovic.
The players that excel are often those that were mashed into other, less ideal positions.
Darius Lemora started 10 games at safety as a redshirt freshman last season. He played well, finishing fourth on the team with 68 tackles. But he had some issues with the position.
Primarily, he was too far from the line of scrimmage.
"That's where all the action is. That's where all the fun is," Lemora said. "I like to help in run support more than I like to cover."
Lemora seems set to start at the nickel position for WSU, while Henry is pushing Teglovic, another walk-on who played safety last year, for playing time as a backup.
Because the nickels are tasked with everything from taking on a pulling guard on a power-run play to defending a jitterbug receiver up the seam, they also split their time in practice.
When the linebackers are doing a drill on one field that involves taking on offensive lineman and tracking a ball carrier, the defensive backs are working on man coverage against receivers on another. Lemora, Parker and Teglovic can be seen running back and forth between the drills.
"Those guys bounce back and forth and their day is kind of split between defensive back-land and linebacker," Grinch said. "It's a difficult position to play."
Although in theory a nickelback is brought on the field to replace a linebacker with a defensive back for the purpose of defending the pass, at WSU the position tends to gravitate more toward linebacker than member of the secondary. This is in part because the player will nearly always be on the field, rather than only in situational passing downs, and in part because Grinch wants the position to be an effective tool against spread running offenses as well as passing ones.
So, the trio falls under the positional purview of outside linebackers coach Roy Manning, who gathers all of the "overhang" players – those that line immediately next to and behind the defensive linemen – for meetings and coaches both positions during practice.
"What you like to do ideally is have an outside linebackers coach for those overhang players, whether it's nickel or Sam, or that Rush linebacker," Grinch said. "So ideally, you'd like those guys to get every single coaching point instead of sitting in a corner. It just makes teaching easier."
Local journalism is essential.
Give directly to The Spokesman-Review's Northwest Passages community forums series -- which helps to offset the costs of several reporter and editor positions at the newspaper -- by using the easy options below. Gifts processed in this system are not tax deductible, but are predominately used to help meet the local financial requirements needed to receive national matching-grant funds.
Subscribe to the sports newsletter
Get the day's top sports headlines and breaking news delivered to your inbox by subscribing here.
---