News > Features
Southern roots take flight
Georgia-raised chef brings smoky flair to Blackbird
Fri., Aug. 21, 2015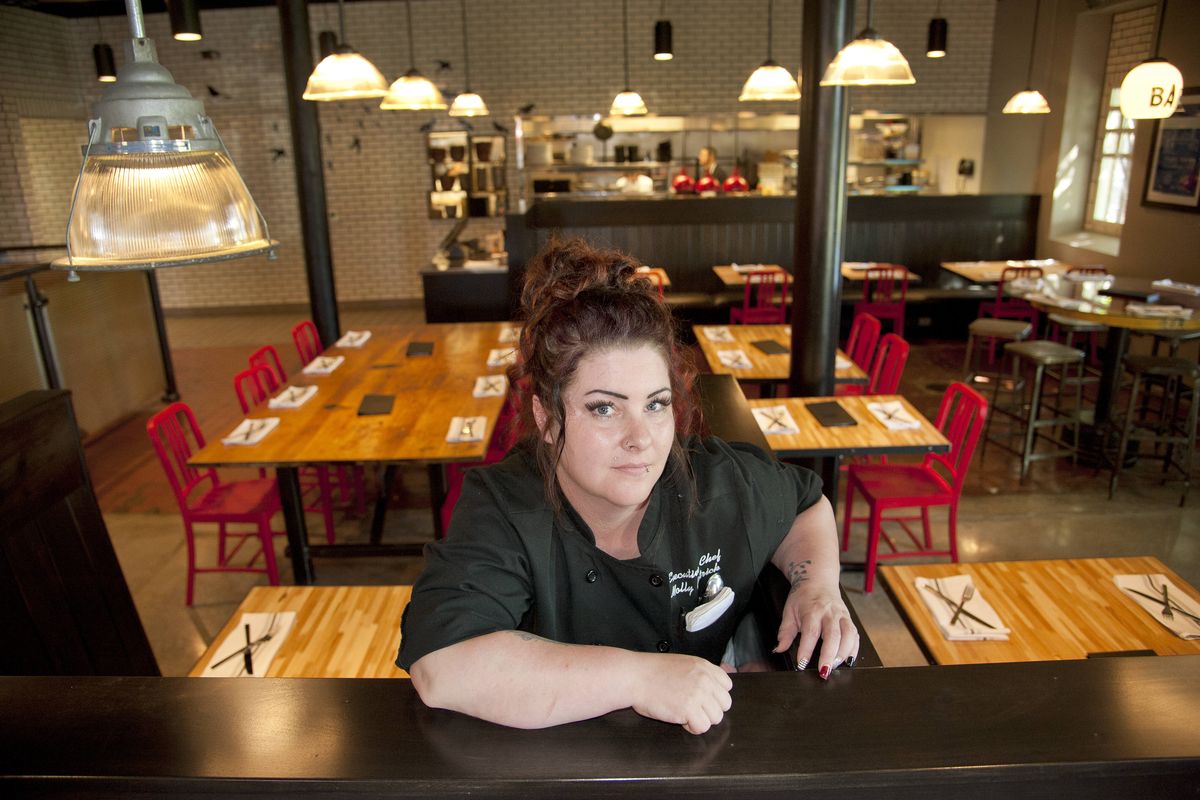 Molly Patrick is the executive chef of the Blackbird at 905 N. Washington St. in Spokane, in the old Broadview Dairy building. (Dan Pelle)
Molly Patrick is putting her Southern signature on the menu at the Blackbird.
The executive chef at the new restaurant in the old Broadview Dairy calls the fare "smokehouse fusion."
"I tried to keep it to what reminded me of what I ate as a child," she said. "There's a lot of smoke."
For weekend brunch, there's a Dutch baby with vanilla peaches and molasses butter, toad in the hole with sourdough bread and sage-and-juniper bacon, and brisket and grits with a poached egg.
For lunch and dinner, look for "pig wings," or deep-fried pig tails with smoked hot sauce and bleu cheese; tater tots stuffed with bone marrow and topped with rooster sauce, fennel pollen and lime; and malted waffle hush puppies with maple-cayenne syrup.
"It's certainly going to be higher-end than the tap house," said Patrick, who runs the kitchens at Manito Tap House on Spokane's South Hill and the new Blackbird, located just north of Riverfront Park.
Both are owned by homebrewer-turned-restaurateur Patrick McPherson, who opened the tap house in 2011 and signed the lease for space in the old dairy last year. Renovation began in February.
Built in 1910, the historic Broadview Dairy building once housed horses and buggies on the ground floor, which is now occupied by the restaurant. Done in black, white, red and butterscotch and dappled with repurposed materials, The Blackbird encompasses about 7,200 square feet and seats 117 inside as well as another 90 on the patio. It opened at the end of June.
Guests are greeted by a lighting fixture created from the fin of a vintage bomb. It hangs above the dining room, just inside the front doors. Floors are a mix of polished concrete and the original brick floor of the old dairy.
One of the large, reclaimed, communal tables comes from a local clubhouse belonging to the Hell's Angels. An old industrial tool cabinet serves as the mobile point-of-sale counter for the patio. The new red plastic chairs are made from recycled 2-liter bottles of Coca-Cola.
"It already feels lived in when you go into a place with old materials," McPherson said, noting the plan is to apply for the same environmental recognition as Manito Tap House, which has earned four stars – the highest rating – from the Green Restaurant Association.
McPherson wanted a different look for the Blackbird, where glazed brick reminiscent of subway tile lines the back bar. The countertop was fashioned from the floor of an old railcar – as was the standing-room-only buddy bar, also in the bar area, which is separated from the rest of the dining room by panels from the old dairy. Light fixtures throughout were salvaged from the old dairy, too, as were milk crates, installed in a kitchen wall and offering a glimpse at cooks while shelving charcuterie and bread.
New touches include the custom, beer-bottle-shaped sinks in the men's and women's restrooms as well as a new, lighted Duratrans print of an old Piggly Wiggly grocer in Spokane.
There are two banquet rooms – large and small – in the back, beyond the glass-walled beer cellar, kept at a cool 45 to 50 degrees and home to some 150 to 200 bottles and cans of beer, plus another 100 bottles of wine. There are also 38 taps: 34 for beer, four for wine.
While the adult beverage menu is "beer-centric," McPherson said, it also offers some craft cocktails. "This place is quite big, so we wanted a broad appeal," he said. "We're trying to take what we learned at the tap house to the next level."
The semi-open kitchen serves brunch from 8 a.m. to 2 p.m. Saturdays and Sundays. It features a wood-fired smoker and wood-fired grill – and an opportunity for Patrick to show and share her Southern roots.
Burnt ends, brisket, brown sugar, buckwheat pancakes, grits, sweet tea, peach iced tea.
Patrick grew up in Georgia, where toad in the hole was her favorite breakfast and she "used to have to eat a lot of Waldorf salad." She put it on the menu at the Blackbird "the way I like it" – with clotted cream, sweet pickled celery and roasted grapes.
Patrick spent about six years at the Coeur d'Alene Casino Resort Hotel before helping open Eat Good in Liberty Lake, then starting at Manito Tap House about a year ago. She plans to change the menu at the Blackbird four or more times per year.
Meanwhile, apple, hickory, mesquite and pecan wood feeds the hand-cranked, "steam-punkish" wood-fired grill. Bacon fat popcorn is served in copper pots.
Look for chorizo corn dogs with beer mustard, molasses baked beans, pork belly and brisket sandwiches, and the signature burger with ale-pickled tomato and stout mustard. The smoked turkey sandwich comes with kumquat aioli.
And there's a bit of a Pacific Northwest touch, too. The smoked salmon salad comes with caramel corn, field greens and a cream cheese dressing. The crispy skin salmon features salted caramel, peaches and bacon fried rice. And you can add huckleberries to a glass of lemonade for an extra dollar.
Local journalism is essential.
Give directly to The Spokesman-Review's Northwest Passages community forums series -- which helps to offset the costs of several reporter and editor positions at the newspaper -- by using the easy options below. Gifts processed in this system are not tax deductible, but are predominately used to help meet the local financial requirements needed to receive national matching-grant funds.
Subscribe now to get breaking news alerts in your email inbox
Get breaking news delivered to your inbox as it happens.
---