News > Features
East meets fresh in 'Jewish Kitchen'
Tue., Dec. 1, 2015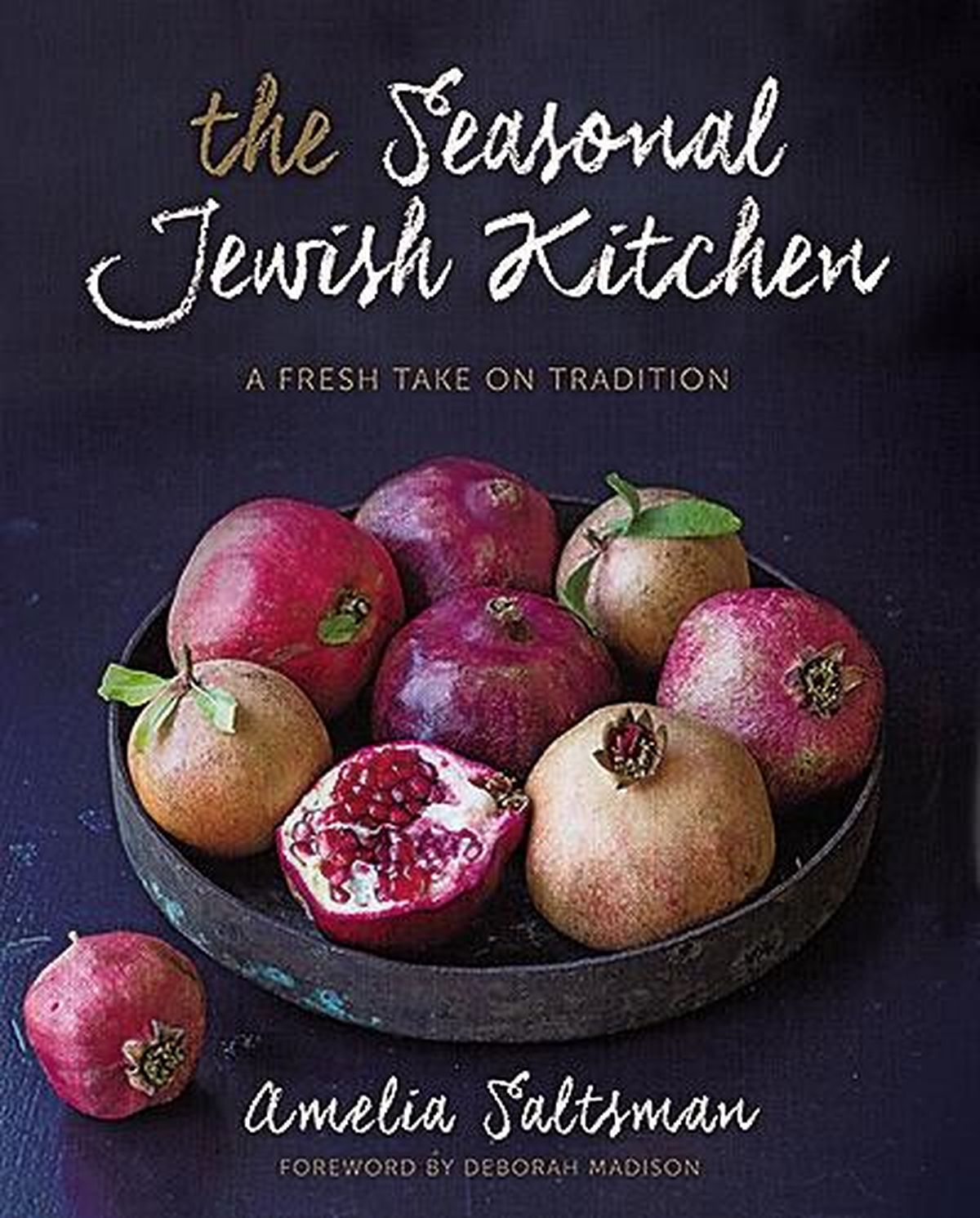 Quick look: This contemporary Jewish cookbook focuses on fresh ingredients, dividing its 150 recipes into two-month blocks and intertwining tradition with modern life.
What's inside: Guided by the seasons and the Jewish calendar, Amelia Saltsman offers myriad vegan and Middle Eastern dishes, old family recipes and new takes on traditional Jewish foods. A diversity of flavors runs through her 310-page, hardcover book, which is well-organized and vibrant.
Recipes and suggested menus don't mix meat and dairy, and none include pork or shellfish. Each recipe is marked pareve, pareve/vegan, fish, dairy or meat, but can be adapted according to a home cook's personal food philosophy or taste.
There's a list of essential ingredients at the front – from beans and barley to ras el hanout and za'atar – along with tips for toasting nuts, seeding pomegranates and cooking dried beans. Saltsman also offers seven foundational recipes for basics such as labneh and lemon and tahini sauces.
Two pages near the back detail the Jewish farm movement in the United States. Throughout, Saltsman sprinkles menus for Jewish holidays such as Rosh Hashanah, Yom Kippur, Purim, Passover and Hanukkah, which runs from Sunday night through Dec. 14.
Recipes start with September and October. Recipes for the second block, November and December, or "The Dark Hours," include Yemenite Pumpkin and Carrot Soup, Parsley or Cilantro Pesto, and Sweet Potato and Butternut Squash Mini-Latkes with Labneh and Smoky Harissa.
Recipes are listed at the start of each two-month period. Each recipe, like each micro season, starts with a vignette. Saltsman offers variations, pairing suggestions and notes for many of her approachable recipes.
This is modern Jewish cooking for anyone, a fusion of regional cuisines from the Middle East to the Mediterranean, North Africa to Europe.
Expect to see classics such as Roasted Carrot and Sweet Potato Tzimmes, Pure and Simple Brisket, Best Potato Latkes and a couple of kinds of charoset.
Saltsman, born and raised in Los Angeles, is the daughter of a Romanian mother and an Iraqi father. Her cooking, documented here as well as in her award-winning first book, "The Santa Monica Farmers' Market Cookbook," reflects her cultural background.
What's not: Photographs are matte, deeply hued and gorgeous. But don't expect to see one for each recipe.
Blood Orange and Olive Oil Polenta Upside-Down Cake
From "The Seasonal Jewish Kitchen" by Amelia Saltsman
Syrup-soaked cakes, usually made with semolina and called tishpishti or namoura, are popular throughout the Middle East. With its stained-glass effect from the variegated colors of blood oranges, this upside-down cake, which gets its nubbly texture from sunny cornmeal, is drenched in a sophisticated ruby-red blood-orange syrup. Use fine-grind cornmeal or polenta; stone-ground meal doesn't get tender enough in baking.
For the cake
4 blood oranges
²/3 cup packed light brown sugar
1 cup unbleached all-purpose flour
²⁄3 cup cornmeal (not stone-ground)
1 teaspoon baking powder
¾ teaspoon salt
²⁄3 cup extra-virgin olive oil, plus more for the pan
¾ cup granulated sugar
3 eggs
For the syrup
½ packet (1/8 ounce) unflavored gelatin
3 tablespoons granulated sugar
2 tablespoons Cointreau
1 tablespoon fresh lemon juice
Preheat oven to 350 degrees. Using a microplane grater, grate zest from 2 of the blood oranges and reserve. Juice the 2 oranges and reserve. Cut both ends off of each of the remaining 2 oranges, then cut each orange crosswise into rounds ⅛ to 1/16 inch thick. Cut all but one of the slices in half and discard any center pith.
Sprinkle brown sugar evenly over the bottom of a flameproof and ovenproof 10-inch skillet (a well-seasoned cast-iron skillet is perfect) and sprinkle with 2 tablespoons of the orange juice. Heat skillet over medium-low heat until most of the sugar is bubbling. Remove from the heat.
Starting at the outer edge of the pan, lay the halved orange slices in the melted sugar with the "scalloped" edge of each slice touching the edge of the pan. Fit as many orange slices as you can into the circle, pinching their corners as you set them into the hot sugar (use a knife point or tongs to adjust the fruit as needed). Some slices will have a "prettier" side; make sure those are placed face down in the sugar. Arrange the remaining halved orange slices in concentric circles toward the center, finishing with the reserved whole slice in the center.
In a medium bowl, sift together the flour, cornmeal, baking powder, and salt. In an electric mixer fitted with the paddle attachment, beat together the oil and granulated sugar on medium speed until thickened and golden. Add the eggs, one at a time, beating well after each addition until mixture is thick and creamy gold, 3 to 5 minutes total. Beat in the zest and 1 tablespoon of the juice. On low speed, add the flour mixture in three batches, beating after each addition just until blended.
Pour batter evenly over the orange slices and gently smooth the top. Bake the cake until golden brown, the top springs back to the touch, and a toothpick inserted into the center comes out clean, about 25 minutes. Let cool in the pan on a wire rack for 5 minutes. Run a thin-bladed knife around the inside edge of the pan to loosen the cake sides. Invert a serving plate over the cake, invert the pan and plate together, and lift off the pan. If any fruit sticks to the pan, loosen it with a spatula and place it on the cake. While the cake is hot, use a fork or bamboo skewer to make holes in it without going all the way through.
While the cake is baking, make the soaking syrup. Fill a medium bowl one-third full with ice and a little water and nestle a smaller bowl, preferably metal, in the ice bath. Pour ¼ cup of the remaining orange juice into a small pot, sprinkle the gelatin on top, and let soften for 5 minutes. Stir granulated sugar, Cointreau, and lemon juice into the remaining orange juice, then stir the mixture into the softened gelatin. Bring to a simmer over medium heat and stir to dissolve sugar and gelatin, about 1 minute. Do not allow to boil. Pour syrup into the waiting bowl and stir from time to time until it thickens to the consistency of maple syrup, about 15 minutes. Spoon or brush some of the syrup over the cake. Allow it to soak in, then spoon or brush on more. Repeat until you have used all the syrup.
Allow the cake to cool completely before slicing, then cut into wedges with a serrated offset knife to serve.
Makes: 1 (10-by-2-inch) cake, 12 servings
Note: To cut picture-perfect cake slices, use kitchen scissors to snip through the oranges first, then follow that line with your knife to cut the cake.
Local journalism is essential.
Give directly to The Spokesman-Review's Northwest Passages community forums series -- which helps to offset the costs of several reporter and editor positions at the newspaper -- by using the easy options below. Gifts processed in this system are not tax deductible, but are predominately used to help meet the local financial requirements needed to receive national matching-grant funds.
Subscribe now to get breaking news alerts in your email inbox
Get breaking news delivered to your inbox as it happens.
---