Sports
Spokane's Empire Strength sends three local weightlifters to American Open
Tue., Dec. 1, 2015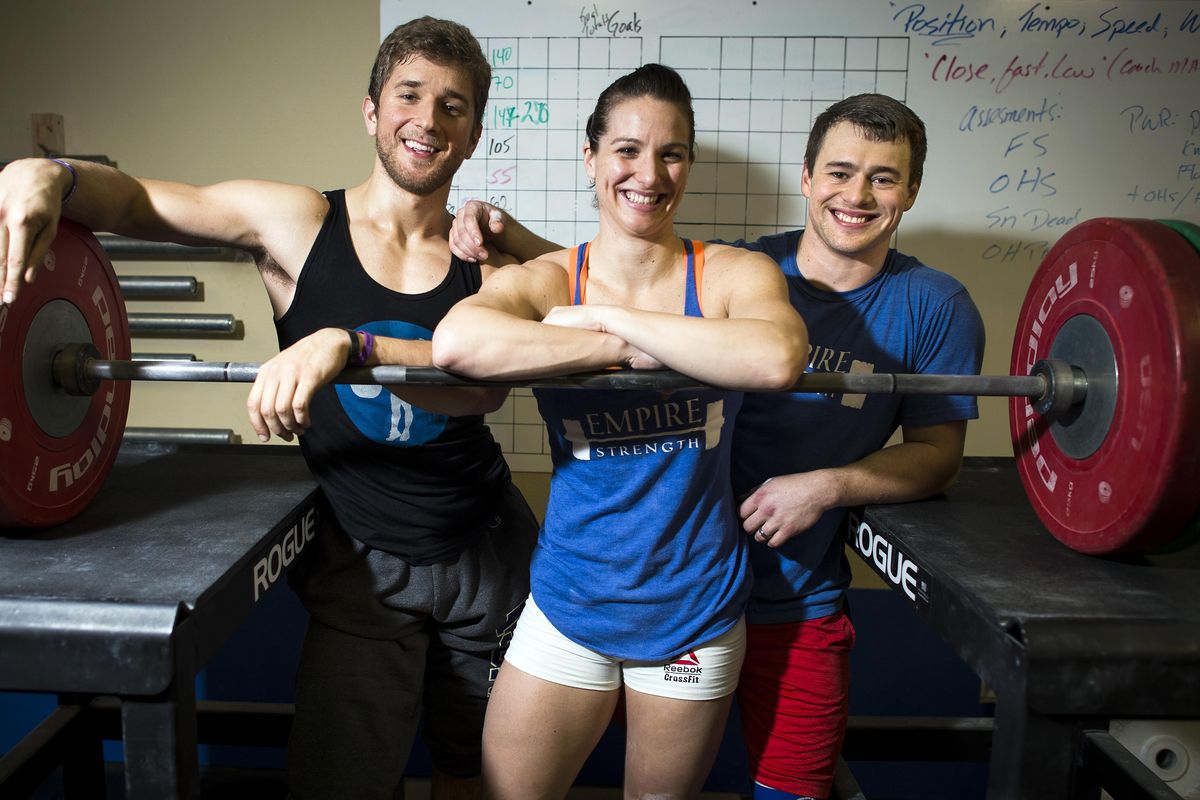 Local weightlifters, left to right, Mark Kowlaczyk, Katie Zeigler and Paul Mann are competing in the American Open, Thursday through Sunday in Reno, Nevada. All three train at Empire Strength under the guidance of David DeLong. (Colin Mulvany / The Spokesman-Review)
Keeping teenagers in line at the Juvenile Detention Center is not always an easy task.
But Katie Zeigler, a corrections officer at the Spokane County Juvenile Detention Facility, said she doesn't have a problem with standing her ground, even with some of the teenage boys who have some height on her. That's because underneath that CO uniform she packs some serious guns – the kind that come from lifting 200-pound barbells above her head.
Zeigler, 31, lifts weights competitively, which she said can be intimidating to the juveniles at the detention center.
"Most of them make jokes about it if they're scared of me. … They'll say, 'She'll beat you up! Katie will totally beat you up!' " Zeigler said.
Zeigler lifts at Empire Strength, Spokane's only weightlifting gym that trains amateur and competitive lifters. Washington native and weightlifting coach David DeLong, who holds a national weightlifting title, opened the gym in north Spokane last year to give athletes such as Ziegler the chance to compete in meets such as this year's final national competition.
Zeigler is one of DeLong's three Empire Strength lifters to qualify for the upcoming American Open, a national weightlifting competition hosted by USA Weightlifting.
Air Force veteran Paul Mann, 21, and medical student Mark Kowlaczyk, 24, will compete alongside her in the men's 85 kg class.
Mann started weightlifting competitively about 5 years ago. Because he has endured several injuries over the years, this is the first national meet for which he's qualified.
Kowlaczyk is a first-year medical student at the University of Washington student medical facility in Spokane. He started training in Seattle a couple of years ago and it quickly became an easy escape when not in class.
"None of these three lifters are going to win," DeLong said. "But just to go, just to qualify is a huge accomplishment."
The American Open allows hundreds of domestic and international lifters in all age groups who meet the qualifying totals to compete on a final national stage. This year's championship meet is Friday through Sunday at the Grand Sierra Resort in Reno, Nevada.
The meet requires athletes to perform two lifts – the snatch and the clean and jerk. The snatch is done in one movement in which the bar rests at the hips and is then lifted above the head. The clean and jerk involves two movements beginning at the hips, then lifting the bar to the shoulders and finishing with the bar above the head.
Judges add the highest weight lifted in both movements to give each athlete a final weight total.
Zeigler's personal best is 181 kg, lifting 76 on the snatch and 105 on the clean and jerk. That was good enough to qualify but most likely not to put her at the top of her weight class in Reno.
"I'm not even near to where I should be to be super competitive," Zeigler said.
DeLong said age is the main factor. Most competitors begin as teenagers or 20-somethings, but Zeigler began competing as a weightlifter only a few months ago. DeLong said Zeigler will probably age out in about three years since most female weightlifters plateau in their early 30s.
Despite her potentially short run as a national competitor, DeLong said Zeigler is still "the coach's dream."
Mann and Kowlaczyk should also be in the middle of the pack. Mann's personal best is 273 kg, and Kowlaczyk's personal record is 247. Since both are competing in the most common age and weight class, Mann said neither will place, but the meet will still give them a chance to challenge themselves and experience competitive weightlifting at a national level.
"This year, it's all about the privilege, the experience," Mann said. "Big names in our sport will be there and I'll be competing next to them. … I'm super stoked."
Ziegler said she felt the same way.
"I wouldn't even say I'm that nervous, because I never really expected to even make it," she said. "It's a start, and to even qualify, it's a huge, huge thing for me."
Local journalism is essential.
Give directly to The Spokesman-Review's Northwest Passages community forums series -- which helps to offset the costs of several reporter and editor positions at the newspaper -- by using the easy options below. Gifts processed in this system are not tax deductible, but are predominately used to help meet the local financial requirements needed to receive national matching-grant funds.
Subscribe to the sports newsletter
Get the day's top sports headlines and breaking news delivered to your inbox by subscribing here.
---