Josh Hawkinson arrives ahead of schedule at WSU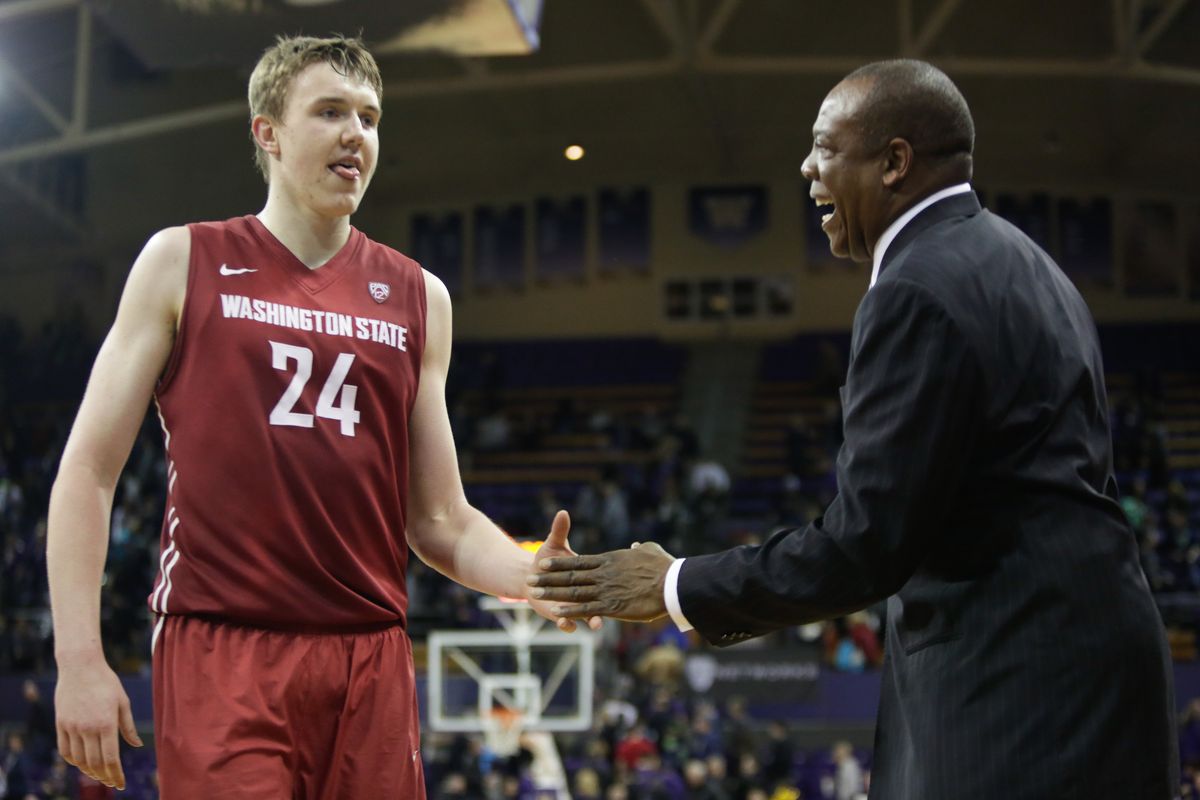 PULLMAN – It wasn't supposed to happen that quickly for Josh Hawkinson. The prevailing theory was that he would need at least a couple of more years to develop.
But there he was, just 13 years old and beating his old man at 1-on-1 on the hoop in front of their house.
"He got mad about that," the younger, taller Hawkinson said. "The first time I blocked his shot, that was a big milestone."
You'll have to forgive his father, Nels, for wanting a few more years of dominance over his offspring. After all, when you're 6-foot-7 and a former college basketball player, it's fair to expect that you will teach your kid to drive before he schools you on the court.
But that's just how Hawkinson works: ahead of schedule.
For example, being young for his grade didn't stop him from making varsity at Shorewood High as a freshman.
"From a physical standpoint he was always trying to catch up to his big feet and hands," his high school coach, Ben Scheffler, said.
At SHS he helped turn around a moribund program, leading the Thunderbirds to the playoffs as a senior while averaging 20 points, 10 rebounds and five blocks per game.
But he was never recruited like a future major conference starter and was discovered by WSU, in part, because former coach Ken Bone once coached Scheffler at Seattle Pacific.
"He had a chip on his shoulder because he was always kind of overlooked by the bigger programs, whether it be the AAU programs or the bigger universities and I think it just all came together with him having an opportunity to play at WSU," Scheffler said. "I think to this day he kind of keeps that close to the vest, that he's kind of overlooked and kind of the underdog."
A season ago he was an archetypal project big man, at least that's what the numbers suggest. He averaged 1.2 points and 1.6 rebounds, never playing more than 13 minutes in a game.
Halfway through his sophomore season he's become one of the most effective stretch big men in college basketball. He is averaging 15 points and 11 rebounds per game and leads the Pac-12 in double-doubles. His Cougars, winners of two consecutive Pac-12 road games, are also exceeding expectations.
Last season's stats suggested that he was a post player who needed seasoning, someone who could develop and become better than his opponents when he was also older.
It became apparent that wouldn't be the case in WSU's exhibition game against Azusa Pacific when he led the team with 24 points and 18 rebounds in the 88-74 win. The competition was not much in that game, but he kept on putting up points and rebounds. Entering the third week of conference play, he is one of four players from the so-called high-major conferences who is averaging a double-double.
"It was kind of long overdue to show what he could do, because last year he was making the same moves he's making this year," teammate Brett Boese said. "He's obviously expanded that since last year and gotten better, but he's always been that skilled big."
Where did it all come from? For starters, he's lost weight. For Hawkinson, the "freshman 15" refers to the 15 pounds he lost after his freshman season, going from 245 to 230 and emerging a much leaner, faster player.
New strength and conditioning coach Scott Thom worked with Hawkinson on creating more power, meaning lots of squats and heavy jump ropes to make him a more explosive player with a quicker first step.
"He didn't play a lot last year, and so part of that is when you're not playing it's easy to get out of shape," Thom said.
The other part of Hawkinson's ascendance is that his skill set seems tailor-made for first-year coach Ernie Kent's motion offense. The Cougars rarely run plays specifically for Hawkinson, but the forward has a knack for finding creases in defenses where he can take an open shot in the rhythm of the offense.
He has enough touch around the basket to score in the post, but his shooting ability while facing the basket is what makes him such a threat. He draws post defenders away from the basket, making it easier for DaVonte Lacy and Ike Iroegbu to drive to the rim.
"Depending on the matchups, you look at a guy like (Washington's Robert) Upshaw, we put Josh out on the perimeter and he was a stretch two at that size," said Kent, explaining how the Cougars neutralized the nation's leading shot blocker in last week's win over the Huskies.
"And really bringing Upshaw away from the basket," Kent said. "So he gives you the opportunity to create mismatches."
---