Sports
Seahawks notes: Richard Sherman's baby dilemma
Cornerback expecting birth of son in early February
Thu., Jan. 29, 2015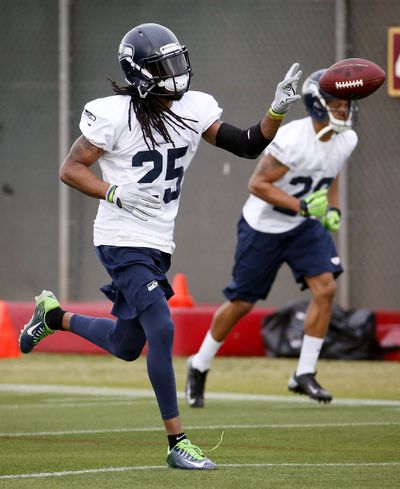 PHOENIX – The Most Valuable Player of Super Bowl XLIX? It could be the unborn son of Seattle Seahawks cornerback Richard Sherman – if the little guy doesn't get antsy to make an early appearance. Sherman and his girlfriend, Ashley, are expecting their first child in early February. But if it's the earliest part of February – Super Bowl Sunday – Sherman may have a conflict on his hands. "I think he's going to be a disciplined young man and stay in there until after the game," Sherman said. "He's going to do his father his first favor and stay in there for another week or two." The issue of athletes missing games to be on hand for the birth of their children has become something of a hot topic for pundits. Former NFL quarterback Boomer Esiason blasted New York Mets outfielder Daniel Murphy for skipping opening day to witness the birth of his first child. "That's a topic of debate?" Sherman asked. "I'm focused on the game. He's not supposed to come on Sunday. If he does, that would change some things. I've thought about the possibility of his coming during the game or coming before the game. "We have things in place in case that happens. We'll cross that bridge when we get there. But I didn't know it was a topic of national debate, honestly. I would not like to miss the birth of my first kid, but hopefully and God willing, we won't have to cross that bridge."
Just a coincidence?
He hasn't been as unreachable as Marshawn Lynch, but Seahawks safety Earl Thomas has been a little flinty while carrying out his media obligations this week. On Thursday, it spilled over on Twitter. "Yesterday I said my shoulder was a 10," Thomas tweeted. "Wake up the next morning and I have a blood test for HGH …. League office distraction." The NFL's random testing program for human growth hormone picks six players each from eight randomly selected teams per week in the offseason. The tweet would seem to suggest that Thomas didn't think he was selected at random, but targeted because of a rapid recovery from a shoulder separation suffered during the NFC championship game. But he wouldn't address the issue during Thursday's player availability.
The best kind of tip
You won't see Austin Calhoun on this week's cover of Sports Illustrated. But for a few minutes last week, he was an honorary member of the Legion of Boom. As reported by Nick Eaton of Seattlepi.com, Calhoun was making a Domino's pizza delivery to Sherman's Maple Valley home – where he'd been before, though he'd never met the Seahawks cornerback. Told to take the pies to the garage, he was stunned to encounter the entire Seattle secondary – gathered for the SI photo shoot. "I didn't know what to say," Calhoun recalled, "so I just said, 'Go Hawks!'" Photographer Robert Beck kept snapping as Calhoun turned over the three pies to Sherman, and the pictures eventually made it up on mmqb.si.com. "You just made his year," said Thomas' mother, Debbie, who accompanied her son to the shoot. "That's what you're supposed to do, no matter how big you get."
Planning ahead
Seahawks defensive lineman O'Brien Schofield knows very well that teammate Malcolm Smith managed to be the MVP of last year's Super Bowl even while getting only 25-30 snaps on defense. So there's no reason for him to think the same thing couldn't happen to him in Super Bowl XLIX. "Why not?" he said. "That's definitely a conversation I've had. A lot of people have said that to me. If that happens, please come find me."

Local journalism is essential.

Give directly to The Spokesman-Review's Northwest Passages community forums series -- which helps to offset the costs of several reporter and editor positions at the newspaper -- by using the easy options below. Gifts processed in this system are not tax deductible, but are predominately used to help meet the local financial requirements needed to receive national matching-grant funds.
Subscribe to the sports newsletter
Get the day's top sports headlines and breaking news delivered to your inbox by subscribing here.
---
Subscribe and log in to the Spokesman-Review to read and comment on this story