News > Idaho
Artist-engineers put creativity on parade at Kinetic Fest
Human-powered vehicles combine ingenuity with a touch of goofiness at Coeur d'Alene's first Kinetic Fest
Mon., July 13, 2015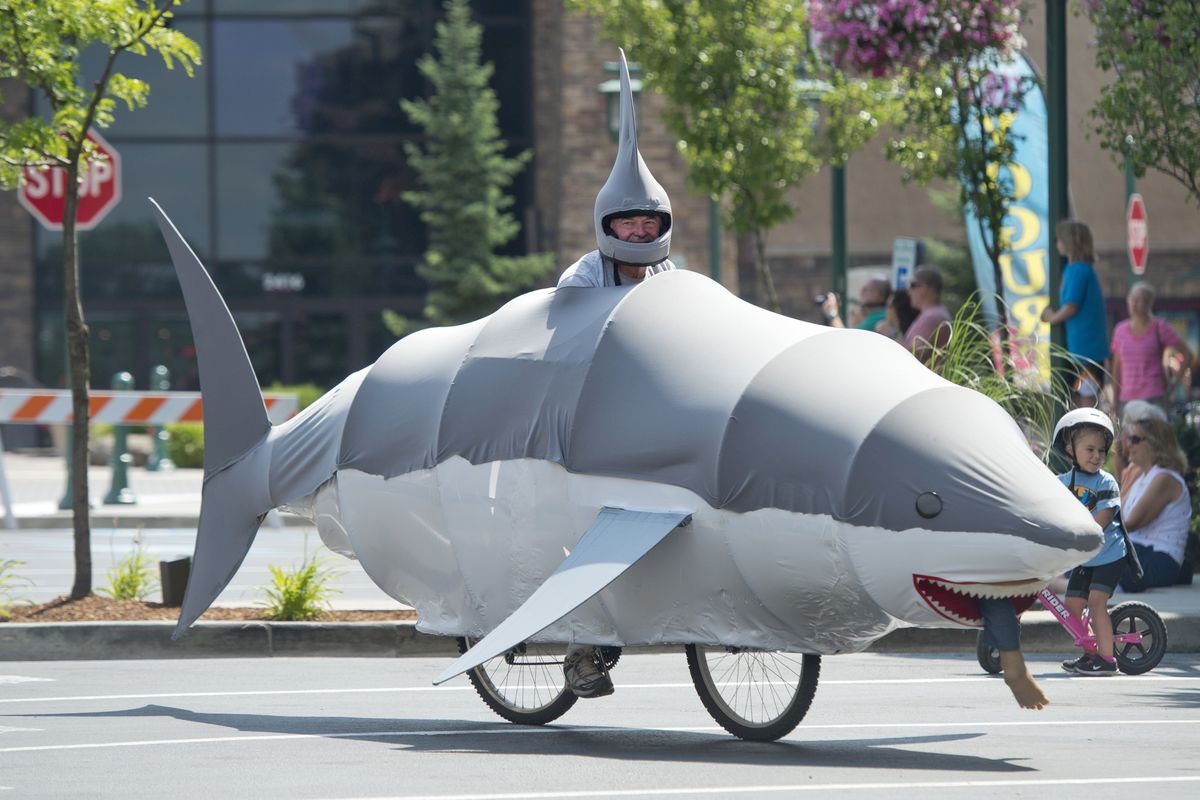 Ross Welburn, of Hayden, rides his shark cycle Sunday in the parade at Kinetic Fest, a celebration of moving sculpture and human-powered transportation at the Riverstone development in Coeur d'Alene. Welburn created the frame from wood and plastic pipe. (Jesse Tinsley)
The mighty wheel, ingenuity and whimsy came together Sunday in an eclectic celebration in Coeur d'Alene's Riverstone development.
Kinetic Fest challenged creative types to assemble human-powered vehicles for a parade and design competition. And they showed up – on skates and scooters, on tricycles and go-carts, in a rolling rowboat and on a quadricycle built for four.
And then there was the shark.
Ross Welburn, a retired engineer from Hayden, spent the past two months building his sharkcycle. Sunday was the first time he gave it a good spin. His helmet doubled as the dorsal fin, and Welburn played the ominous theme music from "Jaws" from inside the Spandex-topped shape.
"It's kind of wiggly. It lunges up and down," he said.
To complete the effect, Welburn dangled a fake leg – a Halloween prop – from the shark's toothy grin.
Matt Arch, of Spokane, showed up to ride the penny-farthing bicycle he built about five years ago.
"It's a crowd-pleaser," he said. "Everybody loves it."
Arch modeled it on pictures of the old high-wheel bicycles from the late 1800s, "just to pay homage to our past."
It has a 48-inch front wheel, an 8-inch rear wheel, a tire made from hydraulic hose – and no brakes. It was not easy to master, Arch admitted.
"I took some spills, for sure. I had to learn how to ride it in grass," he said.
Proving one can be an active couch potato, Madison Bechard helped pedal a sofa modified with bike parts and rudder-style steering.
"It's awesome to see people's reactions," said Bechard, a junior at Post Falls High School. "Their eyes go all wide, and it's like they're in shock."
She is helping with summer camps at Gizmo-CDA, the nonprofit makerspace and host of Kinetic Fest.
"We just like to inspire people to make stuff," said Marty Mueller, who started Gizmo with his wife, Barbara. "And we like riding bikes and other human-powered vehicles. Seemed like a good connection. And the goofiness of it all is a bonus."
That's the mindset that inspired creation of the kinetic couch. "We built it a couple of months ago, and it's probably got about 20 miles on it," Mueller said.
Another Gizmo product on display Sunday was a tricycle – conceived and built by kids – featuring 6-foot-tall wheels from agricultural irrigation lines.
"The idea was to be outrageous, and today we are celebrating outrageous audacity," Barbara Mueller said.
Elsewhere at the festival, four teams of artists competed to make kinetic sculptures using only materials they could fit inside a garbage can.
Teresa McHugh and Rebecca Hurlen-Patano worked on a piece fashioned from parts of an old riding lawnmower and various bicycles. They invited passing children to jump in and help.
"Honestly, I've never done anything mechanically kinetic like this," McHugh said. "So that was a really fun process."
"We need to celebrate the wild side a little bit," Hurlen-Patano added. "I think this does it."
Local journalism is essential.
Give directly to The Spokesman-Review's Northwest Passages community forums series -- which helps to offset the costs of several reporter and editor positions at the newspaper -- by using the easy options below. Gifts processed in this system are not tax deductible, but are predominately used to help meet the local financial requirements needed to receive national matching-grant funds.
Subscribe now to get breaking news alerts in your email inbox
Get breaking news delivered to your inbox as it happens.
---