News > Business
Taste of Tradition
Landmark ice cream shop opens under new ownership
Sun., June 7, 2015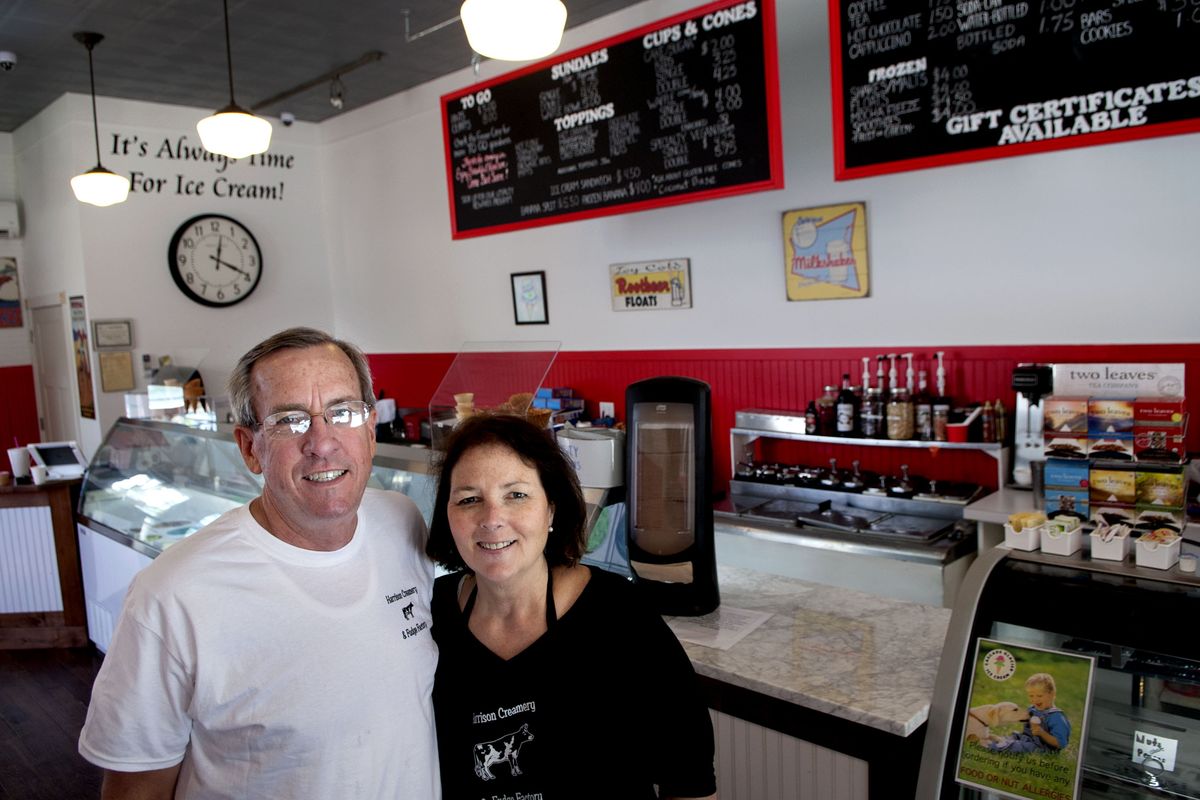 John and Lorraine Thiele recently opened Harrison Creamery and Fudge Factory in Harrison, Idaho. (Kathy Plonka)
HARRISON, Idaho – The Harrison Creamery and Fudge Factory is nearly impossible to pass up.
Maybe it's the quaint and charming façade, the colorful displays of fudge in the front window or the aroma of fresh-baked pie seeping out onto the sidewalk. Maybe it's the memories of creamy, cold ice cream on hot days on Lake Coeur d'Alene.
A summertime destination for generations, the ice cream parlor closed last Labor Day, but recently reopened under new ownership. John and Lorraine Thiele, who live nearby in Carlin Bay, bought and restored the century-old building and are continuing the ice cream tradition, along with fudge and cheesecakes, plus fresh pies baked by a woman who lives across the lake and boats across every Friday.
The couple – she's a volunteer EMT for Harrison Ambulance, he's a pilot for Delta Airlines – long had dreamed of operating a small ice cream shop. They kept their eye on the Harrison store, and when it came up for sale last fall, they scooped it up.
The Thieles spent three months and over $50,000 renovating the wood-frame, post-and-pier building directly across state Highway 97 from the tiny museum named for town founder Silas W. Crane. Spared in a devastating community fire in 1917, the shop is one of the oldest commercial buildings in this tiny city, which once was a bustling hub for steamboats and railroads serving the mining and timber industries.
The décor on the walls commemorates Harrison's heyday early in the 20th century. "This is the sweet life," one sign reads. "Life is a beautiful ride," says another.
The couple opened the remodeled space on May 7, and a month later it's a popular destination for both locals and visitors. With the Trail of the Coeur d'Alene running through Harrison on the east side of the lake, a growing stream of cyclists and others are walking through the doors.
S-R: How did you find yourself owning an ice cream parlor?
John Thiele: We would come down here and bring visitors to use the bike trail, and we would stop at this ice cream store and have a treat. It's always been a happening place. When we first moved here, the ice cream store had just been sold, almost 11 years ago. Ah, we missed it! That would have been a really cool thing. Last year we didn't know it was for sale for a month after it was posted. Lorraine was visiting with the real estate agent, who was the daughter of the store's owner, and I overheard the conversation and said, "What ice cream shop?" I asked a few questions, and five days later we did the purchase agreement. It's not without work, but it's a happy business.
Lorraine Thiele: I think everybody likes a small-town ice cream store. It's just part of the charm – different than what you get in the city with chain stores. That's what attracted us to come as customers.
John Thiele: One thing we considered is we have four grandkids. We think it could be a lot of fun for them to work with us in the store when they are older. Right now they live in Arizona. If they can come up here for the summer or part of the summer, it would give us the opportunity to spend some time with them.
S-R: What went into the renovation?
John Thiele: Before it was very uneven, and the contractor helped straighten the building out to the point where at least it's flat. It may not be level, but it's flat. We replaced the ceiling and redid the original floors from probably 100 years ago. One problem was water mitigation. Underneath, the soil would just absorb the water. We had to excavate all that soil and put about 12-15 inches of gravel down plus a drain system and 3 inches of concrete on the top of that. We made it an area suitable for our storage freezers. That's given us a lot more space. The previous owner had ice cream storage freezers on the back wall (behind the counter). We wanted the space to offer more products, including the fudge and pies. Another neat feature our contractor came up with to move the tubs of ice cream easily up and down – just a little garage door opener that looks like a dumb waiter. It's very, very easy. So we've made some efficiency improvements in the building as well as a lot of aesthetic improvements.
Lorraine Thiele: It was longer than we had expected. Our contractor thought he could get in and out of here in about six weeks, and it has been 12 – and mainly because of the issues with the foundation. We ended up having to do a lot more than was revealed in our inspection. Just a lot of safety issues. We wanted to preserve the building, so we did what was necessary to make it where it will stand for another 100 years.
John Thiele: At least 25 or 30.
S-R: What did you learn about the building's history?
Lorraine Thiele: Originally it was a bank. We have a picture of Mr. Crane sitting in his office here from 1907. This was one of the few buildings that survived the big fire. A lot of Harrison was destroyed because they were all old wood buildings like this one, and then they rebuilt a lot with brick. We understand it also was a bar at one time, and a pharmacy. We found some newspapers and some old magazines from 1929 that were stuffed in the walls for insulation.
S-R: What's the décor concept?
Lorraine Thiele: I think Harrison is a great place for people in Coeur d'Alene or Spokane for a "staycation," because there's so much to do here. And most of our décor alludes to ways people get to Harrison. There's canoes, motorcycles, bicycles, camping. We want to get some pictures of some float planes. Just play up that there's lots of ways to get to Harrison – just get here. This place in the summertime is really hopping.
S-R: Who makes your ice cream?
John Thiele: Most of the ice cream that we sell is a brand that's not sold in retail outlets or any stores. It's Cascade Glacier and it comes out of Eugene. Only dipping ice cream stores have it. There's one up in Sandpoint, one in Coeur d'Alene, one in Spokane Valley. It's a high-quality, nicely flavored ice cream by most people's accounts. And it's been a winner.
Lorraine Thiele: We try to be very sensitive to people who have dairy issues. We have a vegan product made in Troy, Idaho, by Sticky Finger Farms, a small, family-owned operation. It's a key lime that is coconut-based. And we now have huckleberry and chocolate coconut vegan flavors from Brain Freeze Creamery in Spokane. Those have been very well received, because it's sad to see a whole group of kids come and somebody has an allergy so they can't have milk so they can't have a treat. So when they find out we have that their eyes light up. We also carry gluten-free cones.
S-R: What's your approach to pricing?
John Thiele: The size of the portions and the relative value. We keep our costs down and try to be at a price point where families can come in here and not break the bank to come in. So we give very generous servings at variable costs – anywhere from $2 to $4 per serving.
S-R: What has been the response from customers?
John Thiele: We didn't know how well-known to some this ice cream store has been throughout the area, even to people in Spokane. But the people here in Harrison, St. Maries, the east side of lake, they have really been excited with what we're doing. And we're going to be staying open a little later in the season. We've made a commitment to stay open through October, and the residents in the area have said they really appreciate that because they would like to have a place where they can bring their friends and family for dessert in the evening. We're very interested in running this business not just from an economic point of view but a community point of view as well. They are equal goals as far as we are concerned.
Lorraine Thiele: And we're toying around with the idea of maybe be open some weekends in November and December to offer some different kinds of holiday treats. We'll have to see how the traffic goes.
S-R: Is this a must-stop for cyclists on the lake trail?
Lorraine Thiele: It's worth the trek up the hill. That's one of the reasons I don't have a problem with this kind of a shop. I don't know normally I would want to be a sugar pusher. Except when you're out enjoying yourself in the summertime and you're doing your riding or walking, or you're out boating and playing, you burn a few more extra calories, and a treat kind of goes hand in hand with that.
S-R: Will this be a full-time gig for you?
Lorraine Thiele: We're trying to set ourselves up as owners and not necessarily have to be hands-on managers. We have two managers and two assistant managers that we are working hard with right now. Our goal is once they're up and going and everything is running fine, we will back off. I will still be in here early mornings several days a week making fudge and doing things when the store is quiet.
S-R: What has surprised you about starting a business?
John Thiele: I didn't realize the amount of time it takes to do everything a business needs to have done, from the marketing to the planning to the distribution, regulations, hiring – all that stuff. I have a lot more appreciation for the actual work that goes into producing a successful business.
S-R: Are you worried about gaining weight here?
John Thiele: No! I was. I had people tell me that, and I've actually lost weight since I've started working here. I still eat ice cream but I'm on my feet. It's awesome.
Local journalism is essential.
Give directly to The Spokesman-Review's Northwest Passages community forums series -- which helps to offset the costs of several reporter and editor positions at the newspaper -- by using the easy options below. Gifts processed in this system are not tax deductible, but are predominately used to help meet the local financial requirements needed to receive national matching-grant funds.
Subscribe now to get breaking news alerts in your email inbox
Get breaking news delivered to your inbox as it happens.
---