Sports
American Samoans making big impact at Washington State
Fri., Nov. 20, 2015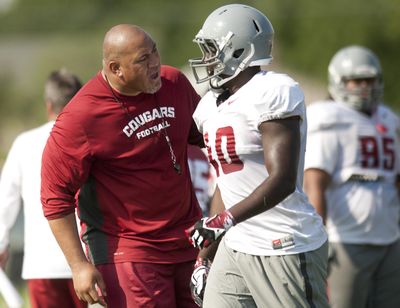 PULLMAN – Destiny Vaeao, just a teenager on a recruiting visit, walked out of the tunnel at Alabama's Bryant-Denny Stadium and the earth shook around him as he heard, then saw, more people than he'd ever encountered.
The Saturday population of Alabama's football stadium nearly doubles that of American Samoa, the unincorporated territory in the South Pacific from which Vaeao and scores of his large, fast countrymen are unearthed and brought to the United States to play football.
Washington State has seven players on its roster, including Vaeao, who were born in American Samoa and they have unquestionably added to Washington State's success this season, particularly along the defensive line.
The two primary nose tackles for the Cougars, Daniel Ekuale and Robert Barber, come from the territorial capital city of Pago Pago, as does Vaeao, who starts at defensive end. Backup linebackers Frankie Luvu and Logan Tago are also from Pago Pago, and so is freshman offensive lineman Amosa Sakaria.
The population of that feeder city for WSU football? It hovers around 3,500.
Though home to just over 55,000 people, American Samoa has produced roughly 30 NFL players, and a boy born on the island is more than 50 times more likely to someday play in the NFL than an American non-Samoan.
"I think we're built to play the game," Vaeao said. "We love sports. Kids back home, it's like football is everything. We eat football, sleep football, everything. Growing up you look up to the players that were before you, and seeing them go to college, and you realize if you continue playing football it might take you somewhere else. It will help your village, your family, everything."
To achieve football success beyond high school, the American Samoans have to leave an idyllic island home steeped in a culture that values the ideas of family, civility and strict adherence to tradition. Those that leave must make a new life among people who speak differently, eat differently and act very strangely.
A long way from home
The tears came freely as Luvu said goodbye to his friends and family at the airport for the final time. Just like they came for Tago's mother, who doesn't speak English herself, but sent her son off to a far away country full of English speakers, not knowing when, if ever, he would be back.
Vaeao is a reserved man, and he was much more so in high school. He has an extremely supportive mother, who guided him through life's challenges until he was almost an adult. Hugging her goodbye for the last time was especially hard.
The week leading up to Vaeao's departure was a celebration of the life he was leaving behind. He drove the length of the island one last time. His family had an enormous barbecue lunch. He and his friends visited each of his favorite haunts. And then he was gone.
Leaving American Samoa is not a rite of passage most young native men take, and for those that do the two most popular options are joining the United States military and playing football.
When a player leaves, it is with the understanding that many years will pass before he sees American Samoa, his family or his support system.
A round trip ticket from American Samoa to the West Coast is about $2,000, which is an expense almost no one can bear where the per capita income is a little more than $6,000, and 48 percent of households fall below the official U.S. poverty level.
Safety Shalom Luani left American Samoa behind, along with his family and a burgeoning soccer career – he's already one of the best socer players in the country's history – to spend a couple years bouncing around California junior colleges before making his way to Washington State, where he has emerged as one of the Cougars' best defenders.
Luani's dad did not find out that he would be leaving everyone behind and coming to the United States until one week before his son's departure.
"I knew I wasn't going to come back until I was actually done," Luani said. "I was thinking when I came out here I wanted to stay and play football here, because I had no chance of playing if I stayed there. So I told them. It was really difficult. From where I'm from, it's so quiet and normal. There are not a lot of people. But I needed to take a chance living, especially living on my own."
He hasn't seen his family since he left the island, although he reconnected recently with a brother who lives in Arizona. He has to rely on social media to talk to most of his family, or a three-way calling system that requires him to call his brother, who patches the call through to the island.
An opportunity beckons
Joe Salave'a shifted uncomfortably in his seat, excited for the chance to see his father and brother again, but acutely aware of just how long 18 hours spaced over three flights can feel. And the airplane seat that can feel comfortable to a 6-foot-3, former NFL defensive tackle who played at 337-pounds has not yet been built.
Salave'a, Oregon State assistant coach Chad Kauha'aha'a and Joe Seumalo of UNLV are the Big Three assistant coaches who can recruit with credibility in American Samoa.
Their ties to the island, knowledge of the Samoan language and the local standing they've built up in the American Samoan community grant them special access and knowledge to find the best players, and the trust of parents who want assurances that their roles in molding their children into adults will be fulfilled if they let them go.
Salave'a, who was born in Leone, American Samoa, has particularly strong roots on the island. His father still lives there, as does his brother, who coached Luvu, Sakaria and Vaeao at Tafuna High.
"His older brother's way bigger than him," Luvu alleges.
Like many teams, the Cougars enlist the services of Brian Smart, who runs Field House 100, a local nonprofit that helps American Samoan high school football players navigate the process of getting accepted to American colleges. It also gives the prospective recruits exposure by filming their games in the same manner as American high school football players.
Smart is a pastor who founded Field House 100 with his brother, Brandon, in 2009. Brandon Smart has since moved back to Tennessee and works as an NFL agent, while Brian keeps the organization running.
Luvu says that his high school team had plenty of athletes in his graduating class capable of playing college football at a high level, but credits Field House 100 as the reason he, and only he, was able to secure an FBS scholarship.
Salave'a typically makes two trips to the islands. He visits every spring, and then once again in the autumn or winter, depending on his schedule. He emphasizes to players that they are not leaving to become football players, but to get educations and transition into productive adults who will raise families where a college degree is expected.
"To recruit players, and I'm only talking about players from American Samoa, you've got to be somebody that really understands family and can sit down with parents and explain to them, 'I'm going to take care of your kid,'" Smart said. "Because you're trusting them to take care of your kid. You really are. You're 10 hours away by plane."
A culture shock
Luvu would sit wincing in his freshman class as he watched the unfamiliar situation develop in front of him. He was a little unsure how to interpret it, but he knew it made him uncomfortable.
A classmate was mouthing off to his professor. No, an undistinguished youth was disparaging a respected elder and it was a painful sight for someone whose culture never blurs the lines between authority figures and their wards.
Darryl Paulo, a senior starter at defensive end, is uniquely able to articulate the differences in the cultures, because he's had a foot in both worlds. Both of Paulo's parents are from American Samoa, and they speak Samoan in the house.
But Paulo was born in Hawaii and moved to California as a teenager, where he went through the culture shock his Samoan teammates experience upon arrival in Pullman.
"Parents in our culture preach respect for elders and authority," Paulo said. "I still am (shocked) to this day. A lot of my friends, when I see the way they talk to their parents, it's kind of shocking. If I talked the same way, I don't know what would happen. "
Players must also adjust to different food that is much more readily available.
The perception of American Samoan football players is that of big, hulking men. And it's true, the players who come to the United States tend to have large frames and play on the offensive and defensive lines.
But they typically gain weight in the states. There are a couple reasons for this. One is that it is hot in American Samoa, and there are no air conditioners, so people are constantly sweating and eat less for energy. Additionally, Samoan families by nature are large, and there is less food to go around when feeding eight, nine, or more family members.
Then the players arrive in Pullman, get a meal plan from the school and start working out every day, and it's not hard to begin putting away entire pizzas in one sitting.
A new family
Everyone's phones buzzed at the same time. They had all received the same text message. Salave'a had summoned the WSU American Samoans because one of their own was in trouble.
Salave'a told each of their parents that he would look out for their sons, and he was making good on his promise.
One of the players' classwork had been slipping and rather than stay for summer school to resuscitate his grade, the player had chosen to return home for the offseason.
The American Samoan players gathered at one of their domiciles for the family meeting, and Salave'a laid down the law, explaining to the rest of his charges why he was disappointed in that individual's decision.
"When the boys get in trouble he comes home and we just talk as a family and all that," Luani said. "He says he needs us to be disciplined, just like back home. He comes over and talks to us if we're not doing so good or about what we need to work on and all that."
The academic support in a new, challenging environment is another enticement the players mention when asked what drew them to WSU.
"I struggle with school. That's the one thing I struggle with," Luani said. "I know I can play. But if they can help me with school, then maybe this is the school for me."
Vaeao got the ball rolling, turning down the chance to almost certainly play for a national championship at Alabama to become Salave'a's first recruit at WSU. As others have joined, a small Polynesian community has grown in Pullman. Though the players must leave their families behind on the island when they choose to pursue a life of football, they're finding another one growing at WSU.
"There's a whole group of Polys that are here and I knew I wasn't going to feel homesick if I came here," Luvu said. "And I knew coach Joe was here, so when he told my parents to their face he was going to take care of us, and take care of me, that's why I committed."
In the most superficial ways, American Samoa and Pullman could not be more different. The average daily temperature in the month of November, for example, is 46 degrees Fahrenheit higher in Pago Pago than it is in Pullman, a fact that is surely not lost on the freshmen who are about to see sustained snow for the first time in their lives.
But in the ways that matter most to the seven island transplants, the small college town is actually a lot like home. Many of them say that's why they came to WSU.
"Samoa is really small. Everybody knows everybody," Luvu said. "Here it's just a small town and that's why we like it, because of the environment and the community. The people here show love to each other just like we do back home."
Local journalism is essential.
Give directly to The Spokesman-Review's Northwest Passages community forums series -- which helps to offset the costs of several reporter and editor positions at the newspaper -- by using the easy options below. Gifts processed in this system are not tax deductible, but are predominately used to help meet the local financial requirements needed to receive national matching-grant funds.
Subscribe to the sports newsletter
Get the day's top sports headlines and breaking news delivered to your inbox by subscribing here.
---