Local vintners craft wines with Spokane-area crop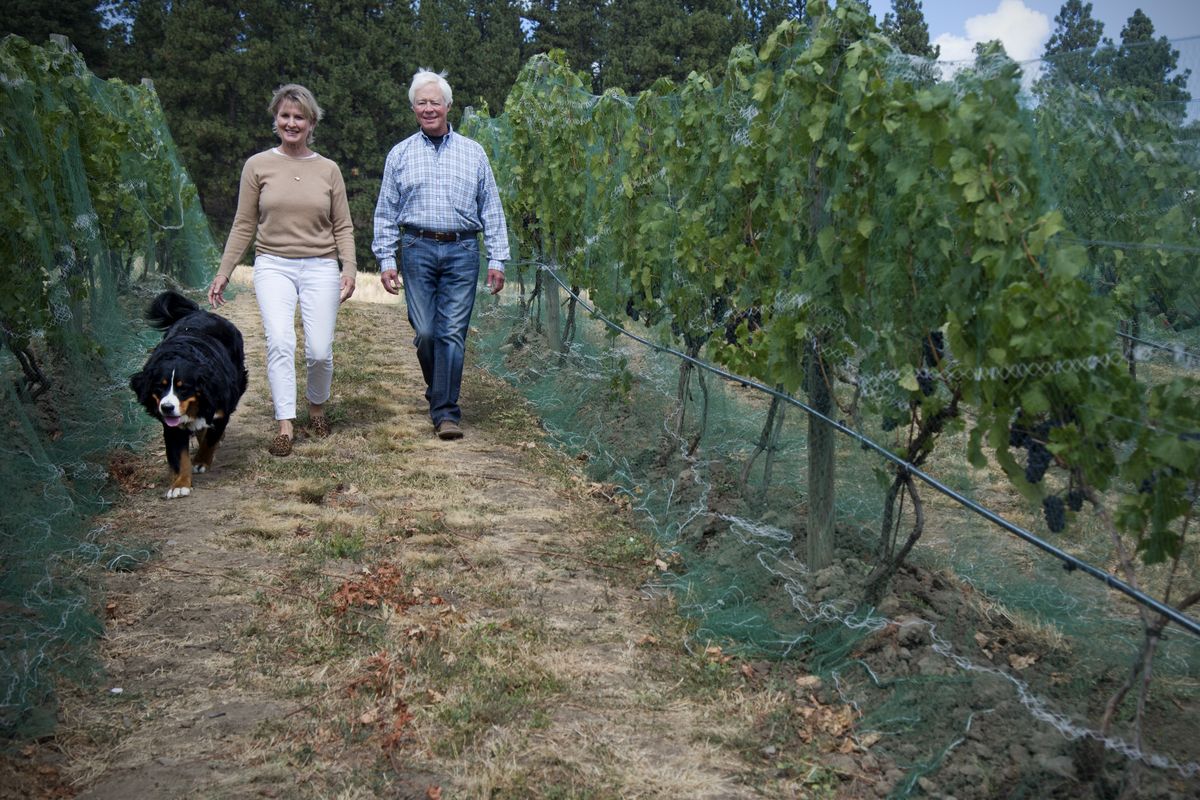 On a pocket-sized patch off Regal Road and the Palouse Highway, wine grapes grow in 28 rows.
An irrigation system quenches their thirst when it's really hot and dry. And when temperatures dip, an industrial-strength cold-air drain protects them from frost. Six-foot fencing topped with an additional 2 feet of razor wire is a constant, sheltering vines from predators throughout the year.
"If I didn't have this fence, I wouldn't have a single grape," said winemaker Steve Schaub. "We have deer all over the place out here."
Spokane isn't known for being a wine-grape growing region. But here, about 2 1/2 miles south of the city limits on an 80-acre hillside property called Red Hawk Ranch, a boutique winery makes a limited quantity of wine with grapes grown solely on the estate.
Regal Road Winery produces just three wines: a pinot noir, a rosé and a sparkling. In all, it makes only about 200 cases per year.
Its vineyard encompasses a mere 1 1/2 acres.
"It's tiny," said Steve Schaub, 74, who owns the operation with his wife Jeanne, 60. "It's miniscule and special. This really is Spokane wine."
Most Spokane wineries get their grapes from the Walla Walla, Yakima and Columbia valleys, said Averyl Dunn, communications manager for the Washington State Wine Commission.
"Spokane houses a good amount of wineries and tasting rooms, but not vineyards," Dunn said.
North of the Spokane River, Arbor Crest Wine Cellars has 2 1/2 acres of vineyards and orchards, but also sources grapes from the Columbia Valley, Red Mountain and Wahluke Slope.
In Green Bluff, the 22-acre Trezzi Farm Winery and Vineyards grows 6 acres of barbera, nebbiollo, dolcetto, pinot noir, pinot grigio and Franconia wine grapes. And in Colbert, Grape House Vineyards specializes in growing – not making wine from – hybrid Léon Millot red wine grapes.
But, "To my knowledge, there are no people growing wine grapes out here" on Moran Prairie, Steve Schaub said. "That's what makes me unique. I'm growing the grapes and making wine only from our grapes here."
Steve Schaub moved to Spokane 35 years ago, bought Red Hawk Ranch 18 years ago and planted his first vines 15 years ago.
Regal Road isn't his first round in the wine industry. Steve Schaub started Lone Canary Winery in 2003, selling it in 2009 to Don Townshend, owner of Townshend Cellar, who shuttered the operation last year.
When Steve Schaub owned Lone Canary with winemaker Mike Scott, they produced a pinot noir exclusively from Red Hawk Ranch estate-grown grapes, but it was primarily available to wine club members. Most Lone Canary wines were made with grapes from the Columbia Valley.
When the Schaubs founded Regal Road Winery in 2013, they wanted to make wines with grapes solely from their ranch. The couple began selling their three wines late last year.
While they employ a caretaker for the ranch as well as a consultant for the winery, "I do a lot of this work myself," Steve Schaub said. "This is plenty for one person, or one person with some help."
Jeanne Schaub helps with everything from planting vines to leading tastings. The first year, she planted all of the vines herself – 320 of them – while Steve Schaub was out of town.
Originally from Pittsburg, he worked in finance in New York, San Francisco and Spokane before retiring – for the second or third time – in 2011.
"It was living in San Francisco" – not too far from the wine regions of Napa and Sonoma – "that developed my interest in wine," he said.
In 2000, three years after buying the ranch on Moran Prairie, the Schaubs began planting grapes – pinot gris, chardonnay, riesling and pinot blanc – and experimenting with cold-weather varietals. Eight years later, they began pulling out some initial plantings in favor of more pinot noir. Today, they grow five different clones of pinot noir.
"I happen to love pinot noir, and that's what I wanted to succeed with," said Steve Schaub, who also grows pinot gris, "which, of course, is a cousin of pinot noir."
Spokane lies at roughly the same latitude – 47 degrees north – as Burgundy, the famed wine grape-growing region of France known for its pinot noir. Like Spokane, it's landlocked, with cold winters and hot summers.
"But," Steve Schaub said, "we have a short growing season."
A Shur Farms cold-air drain, purchased last fall for about $12,000, pulls frigid air from the ground and fires it skyward, creating circulation and pulling down warmer air from above to keep frost off of his vines.
"Without this thing, I'm not sure I'd have a crop this year," Steve Schaub said.
The Schaubs patterned their trellis system after those they saw in Oregon's Willamette Valley, also known for its pinot noir production. In their vineyard, there are 9 feet between rows and 5 feet between vines, which are all self-rooted, not grafted. Wines aren't certified organic, but "we're trying to grow the grapes with as little chemical input as possible. We're trying to behave like we are organic," Steve Schaub said.
While there is a watering system, the Schaubs primarily used it to establish the vines. These days, they only turn it on if there's a really long, hot, dry spell.
Normally, grapes are ready mid-October. Last year, the harvest came early, on Oct.4. This year, they expect it will be even earlier, likely by the end of September.
This year's crop appears "to be three to four weeks ahead for this time of year," Steve Schaub said. It also appears to be "an exceptional crop. In fact, I'm sure it's the best I've ever had."
Because Red Hawk Ranch is home to the Schaubs' private residence as well as the winery and production is so limited, there are no regular business hours. Wine tasting at Regal Road Winery is by appointment only.
When the weather's warm, guided tastings take place on the lavender-lined, French-inspired gravel patio of the outbuilding that doubles as Steve Schaub's office.
They start with the brut-style sparkling wine, made in the traditional Champagne method with the second fermentation in the bottle in which it is sold for $25.95.
It's dry, Steve Schaub said. But, "It has got a creamy texture to it. It's got a light sweetness, but also a yeasty nuttiness and citrus finish. I suppose we're biased, but Jeanne and I think it goes with everything."
Next is the rosé, made from co-fermented pinot noir (75 percent) and pinot gris (25 percent) grapes. The color is darker and deeper than most rosés and, at $14.95, it's Regal Road's most modestly priced wine.
"This is a great summer wine," Jeanne Schaub said. "It sort of mellows out as it gets warmer. The first sip is always a bit tart, and then it goes away."
The last sip on the tasting tour is the pinot noir, which is aged in oak barrels and retails for $19.95. The couple makes more of it than both their sparkling wine and rosé together.
"I get earthiness and tobacco and leather on the nose," Steve Schaub said.
"It's also got a bit of berry to it," Jeanne Schaub said. But, "It's big enough to carry a lot of different hearty foods."
The Schaubs don't plan to build the winery any bigger. They aim to keep it small and manageable at a couple hundred cases.
Said Steve Schaub, "I'm happy working with the vines we have and with what we can produce from these."
---