Sports
Golf notes: Henrik Stenson could win big without winning
Wed., Sept. 23, 2015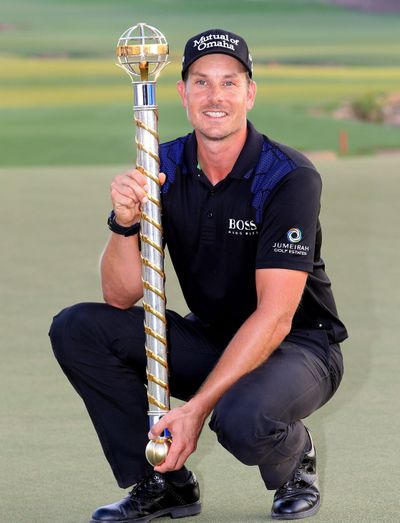 The last five winners of the FedEx Cup also won the Tour Championship. Vijay Singh in 2008 and Tiger Woods in 2009 are the only FedEx Cup champions who didn't win at East Lake in Atlanta.
Henrik Stenson is in position to make his own brand of history this week – winning the FedEx Cup without winning a PGA Tour event all year.
The Swede started at No. 41, soared up to No. 4 with a runner-up finish at The Barclays, had another runner-up finish at the Deutsche Bank Championship and has held that position going into the final event. He could finish in a tie for third and have a mathematical chance of winning the $10 million bonus.
"I'm just going to try my hardest this week," Stenson said. "But if I finish second or third and win the overall, you won't see me leaving here crying, I know that much. Not out of sadness, anyway."
Stenson would much rather win the Tour Championship and claim golf's biggest bonus, as he did two years ago at East Lake.
"I still have one more chance and it shouldn't be too hard to wipe the floor with these guys, right?" Stenson said, shifting into sarcasm mode. "There's no one that's playing great and is sky-high on confidence, and no one with a bunch of majors and no one hits it 330 off the tee. So it shouldn't be that hard."
Even so, a FedEx Cup title without having won anything on the PGA Tour would make the FedEx Cup an easy target for its points system, or how the PGA Tour has chosen to reset the points at the Tour Championship to give everyone a chance.
Stenson compared it with the world ranking. The year Lee Westwood reached No. 1 in the world, he had won just one tournament in 2010 and had not won in more than four months when he got to the top. It was a product of several good results, including a pair of runner-up finishes in the majors.
It's not like the year has been a total loss.
Stenson twice had the 54-hole lead this year, at Bay Hill and the TPC Boston, and didn't win.
This is nothing new for Stenson. He was in position to win the Race to Dubai two years ago without having won on the European Tour. But then he won the finale in Dubai and "kind of finished those conversations."
Revolving door
The No. 1 ranking hasn't been this unsettled since Tiger Woods, Greg Norman and Ernie Els were swapping the top spot in 1997.
Jason Day going to No. 1 with his victory at the BMW Championship meant the No. 1 ranking changed five times in five weeks – Jordan Spieth, Rory McIlroy, Spieth, McIlroy and Day.
That tied an Official World Golf Ranking record set from June 8 to July 6 in 1997 when it went Norman, Woods, Els, Norman and Woods.
Woods then held the No. 1 spot for the next two months.
Local journalism is essential.
Give directly to The Spokesman-Review's Northwest Passages community forums series -- which helps to offset the costs of several reporter and editor positions at the newspaper -- by using the easy options below. Gifts processed in this system are not tax deductible, but are predominately used to help meet the local financial requirements needed to receive national matching-grant funds.
Subscribe to the sports newsletter
Get the day's top sports headlines and breaking news delivered to your inbox by subscribing here.
---
Subscribe and log in to the Spokesman-Review to read and comment on this story