Sports
Victoria eliminates Chiefs with 6-2 victory
Sun., April 3, 2016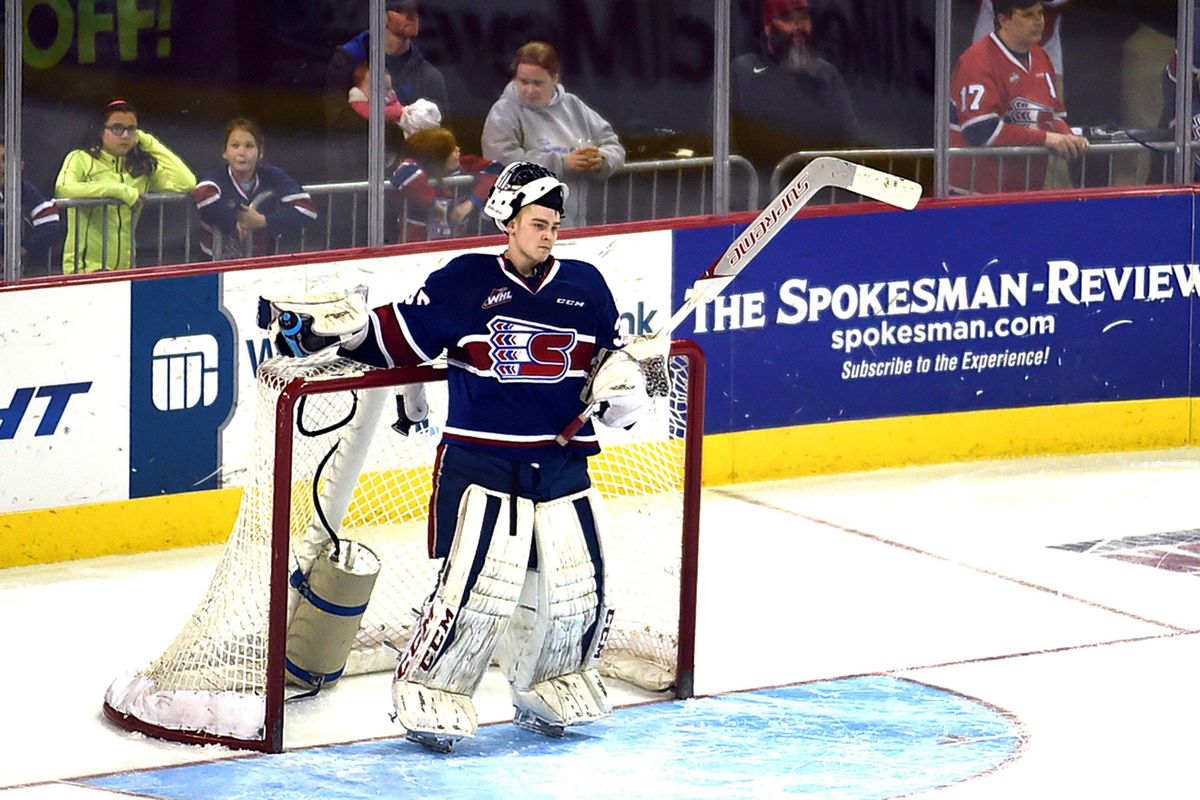 Spokane Chiefs goalie Lasse Petersen shows his disappointment during the WHL playoff Game 6 against the Victoria Royals at the Spokane Arena on Sunday, April 3, 2016. The Chiefs lost 6-2 and were eliminated. (Kathy Plonka / The Spokesman-Review)
As Victoria celebrated its 6-2 playoff-series-clinching win on the ice Sunday night, Spokane Chiefs captain Jason Fram stayed alone on his team bench. With his face buried in his padded glove, Fram wept.
The Chiefs had forced Game 6 in the first-round series by beating arguably the best team in the Western Hockey League 4-1 in Victoria on Friday night. But the Royals played like champions Sunday and the Chiefs were plagued by many of the miscues that caused them to lose to lesser teams.
"When you get this close to Game 7, it really hurts. Penalties got us into trouble," Chiefs coach Don Nachbaur said. "We came out of the first period down 3-1. We weren't sharp. We never could regroup from that."
The Spokane Chiefs started like they really wanted one more ferry ride to Victoria for Game 7.
Spokane got a busy period started when Kailer Yamamoto sent a nifty pass to set up Jordan Henderson, who powered the puck past goaltender Griffen Outhouse to give the Chiefs a 1-0 lead with 16:20 left in the period.
"We had a tidal wave going at that point," Nachbaur said. "But then we really got sluggish."
The game turned as soon as Victoria had its first power play. After Spokane's Matt Sozanski got called for tripping, Jack Walker took advantage of the one-man advantage and scored past goalie Lasse Petersen with 10:41 left in the first.
The Royals made it 2-1 with 7:42 left in the first on another power play when Tyler Soy went top shelf on Petersen.
"They exploited us tonight," Nachbaur said. "Soy and Walker. We couldn't contain them. Hats off to those guys."
With 2:13 remaining in the period, Scott Walford added a goal to make it 3-1 Royals.
Immediately after that, the Chiefs got a rare 5-on-3 power play but managed only two shots-on-goal. The Chiefs went more than 18 minutes with only three shots on Outhouse.
A bad situation got worse in the second period. Some four minutes in, Soy got free, faked right and got Petersen to bite. Soy then went left and scored an easy goal to make it 4-1.
Summer vacation plans then started to become clearer with 6:06 remaining in the period. Matthew Phillips approached Petersen, dragged the puck with his stick and waited for the goalie to commit before putting the puck easily where Petersen was not.
The goal made it 5-1 after two periods.
In the third period, Keanu Yamamoto practically willed a puck into the net with 9:38 remaining to make it 5-2. The Chiefs tried everything, but couldn't make up any more ground.
Walker scored a salt-in-the wound goal five seconds into a power play with 2:59 remaining to complete the scoring.
"It still hasn't quite set in," said Chiefs center Presten Kopeck, who joined the team midseason. "I'm proud of this group. We came a long way with a short bench and made the playoffs."
Nachbaur praised Kopeck and Fram, a four-year player, for their leadership on a team that was forced to play younger players in key positions.
"I'm sad to see him go," Nachbaur said of Fram. "He's really the fabric of the Spokane Chiefs."
Fram said the emotions flooded in as he realized it his last moments in a Chiefs' uniform.
"It's one thing when you are a younger player and you know you have another shot," he said. "I couldn't be more proud of my teammates for how they battled each night."
Local journalism is essential.
Give directly to The Spokesman-Review's Northwest Passages community forums series -- which helps to offset the costs of several reporter and editor positions at the newspaper -- by using the easy options below. Gifts processed in this system are not tax deductible, but are predominately used to help meet the local financial requirements needed to receive national matching-grant funds.
Subscribe to the sports newsletter
Get the day's top sports headlines and breaking news delivered to your inbox by subscribing here.
---