Sports
Brett Favre wonders if he really belongs in Hall of Fame
Fri., Aug. 5, 2016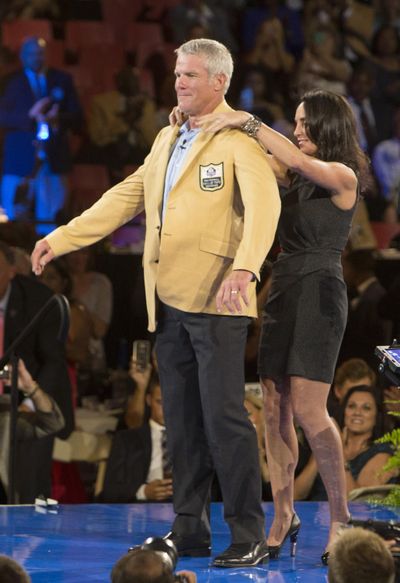 CANTON, Ohio – Brett Favre seemed a bit surprised by the question.
Asked if he ever imagined himself wearing a gold jacket in Canton, Favre quickly responded: "Absolutely not."
He's still not sure he belongs in the Pro Football Hall of Fame, which he will enter on Saturday night.
"Pretty amazing," the record-setting quarterback said Friday. "Incredible. I have a tremendous amount of respect for the game. I hold these guys in the highest regard. I just find it hard to believe I am in with those guys."
Those guys are the 295 members of the hall that Favre will join, along with Tony Dungy, Marvin Harrison, Orlando Pace, Kevin Greene, Ken Stabler, Dick Stanfel and Ed DeBartolo Jr.
That Favre remotely doubted he belonged after one of the greatest careers in NFL history – 20 seasons, tons of records, including 299 consecutive games, an NFL title in 1996 – is folly to most.
The first three-time league MVP (1995-97), Favre put up numbers that can be overwhelming. Add in his spirit, competitive fire and fun-loving attitude, and he was such a slam dunk in his first year of eligibility that his candidacy wasn't even discussed by the selection committee in February.
When he began getting text messages from his heroes, particularly Roger Staubach, Favre said he had to "pick his jaw off the floor."
"It wasn't a goal of mine," Favre said. "I have the utmost respect for the players who go in, but I just wanted to play, and people who saw me identified with that. If they paid me $50, I would have felt the same way. What they pay is a lot of money. When I'd drive home, I would say to myself, 'This is stealing!' "
Favre recalled the first time he visited the Hall of Fame, in 1993, before his third pro season. The Packers were playing the Raiders.
His lasting memory wasn't exactly a sporting one.
"I just remember the Raiders players standing outside the locker room smoking," he said, drawing laughs from reporters. "There's something wrong with this."
When Favre dons the gold jacket Saturday night, it might stay on for a while. Asked what he would be doing Monday back in Mississippi, he said "mowing the grass – in my gold jacket."
Dungy made history with the Colts in February 2007, becoming the first black coach to win a Super Bowl. He has been a mentor to many other coaches and players, and his insistence on people "doing things the right way" is as much his legacy as is his coaching record.
Dungy doesn't deny his role as a trailblazer in the sport, but he doesn't promote it, either.
Others do.
"Coach Dungy has been a shining beacon of light in every facet of his life and vocation," said John Wooten, chairman of the Fritz Pollard Alliance, an organization of minority coaches, front office, scouting and game day officials in the NFL. "He is a man of faith and an inspiration and mentor to countless individuals."
One of his stars with the Colts was Harrison, who holds the NFL mark for receptions in a season, with 143 in 2002. Harrison needed three tries before he was elected to the hall, one less than it took Dungy.
Harrison, who made 1,102 catches, third on the career list, thought about how he got started in football in Philadelphia.
"On the street," he said. "There were no parks. We played two-hand touch, and we played tackle if it was snowing."
A supreme route runner with terrific hands, Harrison excelled against such illustrious defensive backs as Deion Sanders, Aeneas Williams and Darrell Green – all of them Hall of Famers.
"I learned to just play hard and everything else falls into place," he said.
Greene, a sackmaster with four franchises who stands third in career quarterback traps with 160, added some other characteristics that lead to success – if not a quick entrance into the hall. He retired in 1999.
"A lot of things separate people," the former linebacker/defensive end said. "You have to be tougher and meaner than the guys in front of you. You need technique and fundamentals. Then study the game; people don't study the game the way they used to.
"And heart. Are you doing it for the love of the game or for a paycheck? I think I just played and let it flow. Don't be afraid to let your love and excitement for the game show."
Favre couldn't have said it better.
Local journalism is essential.
Give directly to The Spokesman-Review's Northwest Passages community forums series -- which helps to offset the costs of several reporter and editor positions at the newspaper -- by using the easy options below. Gifts processed in this system are not tax deductible, but are predominately used to help meet the local financial requirements needed to receive national matching-grant funds.
Subscribe to the sports newsletter
Get the day's top sports headlines and breaking news delivered to your inbox by subscribing here.
---