Sports
Gabe Marks returns to WSU practice
Thu., Aug. 18, 2016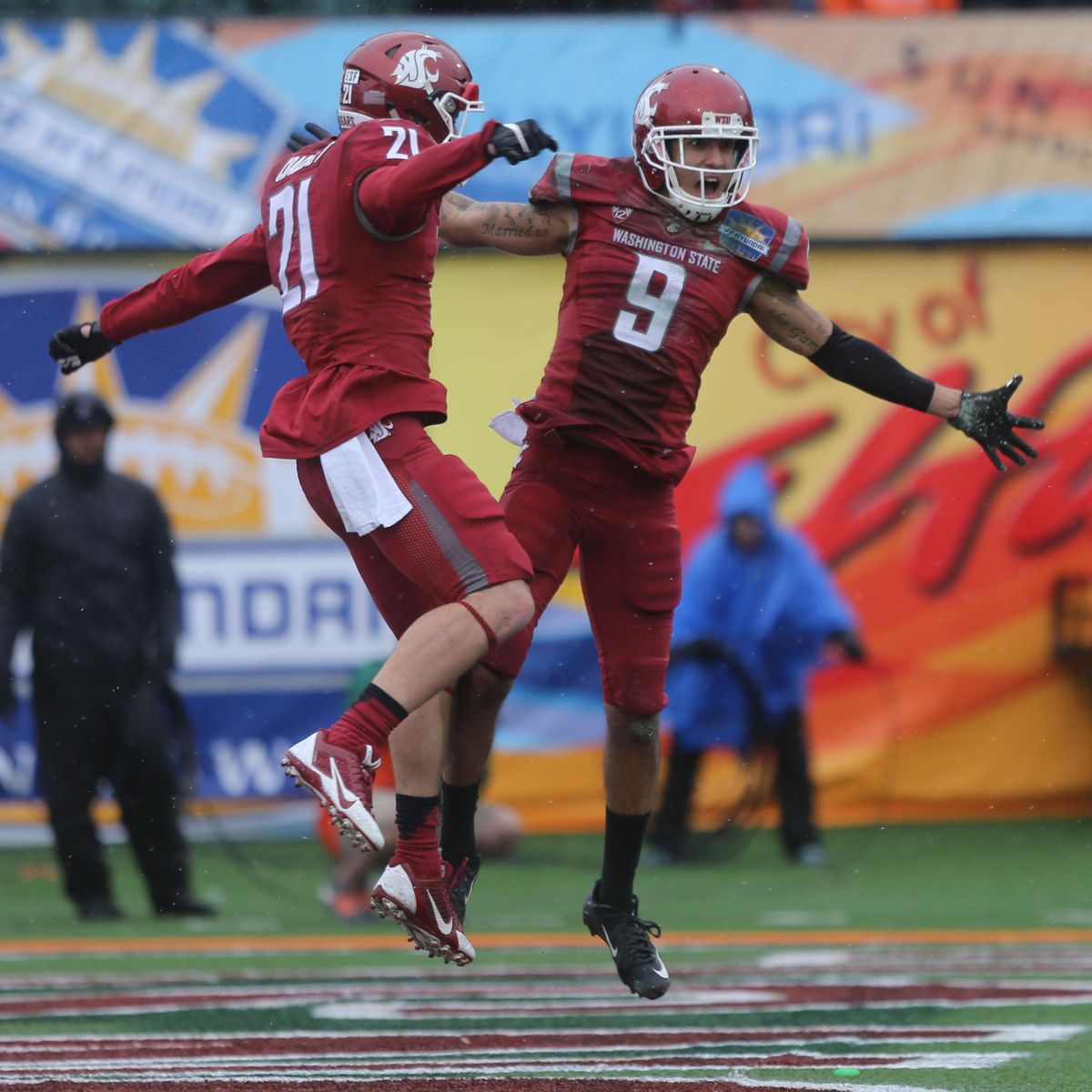 Washington State receiver Gabe Marks, right, celebrates with teammate River Cracraft after scoring a touchdown during the first half of the Sun Bowl NCAA college football game against Miami, Saturday Dec. 26, 2015 in El Paso, Texas. (Victor Calzada / AP)
PULLMAN – Washington State's star wide receiver, Gabe Marks, fully participated in the Cougars practice on Thursday for the first time since suffering an undisclosed injury during practice on Aug. 8.
Marks had partially participated in previous practices, but taken off his pads once the Cougars completed warm-ups.
"It's good to be practicing," Marks said. "It's good to be practicing and getting back out there."
Marks had the first catch during the team's seven-on-seven period, going up between two defenders to complete the reception for a gain of about 15 yards. He also took reps as a punt returner during special teams drills.
While Marks, a Biletnikoff Award semifinalist last season, is undoubtedly the team's best receiver, he is going to have to earn his reps back. Isaiah Johnson, a 6-foot-4, 216-pound problem for defenses, is emerging as perhaps the team's second-best pass-catcher.
On the first play of team period, a lite version of a scrimmage, Johnson took a screen pass and went 30-yards, thanks in part to some excellent downfield blocking from center Riley Sorenson. It was the same play Marks turned into a 43-yard score last year at Arizona.
"I want to earn my spot, you know," Marks said. "I don't like getting stuff just because. I want to work for it. I haven't been able to really be working for it, so it's good come back out here and just try to help the team."
Local journalism is essential.
Give directly to The Spokesman-Review's Northwest Passages community forums series -- which helps to offset the costs of several reporter and editor positions at the newspaper -- by using the easy options below. Gifts processed in this system are not tax deductible, but are predominately used to help meet the local financial requirements needed to receive national matching-grant funds.
Subscribe to the sports newsletter
Get the day's top sports headlines and breaking news delivered to your inbox by subscribing here.
---