News > Spokane
Wildfires burn 15,000 acres and two dozen homes in Spokane area
Mon., Aug. 22, 2016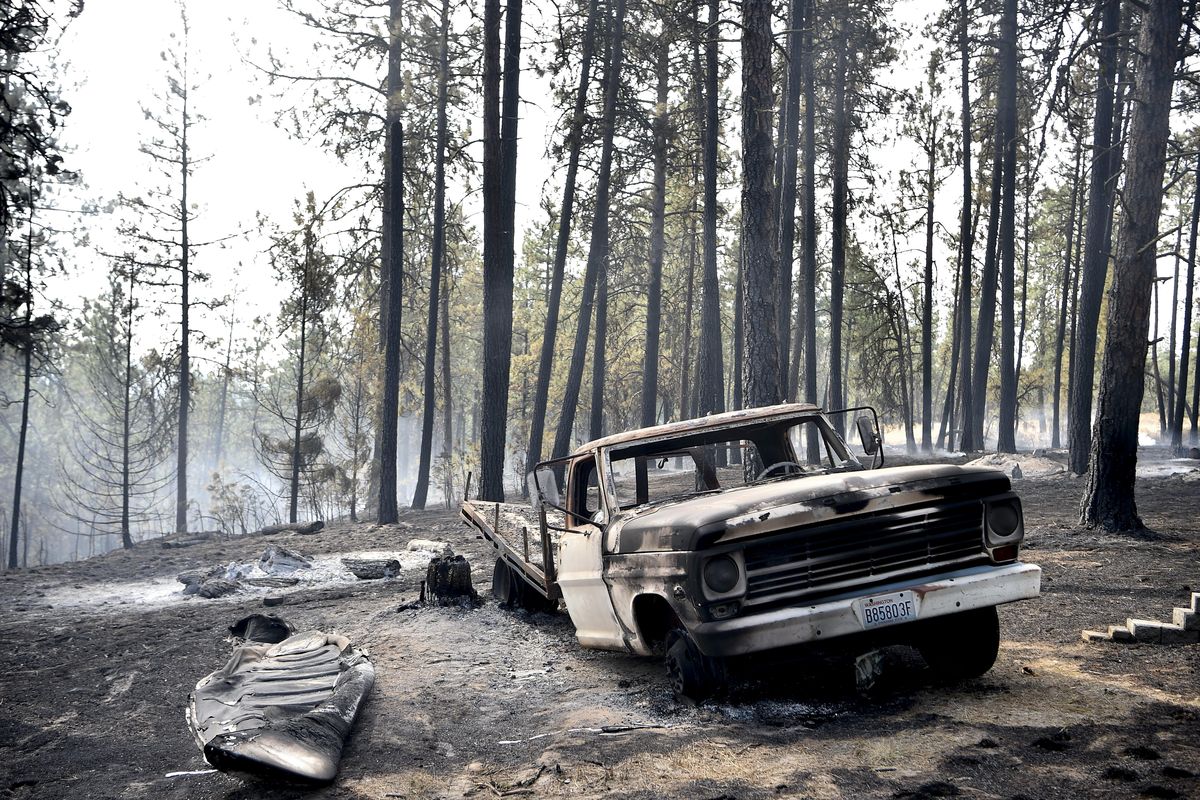 A charred truck is seen near Julie Thayer and her husband Art's home on Monday, Aug 22, 2016, on South Yale Road near Valleyford, Wash. The Thayers had been hiking over the weekend and returned home Sunday night to find their home destroyed. (Tyler Tjomsland / The Spokesman-Review)Buy a print of this photo
Art and Juli Thayer lived in a two-story house on a bluff overlooking the idyllic farm towns of Freeman and Valleyford.
When they drove into their gravel driveway Monday morning, all that remained were heaps of bricks and a charred foundation. Sunday's fast-moving wildfire had destroyed everything but a china cup and a coffee mug their two sons made as children.
"We spent 15 years building it," Art Thayer said of the home. "But we were living in the trees, so we knew there was a risk there."
Juli Thayer added, "It's just devastating."
Efforts to stop the spread of the Yale Road fire were unsuccessful as fire bosses acknowledged they had zero percent containment. The fire has burned about 4,000 acres and destroyed at least 10 homes and other buildings.
Evacuation orders were in effect for about 1,000 of Valleyford's 2,450 people. And the Federal Emergency Management Agency authorized funding to help fight the fire, calling it a "major disaster" that threatened businesses, power lines, park facilities and about 250 homes.
The fire is about 15 miles south of Spokane and slightly northeast of Spangle.
It burned most of Skeets Dunn's 2,000-acre Grouse Creek Ranch.
Dunn, an investor and Ferrari collector, was in Coeur d'Alene when the fire swept over his ranch. But thanks to his employees and an alert neighbor, the fire never touched the two-story house or any of the outbuildings on his property, he said.
Dunn and two of his ranch managers drove pickup trucks equipped with tanks and hoses into the charred fields Monday afternoon to douse hot spots.
"I can't believe this house didn't burn down," he said. The fire "just stopped at my wall."
Cody Rohrbach, the operations chief of Spokane County's Fire District 3, said firefighters were facing strong winds for the second day in a row, and struggling to get to steep areas.
Early Monday he acknowledged it was going to be a challenging day, but said, "We're getting resources in from across the state."
Wellesley/Beacon Hill fire
FEMA also authorized emergency funding for what is being called the Wellesley fire burning near Beacon Hill in north Spokane. It started around the same time Sunday afternoon. The grants allow FEMA to reimburse the state for up to 75 percent of eligible firefighting expenses, but don't provide aid for individual property loss or damage.
UPDATE: As of Tuesday afternoon, crews had almost fully contained the Wellesley fire near Beacon Hill in north Spokane. "The Wellesley fire is pretty much ringed up," said incident commander Rick Isaacson. "They're just mopping up hot spots right now. It's looking good."
The Wellesley fire destroyed two homes and damaged several others in an upscale neighborhood atop the hill. As of Monday afternoon, the fire had burned nearly 300 acres. Initial estimates ranged from 150 to 500 acres.
Firefighters have built a line around the blaze and expected to have it partially contained by Monday night, said Alan Hoffmeister, a spokesman for the U.S. Forest Service. Firefighters were dousing hot spots and monitoring homes within the fire perimeter to prevent more loss, he said.
All evacuation orders for the Wellesley fire were lifted Monday afternoon.
Hart Road fire
Meanwhile, the Hart Road wildfire west of Spokane grew to 10,000 acres overnight, prompting officials to evacuate the town of Wellpinit. Eleven homes and buildings have been lost along Hart Road, Teel Hill Road and Cayuse Cove, according to the Lincoln County Sheriff's Office.
The Rawhide Press reported 10 homes and one garage were lost on the Spokane Indian Reservation. About 30 more structures were threatened.
The fire has burned about 2,500 acres in Lincoln County and more than 6,000 acres in Stevens County. Officials said it was 0 percent contained Monday.
FEMA didn't immediately respond when asked if the agency would authorize funding for the Hart Road fire.
People pushed from their homes on the Spokane Indian Reservation gathered overnight at Wellpinit High School, which was outside the evacuation area. Wellpinit was without power Monday morning.
People have donated blankets, pillows, food, water and toiletries, and a group of staff from the school put together Indian tacos to feed people Sunday.
Kris Herda, who is helping coordinate donations at the school, said they're able to provide well water, lighting and Internet access using a generator.
"We're actually doing pretty well," he said.
People came and went throughout the day Sunday, and many returned to their homes Monday to assess the damage. But Herda said he expected more people to spend the night at the school Monday if the power remains out.
Many homes in Wellpinit draw water from wells, which means homes without power don't have running water, he said.
Daniel Moldrem, who lives with his family on Hart Road in Lincoln County, said his home was spared. He was forced to evacuate at about 3 p.m. Sunday after fire came over a nearby hill. On Monday morning, Moldrem was staying with a friend in Cayuse Cove.
"There's a few houses around here that were completely leveled," he said.
Residents evacuated from Cayuse Cove on Sunday were allowed to return home late Monday.
Power has also been lost in the Lincoln County area. The Red Cross set up a shelter at the Davenport Fairgrounds late Sunday night.
Fires burning near Kahlotus, Northport
Other new fires have been reported in Eastern Washington.
One is a 22,000-acre fire burning southwest of Spokane near Kahlotus in Franklin County. Firefighters have been mobilized to protect homes, crops and other infrastructure threatened by the blaze, according to the state Fire Marshal's Office.
Another fire is burning 10 miles north of Northport in Stevens County. Called the Deep North fire, it was burning more than 600 acres and growing Monday afternoon, the Fire Marshal's Office said. It was threatening homes, power lines and timber, and evacuations are in effect.
Other fires are now burning in the Chelan area.
Local journalism is essential.
Give directly to The Spokesman-Review's Northwest Passages community forums series -- which helps to offset the costs of several reporter and editor positions at the newspaper -- by using the easy options below. Gifts processed in this system are not tax deductible, but are predominately used to help meet the local financial requirements needed to receive national matching-grant funds.
Subscribe now to get breaking news alerts in your email inbox
Get breaking news delivered to your inbox as it happens.
---