Sports
Youngstown State advances to FCS title game after beating Eastern Washington on touchdown with 1 second remaining
Sat., Dec. 17, 2016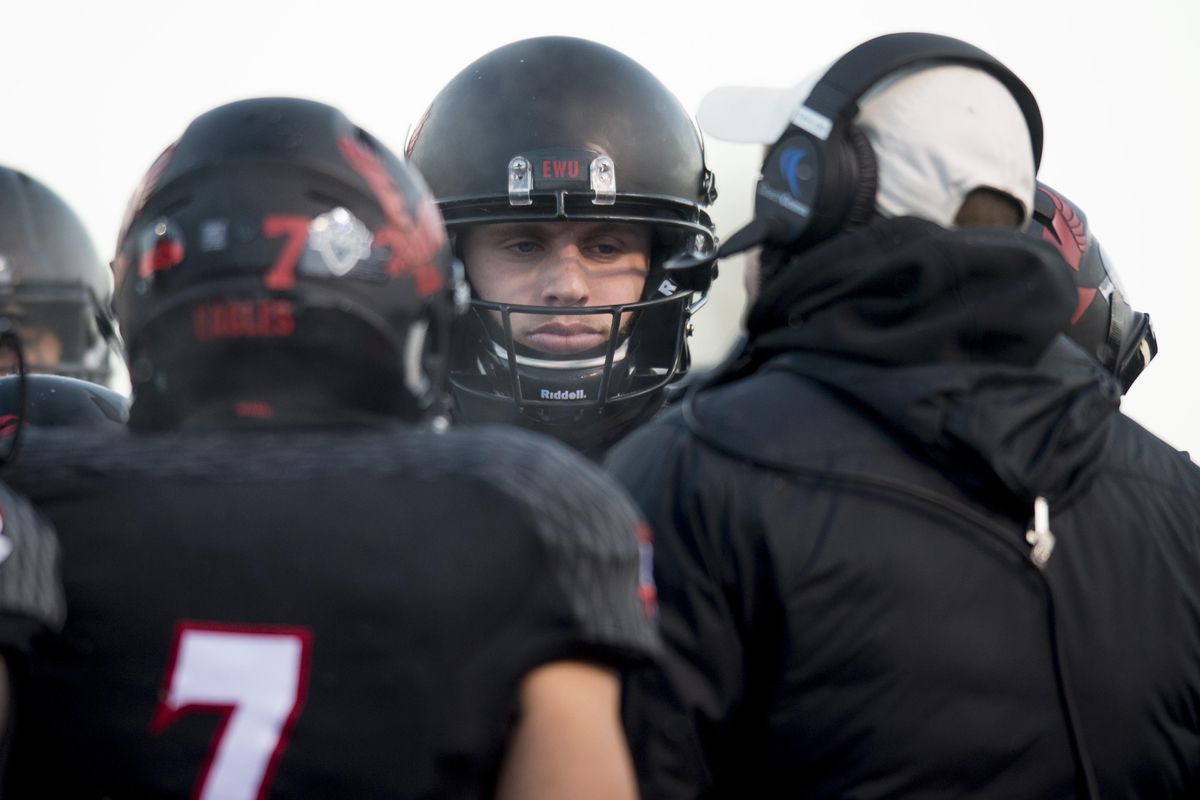 Eastern Washington Eagles wide receiver Cooper Kupp (10) listens to final pointers from head coach Beau Baldwin before the first half of a FCS football game against Youngstown State on Saturday, Dec 17, 2016, at Roos Field in Cheney, Wash. (Tyler Tjomsland / The Spokesman-Review)
By 7 p.m. Saturday, Roos Field looked like the landscape of Mars and felt just as desolate.
If you checked the weather app on your phone, it would have read "4 degrees, but feels like absolute zero."
This one hurt. Eastern Washington's players, coaches and the 5,233 hardy souls who endured the coldest game in school history could only watch the other guys coldly take the prize.
And they took it away so cruelly: Youngstown State scored the winning touchdown with 1 second left to claim a 40-38 victory over the Eagles and a spot in the FCS title game in Frisco, Texas, on Jan. 7.
Eastern coach Beau Baldwin put on a brave face after the Eagles' third semifinal loss in five years.
"The toughest thing is knowing we don't get three more weeks together – laugh and do our thing," Baldwin said.
"The fact it hurts so bad to go our separate ways and move on for the seniors, that means our camaraderie was strong," Baldwin said. "Those seniors will be back – you'll see them on the sideline and they will always be Eagles for life and will push for whatever our program does moving forward."
The Eagles will do that, but not without a painful look back at the might-have-beens of a game that took both teams and their fans on an emotional roller coaster. Or an icy slip-n-slide, as it turned out.
But as the game wore on, the weather was submerged into a classic battle of offensive styles – and the tortoise won.
The Penguins (12-3) trailed by two scores on three occasions, the last with 12 1/2 minutes left in the game, but they were able to stick to the hard-nosed running game that made them the last unseeded survivor in the 24-team FCS field.
They tried, but the Eagles couldn't pry YSU out of its offensive shell, and it cost Eastern dearly.
Looking for a turning point? It came late in the third quarter, as the Eagles led 31-20, had just forced a YSU punt and took over on their 45.
On second-and-18 from the YSU 38, Gubrud looked downfield to Shaq Hill, but the ball was deflected and fell into the hands of defender Billy Hurst, who returned it to the 18.
That meant the Penguins could stay in ball-control mode, and they did so with near perfection in a 14-play, 82-yard march that closed the Eastern lead to 31-27 with 12:14 left in the game.
Then the Eagles' offense came in cold, and went three-and-out at the worse possible moment. Weather was a factor.
"It can have some of an effect on your offensive rhythm, but it's not an excuse," said quarterback Gage Gubrud, who threw for 353 yards and three touchdowns.
"We are going to go out and operate no matter what the conditions are. Whether the weather is bad or we aren't out on the field. When we have a chance, we're going to go out there and operate."
But Youngstown State didn't give them much of a chance, running 60 plays in the second half to 18 for the Eagles. The Penguins' next push came on an eight-play, 56-yard drive capped by Tevin McCaster's 12-yard run with 6:30 to play.
Trailing 34-31, the Eagles moved with urgency – perhaps a bit too much, as it turned out. Mixing the run and the pass, Gubrud took his team 80 yards downfield in just more than 2 minutes. A 1-yard TD run by Hill put the Eagles up 38-34 with 4:24 left.
That was just enough time for YSU, which started on its 42 and picked up four first downs in an 11-play drive capped by Hunter Wells' winning 4-yard pass to tight end Kevin Rader with 1 second to play.
"We're down to four teams in the country, and things are going to be tougher," Baldwin said. "It's going to be harder to put up points and harder to stop guys, and that's why it came down to one play at the end of the game.
"At the end of the day, it's a play here or there that makes the difference."
Local journalism is essential.
Give directly to The Spokesman-Review's Northwest Passages community forums series -- which helps to offset the costs of several reporter and editor positions at the newspaper -- by using the easy options below. Gifts processed in this system are not tax deductible, but are predominately used to help meet the local financial requirements needed to receive national matching-grant funds.
Subscribe to the sports newsletter
Get the day's top sports headlines and breaking news delivered to your inbox by subscribing here.
---