A&E > Entertainment
75 years after its premiere, Bing Crosby's 'White Christmas' still enthralls listeners
Thu., Dec. 22, 2016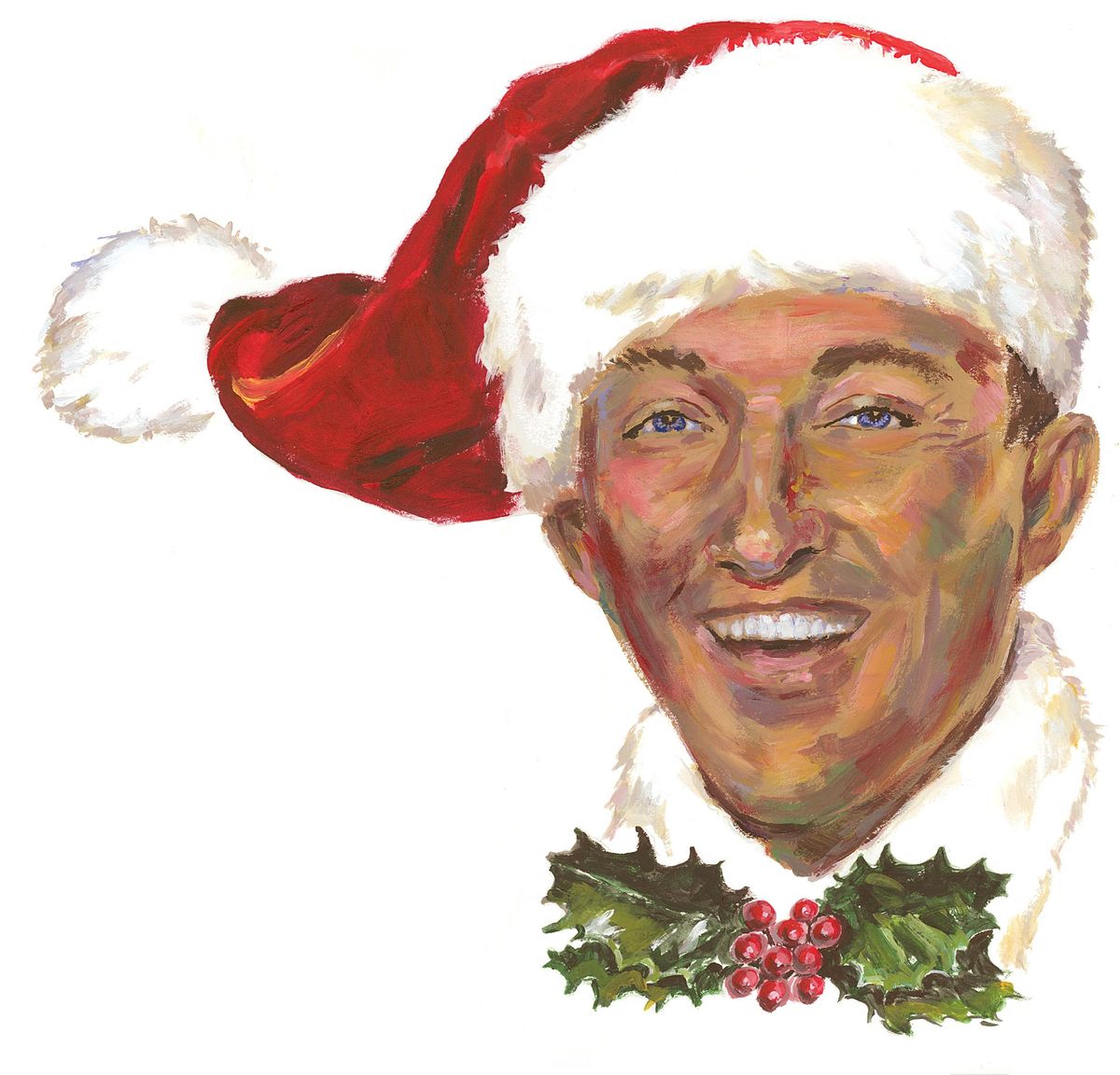 (Molly Quinn / The Spokesman-Review)
It was Christmas Day, 1941, 18 days after the attack on Pearl Harbor. Bing Crosby was on the air with "The Kraft Music Hall," a variety radio program he hosted for a decade. He announced that he would be debuting revered songwriter Irving Berlin's newest tune, a Christmas song that was to be the musical centerpiece of Crosby and Fred Astaire's upcoming vehicle, "Holiday Inn."
That song was, of course, "White Christmas," and 75 years later, it hasn't faded away. In fact, it's such an indelible part of American culture that it's almost difficult to imagine a time when the song didn't exist.
Among Crosby's vast catalog of nearly 1,700 recordings, "White Christmas" is the one that most stands out. According to the Guinness Book of World Records, Crosby's version of the Berlin song is the best-selling single of all time, with an estimated 50 million sales since its debut, and it's been covered by nearly every major artist you can think of.
But the signature tune of Spokane's most beloved former resident nearly wasn't a classic at all, and it seems that Berlin was one of the only people who initially had any faith in it.
///
Bill Stimson grew up on the 700 block of East Sharp Avenue, just a few blocks away from Crosby's childhood home at 508 E. Sharp Ave. That proximity no doubt inspired the Eastern Washington University journalism professor's lifelong interest in the crooner.
"From my youngest years, I remember people talking about when Bing lived down the street, and I had a lot of neighbors who knew him well," Stimson said. "Later on, the first time I read his autobiography, I realized we had much the same upbringing."
Bing Crosby, real name Harry Lillis Crosby Jr., was born in Tacoma in 1903, and his family relocated to Spokane three years later. The house on Sharp was built in 1913 in what was a predominately Catholic neighborhood. Crosby was an altar boy at St. Aloysius Church and attended Gonzaga High School (now Gonzaga Prep), and he later enrolled in Gonzaga University, which was practically in his backyard, to study law.
His interests, of course, soon shifted to the performing arts. Crosby became active in the Gonzaga theater department and built up his chops with musical partner Al Rinker, appearing frequently at the Clemmer Theater in downtown Spokane.
That venue, which has gone through several name changes, is now known as the Bing Crosby Theater. The rechristening was spearheaded by Stimson and his organization, the Bing Crosby Advocates of Spokane, which also hosts the annual Bing Crosby Holiday Film Festival at the theater at 901 W. Sprague Ave.
"When I started (the organization), I was shocked to find out that very few people got what kind of Spokane connection Bing had. … Somehow it had never sunk in," Stimson said. "Someone would say, 'How come it's named the Bing? Did he appear here one time?' No, he learned his business on that street, on Sprague Avenue. He had a hangout there and appeared in the theater and started his career there."
Stimson says Crosby's humble Jesuit upbringing in Spokane is a crucial part of the genial, everyman persona that made him a star.
"He really was a product of Spokane," Stimson said. "When he left, he was pretty close to a finished product, the product that the rest of the world would discover. And that's unusual."
Crosby's nephew Howard Crosby also grew up in Spokane – he's now based out of Walla Walla – and he got to know his famous uncle during their time on the golf course. (Crosby was an avid golfer, especially in the later years of his life.)
"He was much more reserved than the character he portrayed on screen," Crosby said. "Uncle Bing couldn't have been as successful as he was if he didn't have a serious side."
Howard Crosby is now a part-time vocalist himself, performing his uncle's songs (he most recently appeared at the Bing with the Celtic group Affiniti). When he does take the stage, Crosby says there's always one song that everyone wants to hear.
"Whenever anybody finds out that I'm his nephew and that I have musical abilities, they want to hear me sing 'White Christmas,' " Crosby said. "It doesn't matter if it's the Fourth of July."
///
It's unclear exactly when "White Christmas" began gestating in Berlin's brain, although notes from an unproduced musical revue suggest he may have been tinkering with it as early as 1938. We do know that Berlin started working on the song in earnest in early 1940, when he reportedly proclaimed to his longtime transcriber Helmy Kresa that he'd come up with the best song anyone had ever written.
Berlin conceived "Holiday Inn" as a showcase for his newest batch of songs, though he reportedly gave the film's studio, Paramount Pictures, two ultimatums: Bing Crosby was a lock for the lead, and "White Christmas" would be the star of the show. (When "Holiday Inn" was remade in 1954, it was retitled "White Christmas," further emphasizing the importance of the song.)
The plot of "Holiday Inn" – Bing is an ex-vaudeville star who quits the biz to run a farm in rural Connecticut – is deliberately thin, merely a line on which to hang Berlin's holiday-themed songs. "White Christmas," perhaps the film's least showy song, is front and center in the movie's most iconic scene: Crosby, at the piano in the middle of the night, breaks into a seemingly impromptu duet of the song with co-star Marjorie Reynolds.
"Holiday Inn" was set to be released (curiously enough) in late summer of '42, and Paramount pinpointed "Be Careful, It's My Heart," a jaunty, mid-tempo love song, as the film's obvious radio hit. When the movie finally screened for audiences and critics, most reviews, much to Berlin's dismay, didn't even mention the "White Christmas" number.
But as the holiday season approached, the song crept its way onto the radio, and it was soon Berlin's most successful composition in years. It went on to receive an Oscar for best original song, an award that had, in previous years, gone to "Somewhere Over the Rainbow" and "When You Wish Upon a Star."
The song's success baffled the record industry, but it had obviously struck a nerve, and much of that had to do with the escalation of World War II.
"Berlin created an anthem that spoke eloquently to its historical moment, offering a comforting Christmastime vision to a nation frightened and bewildered by the Second World War," journalist Jody Rosen writes in his book "White Christmas: The Story of an American Song." "In the song's melancholic yearning for Christmases past, listeners heard the expression of their own nostalgia for peacetime."
Rosen goes on to explain that Crosby's recording was aired frequently on armed forces radio stations and that copies of the single were sent in care packages to boost troop morale. "White Christmas" delivered a dose of unabashed nostalgia and warmth to a country no doubt needed it, and it continued to be a symbol of hope throughout the war.
"I once asked Uncle Bing about the most difficult thing he ever had to do during his entertainment career," Howard Crosby said. "He didn't have to think about it. He said in December, 1944, he was in a USO show with Bob Hope and the Andrews Sisters. They did an outdoor show in northern France. … At the end of the show, he had to stand there and sing 'White Christmas' with 100,000 G.I.'s in tears without breaking down himself.
"Of course, a lot of those boys were killed in the Battle of the Bulge a few days later."
///
The Crosby family home is now owned by Gonzaga, and it has housed the university's collection of Crosby memorabilia since 2014. Stephanie Plowman, Gonzaga's special collections librarian, estimates the collection features more than 250 individual pieces, including some of Crosby's gold records, century-old family snapshots and photos, press clippings and athletic medals from Crosby's college days.
Our curiosity for all things Crosby is apparently as enduring as the popularity of "White Christmas": Plowman says the Crosby house gets about 3,500 annual visitors, and that number appears to be increasing. That fascination isn't merely a Spokane thing: The house's visitor log book includes the inscriptions of folks from Ohio, Connecticut, Louisiana, British Columbia and Bogota.
"He hit in all the major ways – radio, movies, songs," Plowman said. "People think he's dying off, but he still has a following with the younger generations."
Crosby himself has become synonymous with Christmas – you hear his velvety baritone and instantly think of the holidays – and much of that has to do with a single song he first committed to tape in an otherwise uneventful, 18-minute recording session.
"That song is part of the American ethos by now, and Bing Crosby is associated with all that," Stimson said. "Bing is the one who made a white Christmas de rigueur for Christmastime, that thing that we had to have."
And although "White Christmas" is really Berlin's lamentation about spending his winter in sunny California, one could argue that Crosby's version is a distinctly Spokane song.
"What would have been a white Christmas for Bing was what he saw out the windows of that house, the snowflakes settling down around the pine trees," Stimson said. "That meant Christmas to Bing, and it means Christmas to us because of that song."
"I'm sure that from Bing's perspective, it was a Spokane song, absolutely," Howard Crosby said. "It would have immediately evoked the sort of things he experienced as a boy. … As the artist performing the song, there would have been a strong personal recollection of life growing up in Spokane."
Local journalism is essential.
Give directly to The Spokesman-Review's Northwest Passages community forums series -- which helps to offset the costs of several reporter and editor positions at the newspaper -- by using the easy options below. Gifts processed in this system are not tax deductible, but are predominately used to help meet the local financial requirements needed to receive national matching-grant funds.
Subscribe to the Spokane7 email newsletter
Get the day's top entertainment headlines delivered to your inbox every morning.
---