Sports
Marathon world-record holder Paula Radcliffe wades into Caster Semenya debate
Fri., July 22, 2016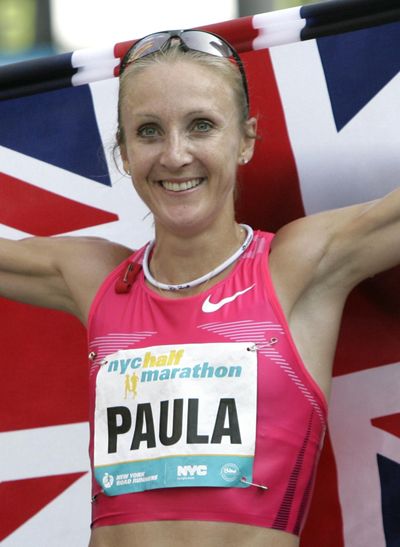 LONDON – Marathon world-record holder Paula Radcliffe said comments she made concerning Caster Semenya have been misrepresented after she stated in a radio interview that the South African's current dominance in the 800 meters is "no longer sport."
Radcliffe said in a statement posted on social media that the comments were part of a longer live debate she took part in on the issue of hyperandrogenism in sport. Hyperandrogenism is a condition in which a woman has much higher levels of testosterone than normal.
Semenya was ordered to undergo gender tests when she won the world title in 2009.
The IAAF was forced last year to drop rules it had to limit testosterone levels in female athletes. Last week, Semenya ran a personal best and her fastest time since those 2009 worlds.
"I fear that when we talk about it in terms of fully expect no other result than Caster Semenya to win that 800 meters (at the Olympics), then it's no longer sport and it's no longer an open race," Radcliffe said in audio clips from the debate published by the BBC.
In the interview, Radcliffe also appeared to suggest hyperandrogenism could become similar to organized doping.
"I mean, we've seen the lengths that countries like Russia will go to to have major success on the world stage, on the Olympic stage. I think what worries me is we know that there are certain communities where the condition of intersex, of hyperandrogenism, is more prevalent," Radcliffe said.
"We don't want to get to the situation where people are actively going to those communities to seek out girls who look like they're going to be able to go out and perform, and to run fast, and then take them away and train them. It becomes a manipulated situation where they are being manipulated and the ethics of fair sport and fair play are being manipulated."
The clips from the radio show Thursday appeared to have been edited, and in her statement on Friday, Radcliffe said: "… unless you listen to the entire debate, snippets taken and printed will entirely misrepresent what was said.
"I tried to get across how difficult and complicated the situation is and how finding a solution where nobody gets hurt is pretty much impossible," Radcliffe said.
Last year, the IAAF was forced to suspend the rules it had to control some female athletes' testosterone levels after they were challenged at the Court of Arbitration for Sport by another runner, India's Dutee Chand.
The IAAF said high testosterone levels give some female athletes an unfair advantage, but Chand challenged that assertion, and the IAAF was told to do more research to show how much advantage testosterone gives. In Chand's case, Radcliffe testified in support of the IAAF and the rules limiting testosterone. She said she and other top athletes felt women with hyperandrogenism had an unfair advantage in competition.
Semenya's career has been controversial since she emerged as an unknown 18-year-old and easily beat the field to win the world championships seven years ago.
Citing medical confidentiality, the IAAF has never released results of the tests performed on Semenya or details of her case.
Local journalism is essential.
Give directly to The Spokesman-Review's Northwest Passages community forums series -- which helps to offset the costs of several reporter and editor positions at the newspaper -- by using the easy options below. Gifts processed in this system are not tax deductible, but are predominately used to help meet the local financial requirements needed to receive national matching-grant funds.
Subscribe to the sports newsletter
Get the day's top sports headlines and breaking news delivered to your inbox by subscribing here.
---
Subscribe and log in to the Spokesman-Review to read and comment on this story