Sports
MLB Notes: Nationals acquire Mark Melancon from Pirates
Sat., July 30, 2016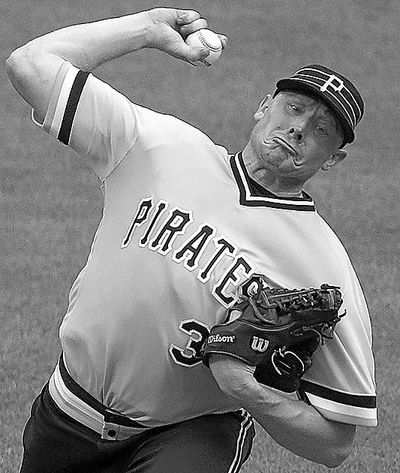 The Nationals found their reliable new man for the ninth inning, acquiring All-Star closer Mark Melancon from the Pirates on Saturday.
Washington sent reliever Felipe Rivero and pitching prospect Taylor Hearn to the Pirates for Melancon, who supplants struggling Jonathan Papelbon as Washington's closer. Melancon is expected to join the Nationals on Sunday for the series finale at San Francisco.
Melancon, a 31-year-old right-hander, has 30 saves and a 1.51 ERA this season and joins his fifth organization in eight years. He is making $9.65 million and is eligible for free agency after the World Series.
Once considered a possible successor to Mariano Rivera when he broke into the majors with the New York Yankees in 2009, Melancon said during the All-Star break he knew a trade was possible, given his contract status. He didn't expect Pirates GM Neal Huntington to keep him in the loop every step of the way.
"It's just the teams change, they fluctuate depending on the wild-card standings," Melancon said July 11.
This was the well-traveled Melancon's fourth season in Pittsburgh after he also pitched for Houston, Boston and the Yankees.
He will move his family once more – his wife and three kids.
"That kind of is what makes things a lot bigger deal just because you've got five times the bodies," he said. "It's not just me, it's about four other people along with me."
Papelbon is 2-4 with a 4.41 ERA and has allowed eight runs and seven hits in his past three outing. Manager Dusty Baker wouldn't say earlier Saturday whether Papelbon still was his closer. Baker pulled Papelbon from a game Thursday in the ninth inning.
Rivero, a 25-year-old lefty, is 0-3 with a 4.53 ERA this season. Hearn is a 21-year-old lefty who was the Nationals' fifth-round pick in the 2015 amateur draft.
Also Saturday, Washington recalled right-handed pitcher Reynaldo Lopez from Triple-A Syracuse.
Mets retire Piazza's No. 31
Hall of Fame catcher Mike Piazza has gotten his No. 31 retired by the New York Mets in a pregame ceremony at Citi Field.
The half-hour tribute included his parents, family members, former teammates, friends and a lot of chants and cheers. He ended his 6-minute speech with a shout of "Let's go, Mets!"
The 47-year-old Piazza was inducted into the baseball Hall last Sunday in Cooperstown. He became the fourth Mets person to have his number retired by the team, joining pitcher Tom Seaver and managers Casey Stengel and Gil Hodges.
Piazza's number now hangs in a big circle on the facade above the upper deck in left field. Looking toward the marker, he told fans that any time the team was down and needed a little inspiration, they should "just give a little peek up there to ol' Mikey."
The ceremony came before the Mets hosted Colorado.
Braves acquire Kemp for Olivera
The Atlanta Braves acquired pricey slugger Matt Kemp and cash considerations from San Diego for troubled outfielder Hector Olivera. The Braves have tried for several months to unload Olivera following his April 13 arrest on domestic violence charges.
Despite arthritis in both hips, Kemp could boost the weakest offense in the major leagues. Atlanta has baseball's worst record and ranks last in runs scored and homers.
The Braves have just one marquee everyday player, first baseman Freddie Freeman, and need more star appeal as they move a few miles north into a new suburban ballpark next year.
Kemp has a $21.5 million salary this year and is owed the same amount in each of the next three seasons. Olivera has a $4 million salary this year and is owed $6 million next year, $6.5 million in 2018, $7.5 million in 2019 and $8.5 million in 2020.
Clearing the bases
Yankees SS Didi Gregorius caught a fly ball off the bat of Tampa Bay's Steven Souza Jr. in shallow left field to end the second inning Saturday night after the ball struck an overhanging structure while in play. LF Brett Gardner was setting up to make the grab in front of the warning track but never got the chance. … OF Billy Burns was traded from the Athletics to the Royals for OF prospect Brett Eibner. Oakland also placed lefty Rich Hill on the 15-day disabled list with a blister on the middle finger of his pitching hand, a move retroactive to July 20. … Dodgers' Yasiel Puig is expected back in the starting lineup Sunday against the Diamondbacks. Puig has been limited to three pitch-hitting appearances over Los Angeles' last seven games due to tightness in his right hamstring. … Royals closer Wade Davis headed back to Kansas City for an MRI on his right arm. … Davis spent time on the 15-day disabled list earlier this month with a strain in his forearm.The first car of Angels star Mike Trout is being auctioned off at the National Sports Collectors Convention on Thursday in Atlantic City. The truck is expected to sell for around $15,000.
Local journalism is essential.
Give directly to The Spokesman-Review's Northwest Passages community forums series -- which helps to offset the costs of several reporter and editor positions at the newspaper -- by using the easy options below. Gifts processed in this system are not tax deductible, but are predominately used to help meet the local financial requirements needed to receive national matching-grant funds.
Subscribe to the sports newsletter
Get the day's top sports headlines and breaking news delivered to your inbox by subscribing here.
---