Sports
Padres trade Shields to White Sox
Sat., June 4, 2016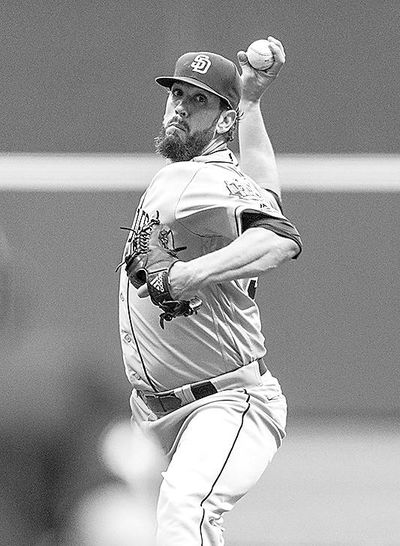 The San Diego Padres traded pitcher James Shields and cash to the Chicago White Sox on Saturday for pitcher Erik Johnson and shortstop Fernando Tatis Jr.
The deal came three days after Padres executive chairman Ron Fowler criticized the last-place team's recent performances as being "embarrassing" and "pathetic," and called out Shields for his poor start Tuesday at Seattle.
The Padres will cover $29 million of the $56 million remaining on Shields' contract.
The 34-year-old righty is 2-7 with a 4.28 ERA. He allowed 10 runs in 2 2-3 innings in a 16-4 loss at Seattle on Tuesday.
The White Sox got off to a fast start this year, but have recently slid back in the AL Central. They've been looking to boost their rotation and hope "Big Game James" can deliver.
Shields has made at least 31 starts every season beginning in 2007.
"We're pleased to add a starter of James Shields' caliber," general manager Rick Hahn said. "He has proven to be one of the most dependable and durable pitchers in the major leagues over his career."
Shields was one of several big-name players the Padres brought in before the 2015 season, giving him a $75 million, four-year deal. The roster overhaul fizzled, as the Padres finished three games worse last year than they did in 2014.
Prone to giving up home run balls, Shields has kept his teams in games for years, going a combined 129-104 with a 3.76 ERA overall for Tampa Bay, Kansas City and the Padres.
Shields helped pitch the Rays into the 2008 World Series and the Royals into the 2014 Series. He made the AL All-Star team in 2011.
Odor Reinstated
Rougned Odor is back in the Texas Rangers' lineup after finishing his seven-game suspension for punching Jose Bautista.
Odor was reinstated from the suspended list, and was in the lineup batting fifth and at second base against Seattle.
Texas also recalled right-handed reliever Tom Wilhelmsen from Triple-A Round Rock and optioned infielder Hanser Alberto to that minor league team.
Clearing the bases
Yankees first baseman Mark Teixeira was put on the disabled list, a night after he injured his right knee in Baltimore's 6-5 win. The injury was diagnosed as a right knee articular cartilage tear. In addition to the lingering knee problem, he's also been hindered by a bulging disk in his neck. … Royals catcher Salvador Perez returned to the lineup after missing six games with a bruised left thigh. … White Sox left fielder Jason Coats exited Chicago's game against Detroit after an outfield collision in his major league debut. Coats had been called up from Triple-A Charlotte earlier in the day. He ran into center fielder J.B. Shuck an instant after catching Miguel Cabrera's line drive into the left-centerfield gap.
Local journalism is essential.
Give directly to The Spokesman-Review's Northwest Passages community forums series -- which helps to offset the costs of several reporter and editor positions at the newspaper -- by using the easy options below. Gifts processed in this system are not tax deductible, but are predominately used to help meet the local financial requirements needed to receive national matching-grant funds.
Subscribe to the sports newsletter
Get the day's top sports headlines and breaking news delivered to your inbox by subscribing here.
---