A&E > Entertainment
Get crackin': Cracker Barrel opens Monday in CdA
Thu., June 16, 2016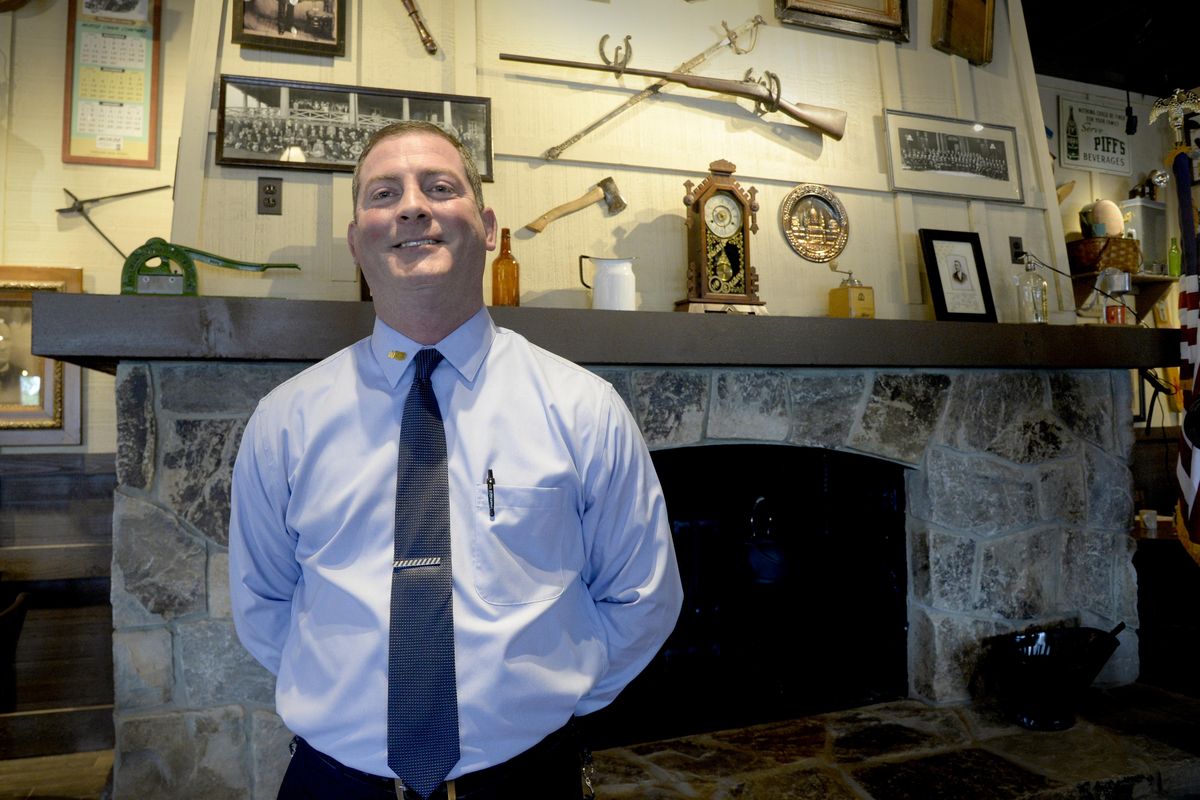 Lance Eads is the general manager who is overseeing the opening of a new Cracker Barrel restaurant in Coeur d'Alene. It is the most westerly Cracker Barrel in the giant chain. (Jesse Tinsley / The Spokesman-Review)
So new it's not even on the Complimentary Map of Fun for Your Road Trip.
So anticipated people were stopping by two weeks ago during employee training because they saw cars in the parking lot and were hoping the place was open for business.
No doubt in general manager Lance Eads' mind that those rocking chairs out front will be put to good use when Coeur d'Alene's new Cracker Barrel Old Country Store opens to the public.
"People plan their vacations around locations of Cracker Barrel," he said. "I've had people drive from Seattle to Missoula just to eat there."
So this place, he surmised, "is going to be very popular."
Coeur d'Alene's Cracker Barrel officially opens at 6 a.m. Monday, following a ribbon-cutting and sneak preview Friday.
Prepare yourself. There could be a long line.
Cracker Barrel locations around the country serve an average of 1,000 guests per day. And, Eads said, the typical wait time is anywhere from 5 to 40 minutes at the half-retail, half-restaurant phenomenon, which serves Southern-style comfort fare with a side of nostalgia and the chance to buy all sorts of tchotchkes – even those wooden rockers, which come in both adult and child sizes.
"People have told us for years they want a Cracker Barrel here," Eads said. "I have not met anybody that isn't excited."
The Coeur d'Alene store is No. 637 nationwide and the third in Idaho. The combination shop-restaurant chain also has locations in Boise and Nampa.
Until now, the closest Cracker Barrel to Spokane was in Missoula.
There are Cracker Barrels in 42 states, mostly located along interstates. They're highly concentrated in the South, Mid-Atlantic, Northeast and Midwest, plus Texas. However, head west and sightings become less frequent. In fact, Coeur d'Alene is now the farthest west fans can find a Cracker Barrel.
The plan is to continue expanding westward into Washington, Oregon and California, three of the eight states that aren't home to any Cracker Barrels.
Corporate communications manager Breeanna Straessle confirmed the chain expects to open three stores in the Portland area during the next year and a half.
Meantime, Cracker Barrel's newest location in Coeur d'Alene encompasses 10,000 square feet, seats 180 diners, employs 185 people, serves breakfast all day and doesn't take reservations.
Still, Eads said, "We do appreciate a heads-up for larger parties."
By larger parties, he means 20 or more people.
"We can accommodate them," he said. "Our mission since we opened" – in 1969 in Lebanon, Tennessee – "is pleasing people. It's as simple as that."
Cracker Barrel aims to be affordable, family-friendly and accessible to everyone.
"Our brand promise is to provide a home away from home, where we treat guests like family," said retail manager Denise Montgomery, who oversees the gift shop.
Customers walk through her domain to get to the dining room. Before they place an order for buttermilk biscuits or pancakes, beans 'n' turnip greens or country-fried steak, they're tempted by trinkets, apparel, kitchenware and candy. Displays – designed around the seasons, holidays and other themes – change every two or three weeks.
The food section stocks cream soda, Cheerwine, moon pies, apple butter, Necco wafers and pecan log rolls. "It's like divinity," Montgomery explained. "And it's rolled in caramel and crushed pecans. And they are handmade."
Be sure to look up: 1,000 pieces of American memorabilia hang from the ceiling and adorn the walls. Collectibles are customized for each location. In Coeur d'Alene, expect to see vintage fishing, hunting and cycling equipment along with antique wash boards, tennis rackets, luggage and photographs.
"They're all authentic, and a lot of people ask us if they can buy them," Eads said.
They are not for sale.
A mounted deer head keeps watch from above the wood-burning fireplace, which will be lighted whenever the temperature dips below 50 degrees. Similarly, tabletop oil lamps are lighted daily at 4 p.m.
"And the guests will remind me if I ever forget," Eads said, noting that this particular location is more modern than rustic.
As evidence, he points to the floor tiles that look like wood instead of the traditional hardwood of older locations. There are energy-efficient light bulbs throughout the space, too, he said.
And, in recent years, he said, the company has been upping its effort to reach people through social media. Cracker Barrel has more than 99,000 followers on Twitter and more than 41,500 followers on Instagram.
"We're trying to use more technology without losing our down-home Southern atmosphere," Eads said.
"Even though this is a big company, it has the feel of a mom-and-pop shop," Montgomery agreed.
She and Eads both transferred here from the Missoula store.
Eads, 40, started working at Cracker Barrel in 1995 when he was a 19-year-old line cook and student at the University of Missouri. This is the third Cracker Barrel he's helped to open, along with stores in Missouri and New Mexico.
Montgomery, 49, has worked for the company for more than eight years in three states, starting at a store in South Carolina.
"I was very excited to move to Coeur d'Alene," she said. "I run and bike and hike, so this is heaven."
She likes to order off the "Wholesome Fixin's" menu, which lists calories for each dish and includes entrees such as pepper-grilled sirloin, pecan-crusted catfish, oven-fried chicken and Southern trout.
After more than 20 yeas, Eads' favorite remains the chicken and dumplings.
Look for a $5.99 lunch special Monday through Thursday. Wednesday – Chicken Pot Pie Day – is particularly popular. And daily dinner features for $9.89 include chicken and rice on Saturday and Friday fish fry with cod or catfish strips.
"Every day on Thursday is Thanksgiving with turkey and gravy," Eads said. But, "Sunday is really the best day. It's home-style chicken. It's two 5-ounce chicken breast filets, hand-battered and deep-fried with two of our country vegetables."
Other Southern staples include breaded fried okra, cheesy grits, hash-brown casserole and fried apples.
Desserts – all less than $5 – include peach or blackberry cobbler, apple pie and double-chocolate fudge Coca-Cola Cake with vanilla ice cream.
There's no senior discount, but anyone can order off of the kids' menu, Eads said.
Country-sized meals – one order feeds six people – are available to go. But Eads and Montgomery would like folks, especially locals, to introduce themselves.
"It's not my Cracker Barrel," Eads said. "It's Coeur d'Alene's Cracker Barrel. I look forward to getting to know everybody. I want them to feel comfortable here."
He noted the Coeur d'Alene store will be marked on the next official Cracker Barrel map, due out about two weeks after the opening.
Meantime, customers can hone their skills at the wooden triangle solitaire peg game on each table.
"The idea is to only have one left," Eads said.
Two left, and – according to the game – "you're purty smart."
One left, and "you're a genius."
Local journalism is essential.
Give directly to The Spokesman-Review's Northwest Passages community forums series -- which helps to offset the costs of several reporter and editor positions at the newspaper -- by using the easy options below. Gifts processed in this system are not tax deductible, but are predominately used to help meet the local financial requirements needed to receive national matching-grant funds.
Subscribe to the Spokane7 email newsletter
Get the day's top entertainment headlines delivered to your inbox every morning.
---