Sports
EWU's Webster twins stick together
Thu., Oct. 20, 2016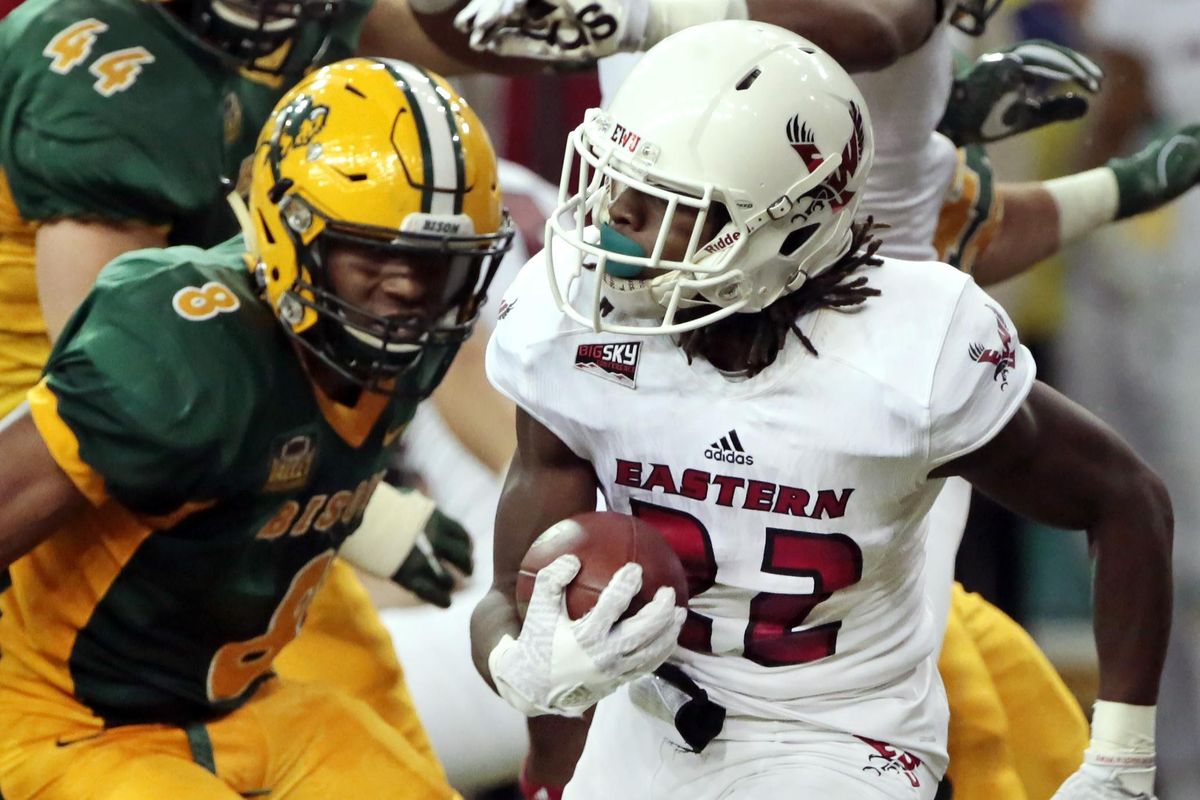 EWU's Nsimba Webster eluded North Dakota State defenders earlier this season. (Dave Wallis / Forum Communications Co.)
Nzuzi and Nsimba Webster have been hard at play since the day they were born.
Their game of choice is NBA 2K, furiously played out in their Cheney apartment. Before that it was soccer, baseball, basketball, track and football.
But always football.
It's the sport they've embraced together from grade school in northern California all the way to Eastern Washington. It's also the proof that twins are never identical.
Nzuzi and Nsimba are a matched set of 20-year-old sophomores, with easy-to-pronounce names (if you know that the N is silent), both standing 5-foot-11 and weighing 170 pounds.
The difference is upstairs.
For Nzuzi, a starting cornerback for the third-ranked Eagles, playing defense means "I don't have to worry about clipping and all that stuff. I can be aggressive, go out and be a savage."
Nsimba enjoys the creativity of offense, the intricacies of the patterns he runs as a wide receiver and kick returner. "It's taught me how to be patient," he said.
That patience has been tested since Oct. 1, when Nsimba broke his collar bone returning a kickoff against UC Davis. "I hope to be back in November," Nsimba said.
The games go on for Nzuzi, who shares his brother's pain: a knee injury in the 2014 opener at Washington turned his true freshman year into a medical redshirt.
Apart from that, life's been filled with games.
The Eagles always had the inside track for the Websters, who grew up in Antioch, California. Older brother Zaire played football for Deer Valley High, and sometimes brought over a friend and teammate named Taiwan Jones.
As a grade-schooler, "I remember looking up to Taiwan," Nzuzi said.
Nsimba finished his brother's thought: "I was thinking I wanted to be just like that. He was doing amazing plays."
After rushing for almost 1,500 yards and leading Deer Valley to a 10-0 record in 2006, Jones signed with the Eagles and helped them win a national title in 2010. He now plays for the Oakland Raiders.
The Websters tried to emulate Jones on the track and the football field. A quarterback, Nsimba ran and passed for 50 touchdowns while also playing defense.
Nzuzi started both ways, recording 181 career tackles and 13 interceptions. He also had almost 800 yards of offense his senior year.
When the recruiting dance began in 2012, Nsimba and Nzuzi made it clear that they were a package deal that wouldn't be broken up – even by college football recruiters from schools bigger than Eastern.
Former EWU wide receivers coach Junior Adams made the connections, and the rest was easy – even the official visit to chilly Cheney. "When we visited, "I thought this would be it," Nsimba said.
"They are similar in a lot of ways," coach Beau Baldwin said on letter-of-intent day in 2014. "Both are incredible football players, along with having great character."
Once at Eastern, they soaked up the playbooks and the textbooks. Both carry about a 3.0 grade-point average while majoring in communications with a minor in business administration. This term they even take the same classes.
They go their separate ways on the football field and the film room, meeting occasionally in drills. That's when the competition is renewed, one-on-one.
Both figure they have a lot to learn. Veteran receivers Cooper Kupp, Kendrick Bourne and Shaq Hill have helped Nsimba "see the little things that make you better."
When they graduate, Nsimba figures it will be up to him and the other underclassmen to "keep that standard up."
"We're going to have fill some huge shoes," said Nsimba, who has 11 career catches for 145 yards along with almost 400 yards in kickoff returns.
Nzuzi is a leader on an improved secondary that already has six interceptions in the last three games. He's been focusing on "improving my bump coverage and keeping my eyes low instead of looking at the man."
For that, he credits cornerbacks coach Cherokee Valeria for "helping take my game to the next level."
And have fun doing it.
Local journalism is essential.
Give directly to The Spokesman-Review's Northwest Passages community forums series -- which helps to offset the costs of several reporter and editor positions at the newspaper -- by using the easy options below. Gifts processed in this system are not tax deductible, but are predominately used to help meet the local financial requirements needed to receive national matching-grant funds.
Subscribe to the sports newsletter
Get the day's top sports headlines and breaking news delivered to your inbox by subscribing here.
---