Sports
Mike Leach accuses media, police of targeting football players following latest felony arrest of linebacker Logan Tago
Sept. 13, 2016 Updated Tue., Sept. 13, 2016 at 10:39 p.m.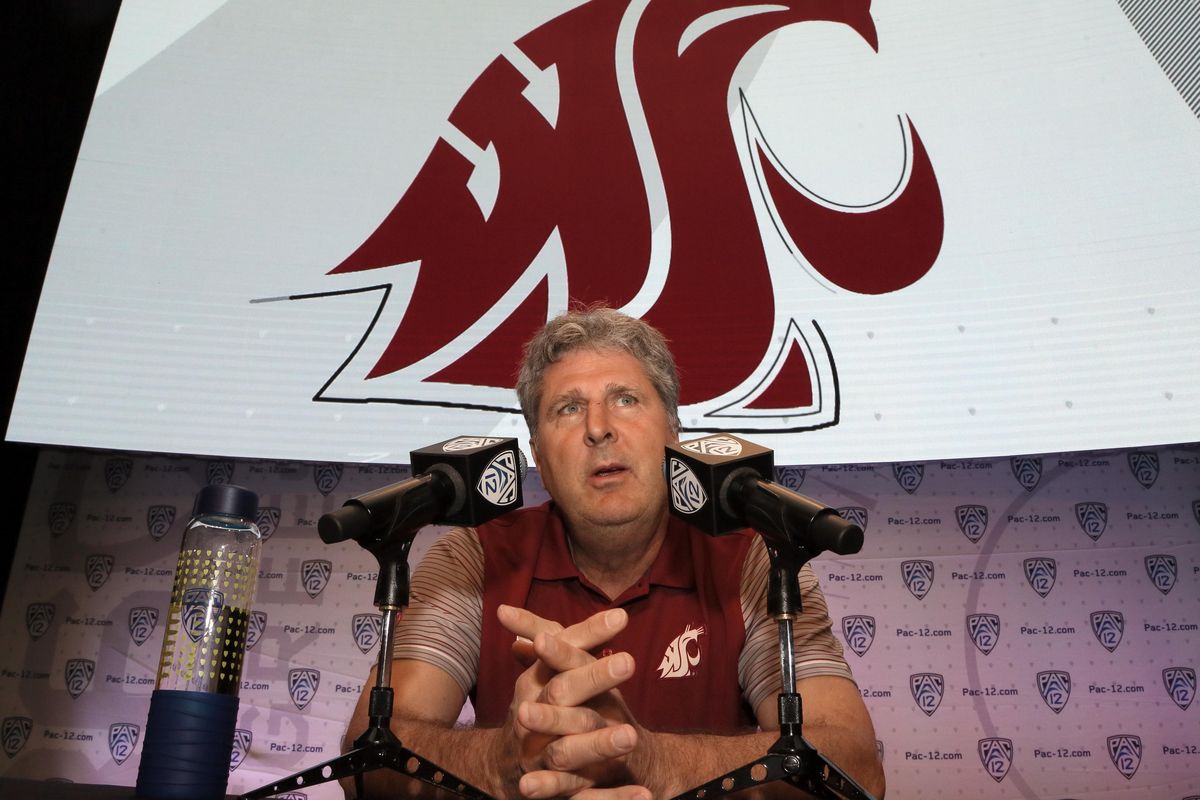 Washington State coach Mike Leach speaks at the Pac-12 NCAA college football media day in Los Angeles on July 14. On Tuesday, Leach accused the media and the local police of unfairly targeting WSU football players. (Reed Saxon / Associated Press)
PULLMAN – Mike Leach held a folded piece of paper covered with red ink as he read a statement in which he accused the media and local police of unfairly targeting Washington State football players during the aftermath of three recent incidents that led to assault investigations.
Leach's statement comes on the heels of Monday's revelation that starting rush linebacker Logan Tago was arrested on suspicion of second-degree assault and second-degree robbery, both felonies. Two fights during the summer led to the arrests of football players, though none has yet been charged by prosecutors.
"We're going to let the legal system take its course," Leach said. "But the system has to be checked if – with the number of people involved in these incidents – the only ones accused are football players. If that's the case, then something is seriously wrong, which goes far deeper than whatever has even been alleged."
During the lengthy statement, Leach addressed each incident in turn. With regards to the fight outside a Domino's involving Shalom Luani, who was suspended for WSU's season-opener, and a large fight earlier in the summer allegedly involving multiple unnamed football players and students, Leach questioned why only football players were under police and media scrutiny.
"If the other guilty parties are not accused or charged, there needs to be an extensive investigation as to why," Leach said. "How in the world can only football parties be guilty in events depicted like this? It is irresponsible to this town, this community and everybody to have some kind of a double standard where we only focus on one demographic, one group of people and then drag their name through the newspaper with a bunch of irresponsible comments."
Leach also discussed a July 22 fraternity fight that left one student with a broken jaw.
"Everybody's hitting everybody," he said. "The only guys accused of doing anything are football players. The only guys accused of anything are football players. Where's everybody else? What about the other 100 people in the room? What was their role?"
If Tago is found guilty, it could mean the end of his WSU football career since Leach has long held that stealing is one of three offenses that will cause automatic dismissal from the football team. The other offenses are hitting a woman and doing drugs.
According to a report by Pullman Radio, which first reported the news of Tago's arrest, Tago and several other men approached a 23-year-old man who was carrying a case of beer early on the morning of June 4 on California Street in Pullman. The alleged victim claims the group demanded his beer and assaulted him when he refused. The alleged victim suffered a concussion and the group stole the beer.
Police arrested Tago when he arrived at the police station for an interview following a lengthy investigation, having finally gathered enough evidence to positively identify one of several suspects as Tago. No other arrests have yet been made.
Tago, a sophomore from American Samoa, started WSU's season-opener against Eastern Washington and is listed as possible starter on the team's Week 3 depth chart for its game against Idaho on Saturday. He is sixth on the team with seven tackles.
Legal issues have suddenly become a major topic of concern for the Cougars, who went from September 2014 to Jan. 18 without an arrest. Besides that string of good behavior, however, WSU football players are not strangers to run-ins with the law.
Mike Rosenberg published a report in the San Jose Mercury News in August saying that WSU's football team had 31 players arrested over the previous five years, seven more than any other Football Bowl Subdivision school.
Tago's case marks the third ongoing assault investigation involving WSU football players. Safety Shalom Luani, a safety, was arrested in late August on suspicion of second-degree assault and police said they will recommend charges to the Whitman County prosecutor. Meanwhile, detectives are still investigating football players for their alleged roles in a fight this summer that left one person with a broken jaw.
Local journalism is essential.
Give directly to The Spokesman-Review's Northwest Passages community forums series -- which helps to offset the costs of several reporter and editor positions at the newspaper -- by using the easy options below. Gifts processed in this system are not tax deductible, but are predominately used to help meet the local financial requirements needed to receive national matching-grant funds.
Subscribe to the sports newsletter
Get the day's top sports headlines and breaking news delivered to your inbox by subscribing here.
---