News > Idaho
Bonner County murder suspect arrested in Spokane late Friday
UPDATED: Sat., April 8, 2017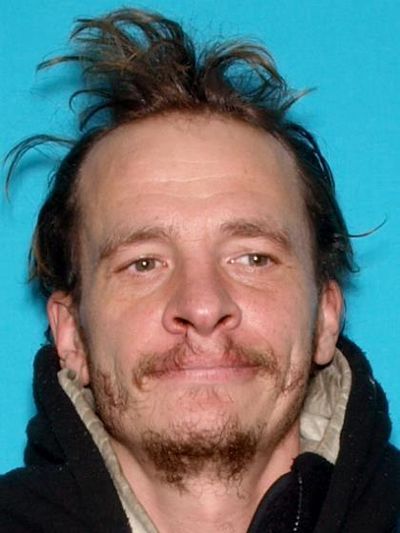 Bonner County murder suspect Nathan Lane Utt was arrested in Spokane early Saturday morning.
The Spokane County Jail roster indicates that Utt was booked on a fugitive warrant around 12:30 a.m. Saturday.
Utt is suspected of killing 78-year-old Shirley Ann Ramey in her home in the 1600 block of Trestle Creek Road near Hope, Idaho, on Wednesday. Ramey, a longtime area resident, was the former city clerk in Hope.
Bonner County Sheriff Daryl Wheeler said Saturday that Ramey and Utt did not appear to know each other but Utt was living in a camper on Trestle Creek Road about a quarter of a mile from Ramey's home.
Utt was identified as a suspect 24 hours after the murder and investigators initially believed he had fled to Oregon. The U.S. Marshals office helped track Utt to an Amtrak train that was set to arrive in Spokane around midnight, Wheeler said.
"We knew that he was on that train," he said. "We knew he was coming through Spokane."
Utt was arrested near the Spokane Intermodal Center on West First Avenue, which is a hub for Amtrak trains and Greyhound buses.
The homicide was reported around 5 p.m. Wednesday but no information about the case was released until about 6:15 p.m. Thursday. Local resident Mary Franzel said that gap has she and others concerned. She said a neighbor of Ramey's told her about Ramey's death Thursday afternoon and the neighbor said that some neighbors were told by deputies to lock their doors but that the community was never notified of a suspected murderer on the loose.
"Why were we not notified, but some people were?" she said. "Why didn't they send this out on Nixle? You could have thousands of people out there with his pictures on their phones."
The Nixle system sends out email and text alerts for law enforcement agencies. Franzel said she's gotten alerts recently when accidents have blocked traffic and when a landslide blocked U.S. Highway 95.
"It's an immediate means for the Sheriff's Departments to notify residents," she said. "I live alone not that far from the murder site. I hike, ski, snowshoe frequently up Trestle Creek. Alone. What if I had decided to go there on Thursday?"
Wheeler said his deputies made contact with everyone living on Trestle Creek Road but did not want details of the crime getting out.
"It wasn't that we didn't want to put that out," he said. "There was particular evidence at the scene and it was better for our investigation to withhold that information. At no time did we create a greater risk to residents there. It was so important that we had that time before word got out so we could investigate."
Internet records show that public information related to the murder has been deleted. The page of the Bonner County 911 web site that listed EMS and fire calls has been deleted, but a cached version of the page lists the call to the 1600 block of Trestle Creek Road on Wednesday. The call notes make references to shell casings found at the scene.
All mention of the call has also been removed from the online 911 call logs.
Franzel said she finds those redactions troubling.
"I don't understand why they scrubbed the 911 dispatch record," she said. "I don't have an issue with holding back information related to the investigation, but to not notify the community that there is a murder suspect loose in their area? Unacceptable."
Bonner County Commissioner Jeff Connolly said the commissioners recently gave Wheeler authority over the county's 911 system, so Wheeler does have the authority to delete the online information. Connolly said he did not know about the missing information but would look into it.
The commissioners do not oversee Wheeler and only have budgetary authority over his department, Connolly said.
"He's on his own," he said. "The people are his boss."
Wheeler said he removed the online information because he didn't want it known that Ramey had been shot, partly because it took time to notify her extended family about her death.
"That was taken off just so we could protect the integrity of the case," he said. "There was no nefarious reason."
Though it has been known for days that Ramey was shot, the online information still has not been restored. Wheeler said he's concerned about how much information is contained in the logs, which typically includes little more than the location of the call and when first responders arrive and leave the scene. The logs will remain offline until he can determine if there is a better system to use that would include less information, Wheeler said.
"I think it's best for the integrity of the investigation to keep some of those facts out of the public eye," he said. "It taints our investigation."
Local journalism is essential.
Give directly to The Spokesman-Review's Northwest Passages community forums series -- which helps to offset the costs of several reporter and editor positions at the newspaper -- by using the easy options below. Gifts processed in this system are not tax deductible, but are predominately used to help meet the local financial requirements needed to receive national matching-grant funds.
Subscribe to the Coronavirus newsletter
Get the day's latest Coronavirus news delivered to your inbox by subscribing to our newsletter.
---