News > Spokane
Competitive Spokane housing market follows trends of shrinking inventory, upsurge in home prices
Tue., April 18, 2017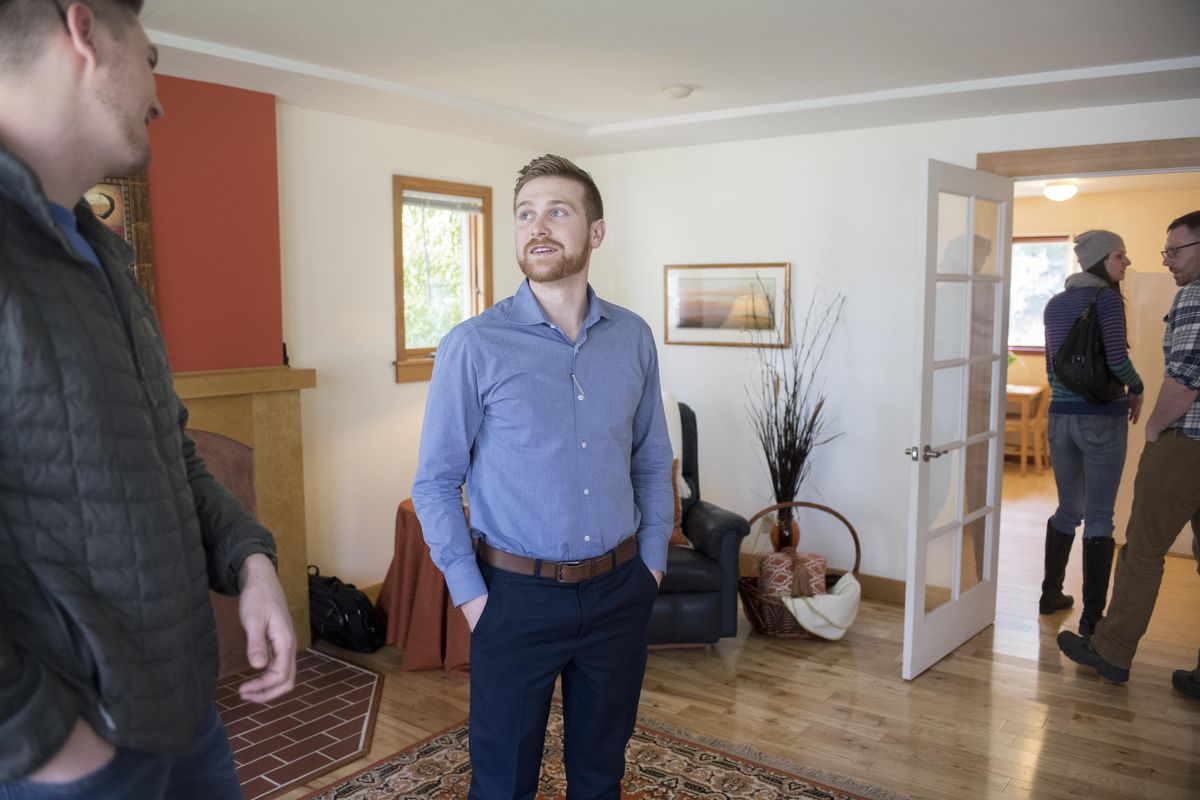 Real estate agent Perry Domini, center, chats with Darren Kentner, left, an agent from Bellevue, Washington, during an open house Sunday, April 16, 2017, at a small home on Spokane's South Hill. The house, priced at $197,000 and situated in the Manito Park area, was the least expensive house with an open house on Sunday, though there weren't many open houses scheduled this early in the season. Kentner said that in Bellevue the average home price is nearly $800,000. (Jesse Tinsley / The Spokesman-Review)
Stephanie and Vincent Aken planned to spend Monday afternoon looking at homes for sale in the Mead area.
The couple, who currently live in Loon Lake with their two children, want to move closer to Spokane. But when they called listing agents Monday, many of the homes already had offers.
Buyers looking for homes in the Spokane area face an increasingly competitive market. Sales prices are up, and inventory is down. Prospective buyers have to move quickly, and be prepared to top other offers if they really want the home.
"When a house came on the market, it used to be common for the buyer to say, 'Let's go look at it over the weekend,'" said Jennifer Valerien, the owner/broker of Re/Max Inland Northwest and president of the Spokane Association of Realtors.
"If they're truly interested, they don't have that luxury right now," she said. "They need to go look at it right away."
---
---
Spokane County's inventory of homes for sale was down 28 percent in March compared to a year ago. For buyers, that means about 500 fewer homes on the market at the start of the busy residential real estate season.
The shrinking inventory is putting pressure on prices. The median sales price was $204,900 in March, a 9.2 percent gain from $187,500 in March 2016.
---
---
However, Spokane prices remain affordable compared to the Seattle area, where the median price for home sales hit $700,000 in March. In many Western Washington communities, the number of homes for sale compared to demand is even tighter, Valerien said.
Locally, "the challenge for buyers is that they need to be prepared to make a decision quickly," Valerien said.
She encourages prospective buyers to pre-qualify for financing and to develop a clear picture of what their housing needs are. That takes some of the anxiety out of making a major financial decision in short time frame, she said.
For sellers, the market's pace is startling, too. Hal and Carolyn Ellis said they were stunned by how quickly their 1950 South Hill home sold.
---
---
The couple are downsizing to a retirement community. On Wednesday, Windermere Realtor Marianne Bornhoft listed their four-bedroom, 3,300-square foot home for $325,000.
"People were descending on it like locusts; the neighbors couldn't believe the traffic," Hal Ellis said.
Sunday was the deadline for submitting offers. On Monday, the couple had five written offers exceeding the listing price.
The tight inventory of homes for sale in Spokane County reflects national real estate trends. Fewer homes were built during the last recession and investors also bought up homes for rentals during that time.
With wages rising and unemployment rates down, people are interested in purchasing homes again. But new home construction hasn't kept up with demand. And since the rental market remains strong, investors aren't putting those homes back on the market, either.
Low inventories of homes for sale has discouraged some Spokane-area residents from putting their property on the market, real estate agents said. They might need a larger home for an expanding family, or they might want to downsize. But they worry about selling their home and then not finding a house to purchase.
In those situations, Valerien said, agents can put clauses in the contract, making the sale contingent on the seller finding a house they like.
"If they can't do that, they don't have to sell their house," she said. "I'm not going to let them be homeless."
Late Monday afternoon, Stephanie and Vincent Aken stopped by an open house for a 1979 split-level in Mead, which had been extensively remodeled. It was near a school they liked, but the three-bedroom property was too small for the couple and their kids.
"We both work at home, so we each need an office," Stephanie Aken said.
Natasha Vargas of Chapman Real Estate, who was at the open house for the split-level, had a lead for them on a five-bedroom house in the Mead School District. The house hadn't been listed yet, but the Akens were interested in checking it out.
Vargas didn't expect the split-level to linger on the market. The house has a shop, large deck and remodeled kitchen and bathrooms. The interior was painted in neutral colors, and Vargas noted that the owners had done a good job of decluttering the rooms before the open house.
"I don't think it will be here long," she said.
Local journalism is essential.
Give directly to The Spokesman-Review's Northwest Passages community forums series -- which helps to offset the costs of several reporter and editor positions at the newspaper -- by using the easy options below. Gifts processed in this system are not tax deductible, but are predominately used to help meet the local financial requirements needed to receive national matching-grant funds.
Subscribe now to get breaking news alerts in your email inbox
Get breaking news delivered to your inbox as it happens.
---