Defense dominates Eastern Washington scrimmage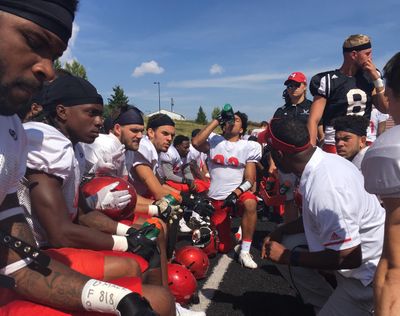 As Eastern Washington wide receiver Terence Grady struggled to find words to describe Saturday's scrimmage, a group of Eagle defenders ran by, whooping and hollering.
"That really makes me cringe," Grady said.
So did the Eagles' effort on offense on a sunny day at Roos Field. After 12 possessions and 72 plays, the offense settled for three field goals and the coaches settled in for a long weekend of analysis.
It's still two weeks until the opener at Texas Tech, but the Eagle offense still has a few wrinkles to iron out. On Saturday the major culprits were an unsettled offensive line, some not-so-crisp route-running and a few careless throws by the quarterbacks.
A relentless defense did the rest, giving up just 3.7 yards per play, snagging four interceptions and not giving up a play longer than 18 yards.
"We were just flying around, it's so great to play like that," said linebacker Kurt Calhoun, who set the tone on the first series with an easy interception of Gage Gubrud.
"He threw it right to me," Calhoun said.
Sometimes it seemed almost too easy for Calhoun and his red-clad mates. The offense generated just 200 yards through the air on 38 attempts, while rushing 34 times for 67 yards.
But seven quick-whistle sacks generated by the defense resulted in 28 yards of losses. The defense also had five passes broken up.
"I loved it, because I thought there was energy, especially by the guys with the red jerseys," Best said. "I think the (offense) had a few miscues early which had them down on their luck and themselves."
It didn't help that the offensive line was still a work in progress following the departure of starting left tackle Nick Ellison. Right tackle Chris Schlichting took most of the first-team reps on Saturday, but Best said the depth chart hasn't been finalized.
"Right now we're playing with a few ideas," Best said.
Gubrud completed 10 of 17 for 82 yards, while the hard-throwing freshman Eric Barriere was 10 of 14 for 89 yards.
Four receivers had at least three catches, including 36 receiving yards by sophomore Jayson Williams. Junior Ashanti Kindle led the ground game with 26 yards on seven carries.
Redshirt freshman linebacker Conor McKenna, a Gonzaga Prep product, had six tackles, a number matched by true freshman defensive back Anfernee Gurley.
Could Gurley and other true freshmen see the field this fall? Best sidestepped the subject of redshirts, saying that coaches will weigh those decisions over the weekend.
Those decisions may be deferred until the final scrimmage, scheduled for Friday at 5 p.m. In the meantime, the Eagles will get Sunday off before returning to the field Monday morning.
The football team will get plenty of company Monday, as the Eastern Washington Astronomy Club will host a eclipse-viewing event above the Roos Field bleachers.
---