Sports > Gonzaga basketball
John Blanchette: Gonzaga puts clunker in rear-view mirror
Dec. 18, 2017 Updated Mon., Dec. 18, 2017 at 11:09 p.m.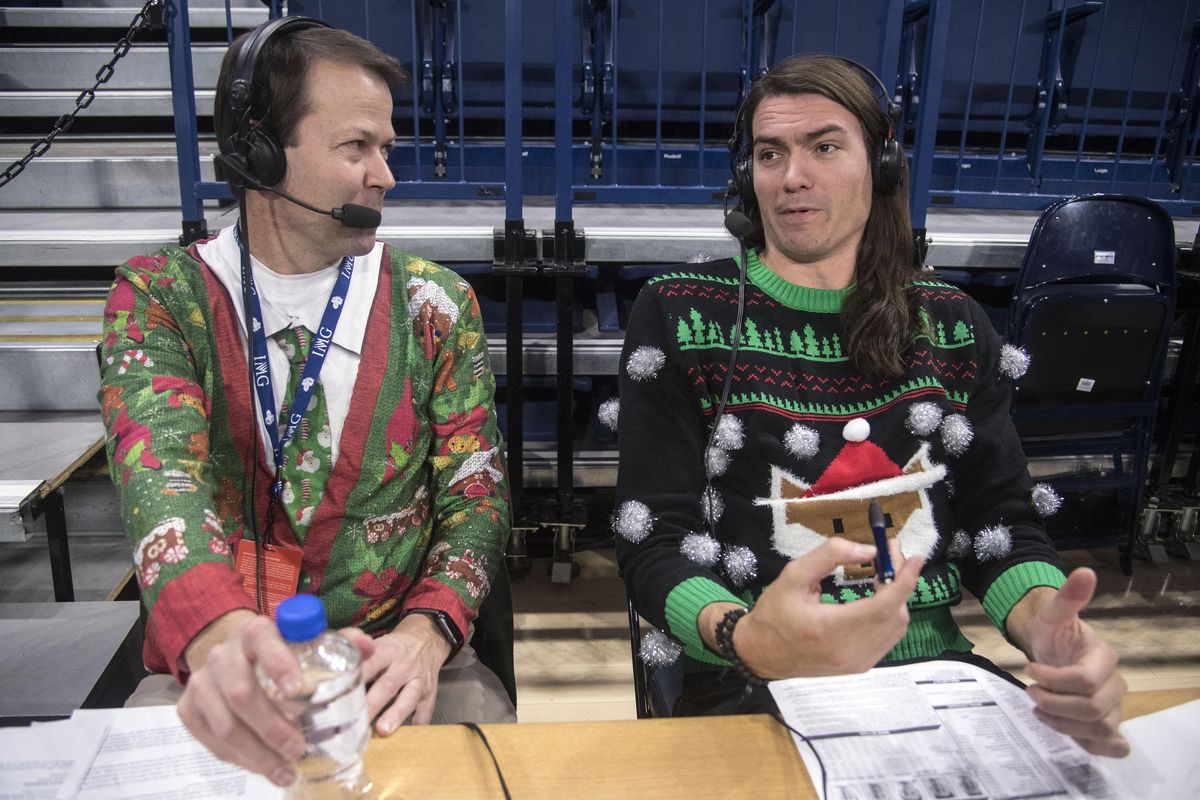 Gonzaga radio broadcasters Tom Hudson and Adam Morrison wear their best holiday attire as they prepare for the IUPUI game, Monday, Dec. 18, 2017 in the McCarthey Athletic Center. (Dan Pelle / The Spokesman-Review)
Don't know about you, but some us have a hell of a time distinguishing IUPUI from IPFW in our college basketball soup.
There was a handy way to do it Monday night, however.
IUPUI was the team in town to nurse Gonzaga through its hangover from Saturday night. IPFW – which has technically "rebranded" into something almost as incomprehensible – was the team three time zones away putting a 20-point smackdown on Indiana in Assembly Hall, which is like your kid's Kool-Aid stand outgrossing Coca-Cola in third quarter sales.
While set up in the lobby of Coke's corporate headquarters.
Except for the fact that Indiana had lost to Indiana State at home earlier this season, too. But even when the Hoosiers are lousy, they're not supposed to lose to the shirttail relatives – or even get played close.
Yet it happens. Florida loses to Loyola-Chicago, Notre Dame to Ball State. The sport's brutes – and the mega-schools whose names imply brutishness, even if their records don't – pay six-figure guarantees to purchase November and December victories over the hungry and cash-strapped, and occasionally trip and do a face plant en route to handing over the check.
Not Gonzaga. Well, not exactly.
With a 101-71 win over IUPUI – that's Indiana University-Purdue University Indianapolis, which maybe should be shortened to TMI – the Bulldogs completed the "buy game" portion of their season 6-0. They have not lost one of these no-return affairs since December 2008, when Ken Bone brought his Portland State team to McCarthey Athletic Center and hustled themselves up a victory.
That is, in fact, the only buy game the Zags have lost in the Mark Few era.
It's just that Saturday's overtime escape against North Dakota felt as much like a loss as it did a win, or at least reverberated around Spokane as such.
Thirty point underdogs are supposed to be dispatched by, well, 30.
And it wasn't just Vegas' math. Kenpom.com, the sport's nouveau bible, set UND's chances against the Zags at a mere 1 percent, and those kinds of longshots never get home. Or almost never. There have been two 98 percent Kenpom favorites go down this year – Georgia Tech to Grambling, and Kansas to Washington.
Probabilities did not weigh on Mark Few's mind over the weekend, though he's well aware how much damage a "bad loss" can do to a team come selection and seeding time.
At the moment, he's more zeroed in on the eye test, which his Zags flunked Saturday. The word "horrible" was invoked.
By way of a message – or the exclamation point on the message – Few opted to start Rui Hachimura and Jacob Larsen on Monday night over Jonathan Williams and Killian Tillie. Williams, notably, had never not started a college game, or any game going back to his freshman year in high school.
So it cannot be called an accident that Tillie responded with a career-high 27 points, and Williams posted a 17/14 double-double.
"He was mad at us – how we (approached) the game," Tillie said. "He wanted our response to come off the bench and have an impact right away, and rebound and guard and that's what we did."
OK, then. A magic fix.
Not exactly.
Yes, the Zags zipped around on offense with uber-efficiency, making 34 of 50 shots – and rebounded five of those misses. They shot their first free throws 2:28 into the game, after not getting to the line once in the first half Saturday. And a moment later, Silas Melson, Zach Norvell Jr. and Josh Perkins all went diving for a loose ball directly in front of Few, in a pattern recalling the old baseball core of the Kennel Club spelling out "Z-A-G-S" with their flying bodies at timeouts.
But there were the same bugaboos that weighed heavily in the North Dakota game: turnovers (17 again) and defense. The Jaguars didn't get to the rim all game long as UND did Saturday, but there was a second-half stretch when that's all they did.
Not a good sign against Nos. 252 and 303 in the latest RPI. They'll face a few more of those once West Coast Conference play starts, where a certain familiarity tends to breed upsets.
"You want to win these games – that's always the first goal," said assistant coach Brian Michaelson. "You hope that you can continue to progress. Saturday was a major regression, and that was a source of frustration for the staff and the players.
"Throughout the history of this program, we've been very good at guys meeting a high standard every game – and the last few years have been even better, culminating last year. That group always put the pedal down. This group is still working on that. And there are two or three things we really need to get better at if we want to have a successful season."
And stay out of the soup.
Local journalism is essential.
Give directly to The Spokesman-Review's Northwest Passages community forums series -- which helps to offset the costs of several reporter and editor positions at the newspaper -- by using the easy options below. Gifts processed in this system are not tax deductible, but are predominately used to help meet the local financial requirements needed to receive national matching-grant funds.
Follow along with the Zags
Subscribe to our Gonzaga Basketball newsletter to stay up with the latest news.
---